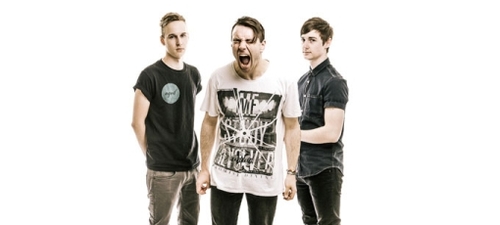 Hailing from Halifax, West Yorkshire, alt-rock trio PaperPlane have received a wealth of comparisons from Brand New to Radiohead to Hot Water Music, but with tracks like 'Chariot' coming off as dark and diverse, its no surprise. Nevertheless PaperPlane's sound is raw, focused and captivating with dynamic instrumentation, and soaring melodies whilst Jack Bennett's raspy vocals simply adds to the bands frenzied style.
Having headed to Sweden earlier this year to record their new EP, 'Rebuild,' PaperPlane are now preparing to unleash the finish results, and if 'Chariot' is merely a preview of whats to come, then we're sure you'll be hearing a lot more about PaperPlane in the future.
With the EP set for an August release, we caught up with the band to discuss their sound, those comparisons, 'Rebuild,' and more.
Already Heard: For the record can you state who you and your role in PaperPlane?
PaperPlane: We are Kristian Arak (Bassist,) Callum Connell (Drums) and Jack Bennett (Guitar and Vocals.)
AH: For readers who are unfamilair with you, how would you sum up the bands sound?
PaperPlane: We feel we have a unique & raw sound, full of energy and pretty dynamic. We've all had slightly different influences to bring to the table when we're writing, and we're not trying to settle on a particular sound, just experimenting with whatever we think works at the time – often writing without setting out a pre-planned structure and developing a song naturally.
AH: We've heard plenty of comparisons being thrown about. From Brand New to Radiohead to Biffy Clyro to Hot Water Music. What do you make of those comparisons? Are they accurate?
PaperPlane: Yeah, we've had just about every band-comparison under the sun, making it hard for us to label ourselves under a genre of music, but this also grants us a varied audience, which we love! And it enables us to play at all sorts of different events. We have been influenced strongly by Brand New's music and especially through their live unforgettable, uniqueness & Biffy Clyro's energy and spectacle. There are countless bands we like to individually listen to however, and whilst, at the time, we might not recognise the influence we bring in how we write personally – other people are first to point out the bands they love coming out through our music. So in a way, we can compare ourselves to some of our favourite bands, however small the comparison is.
AH: You're gearing up for the release of your new EP, 'Rebuild' in August. What can we expect from it?
PaperPlane: We're working on a couple more EP Launch dates for 'Rebuild', but for our main EP launch in Leeds we've sorted the Library in Leeds to allow 14+ for the evening. It's a place we all agreed had one of the best sound's around and we're happy we can share that with a wide age range of our friends! We're putting together an extended set, hopefully with some friends helping us out along the way.
AH: You've treated fans to a preview to the EP in the form of recent single – 'Chariot.' What is the single about and how does it reflect the overall tone of 'Rebuild'?
Jack: I'm not all that keen on unravelling the lyrics and this song was one of my deepest fears to write out. That's why I don't like writing in "standard" sentences, I'd rather hide what I really mean, in riddles, so other people can relate to their own interpretation of the song. The title is an amalgamation of 2 people who meant a lot to my life, from the most kind-hearted, caring person to – in my eyes – the least. If people knew what a lot of my lyrics were about, I'm not sure they'd understand me as a person. A lot of it is written out of passion, so I'm kind of glad it's nearly hidden.
It's one of the more "grittier" songs (if not the most) on the EP. A lot of raw vocals and certainly a harder side of the band, in terms of lyrical meaning and edgy tones – in comparison to the rest of the ep perhaps. We're not really sure what the overall tone set is from 'Rebuild' other than an audible bridge between our first album 'Draw Your Own Holes' and our next full length release, which we're currently writing now.
AH: I understand we can expect another single called 'Strings Like Ribbons' soon. What should new and old fans know about the track?
PaperPlane: This song is basically about distance and the lack of communication it can sometimes lead to. It's one of our more "poppier" tracks. We didn't actually write the chorus melody/lyrics until it was time to record in the studio, in Stockholm – and we couldn't be happier with the outcome. We always referred to this song as "Pirates" before it was named – referring to 'Pirates of the Caribbean'. Just the style of music; a swinging feel, the uplifting melody… It's not something we're all that experienced with! It's definitely not a million miles from our other songs by any means, and it's one of us favourite tracks on 'Rebuild' so we just hope people like it as much as we loved writing it.
AH: Following the EP release, can we expect to see PaperPlane on the road?
PaperPlane: We'll hopefully have a September UK tour to announce mid August time after the release. Other than gigging relentlessly and keeping everyone up-to-date with that, we'll be heading off to record our second full length album at the end of this year if all goes to plan.
AH: Finally why should Already Heard readers check out PaperPlane?
PaperPlane: If people want to check us out, that's amazing and we appreciate every person who spends any amount of their time supporting us. There's enough other bands out there to listen to, so if they're willing to give us a chance to impress them, that's all we can ask for.
'Rebuild' EP by PaperPlane is set to be released in August and can be pre-ordered here.
PaperPlane links: Website|Facebook|Twitter
Words by Sean Reid.