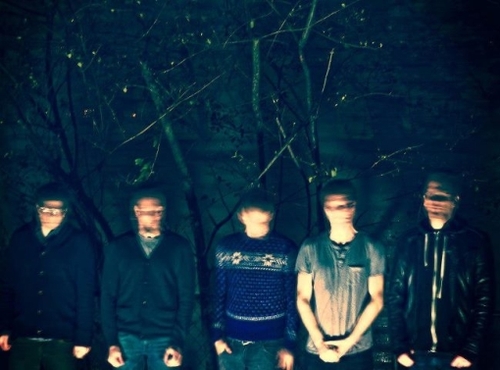 Hailing from Virginia Beach, Virginia, Over The Ocean have crafted a compelling, brooding record with their latest effort 'Be Given To The Soil.' With intense specific precision and delicate accuracy that echoes the likes of Explosions In The Sky and Sigur Ros, the quintet take you on an honest, dark journey that demands all of your attention. Over The Ocean are not a band you play as "background music" as you become immersed in the their stunning sound.
After blowing us away with 'Be Given To The Soil,' we caught up with Jesse Hill from the band to discuss how the album came together, the importance of precision, being compared to post-rock pioneers and more.
Already Heard: Can you introduce yourself and your role in Over The Ocean? Jesse Hill: My name is Jesse Hill, and I play guitar and sing. I also write the lyrics.
AH: For new listeners, how would you summarise the bands sound?
Jese: This is always a difficult question for me, because I'm too close to the music to be objective. I would describe it as being dynamic and very moody.
AH: From hearing 'Be Given To The Soil,' the album has a strong post-rock feel with comparisons being made to Mogwai, Explosions In The Sky, and Sigur Ros. Would you say that's fair?
Jesse: That seems fair. We have certainly referenced all of those bands at some point during the songwriting process. The uncomfortable thing about comparisons like that is always the fact that we have a pretty straight forward vocal sound, which all of those bands have done away with.
AH: Can you tell us how 'Be Given To The Soil' came together?
Jesse: This album came together in around three or four months of writing. Some of the songs were arranged as a group, some I wrote more or less on my own and then brought them to the band to flesh out. We did quite a bit of writing for this record with me, Ben (the bass player), and Whittle (the drummer). Basically just the rhythm instruments. Writing songs this way helped us build frameworks for the other guitars to decorate. I think we'll do more of this kind of writing in the future.
<a href="http://spartanrecords.bandcamp.com/album/be-given-to-the-soil" data-mce-href="http://spartanrecords.bandcamp.com/album/be-given-to-the-soil">Be Given to the Soil by Over the Ocean</a>
AH: With the record being so tightly structured, how important was precision when making the record?
Jesse: Precision was very important. We had a very specific record we wanted to make, and it was the kind of thing that could have come out sounding really sloppy and misguided if we weren't completely deliberate about what we did. We put a lot of work into the preproduction of the record. By the time we went into the studio, we knew what almost all the parts were as well as what order the songs would go in. Having all of those kind of decisions made ahead of time really helped us to be more precise in the studio.
AH: In comparison to your previous record 'Paper House' how does the new album differ? I understand it's darker?
Jesse: It is darker, at least from my perspective. I'm very proud of both records, but they are incredibly different. 'Paper House' was our first record, and was written in a very upfront sort of way. The new record is very disorienting at times, and I think it will take some work for people to really get into it.
AH: What influence did producer/mixer Jeremy S.H. Griffith have on the record?
Jesse: Jeremy had a huge influence on the record. He came down to Virginia to help us with preproduction about a month before we recorded, which was a big help. Also, I think the dense sonic signature of the record would not have been the same with someone else. It's us playing the instruments, but the way Jeremy mixed the record is so dense and heavy. He's an incredibly talented person.
AH: How has the reaction been to 'Be Given To The Soil'? Has it had the compelling effect you had aimed for?
Jesse: I'm not sure how many copies have sold or anything like that, but everyone I've talked to about it has been really into it. A lot of people have told me that it's the kind of record they can only listen to if they aren't doing anything else at the same time, which is what we wanted.
AH: The record is being released through Spartan Records. How did you two team up?
Jesse: We learned about Spartan through our friends in the band MAE. They have worked with John Frazier at Spartan a lot in the past, and had some great things to say about him. He's a really committed individual who doesn't mind putting out weird records, which is obviously a good situation for us.
AH: Besides the new record, what else should Already Heard know about Over The Ocean?
Jesse: I believe there is a film companion to the record in the works; other than that, we aren't that interesting.
AH: Do you have any final words for our readers?
Jesse: Thanks so much for reading all this. I hope everyone gets a chance to listen to the record who wants to. Hopefully we'll be able to meet some of you in the UK at some point.
'Be Given To Soil' by Over The Ocean is available now on Spartan Records.
Over The Ocean links: Facebook|Twitter
Words by Sean Reid