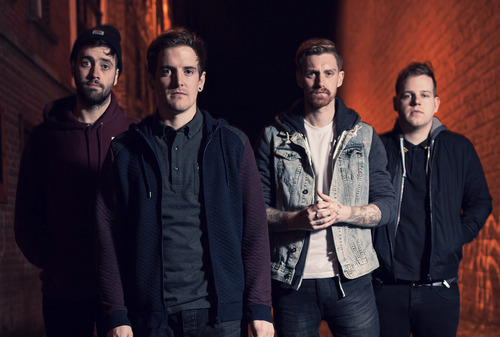 Last year Irish pop-punkers Home Star Runner decided to reform however after when they began writing new material, the quartet realised a new name was needed. So Home Star Runner became Only Rivals, an alt rock band with huge choruses in their arsenal.
The change in direction has paid off as Only Rivals kick off their first UK tour with Max Raptor and Fort Hope this week, and they'll be joining All Time Low and Tonight Alive on these shores in the Spring.
Besides that, there is the small matter of the release of bands debut EP, 'Details' which promises to be a strong collection of introspective alt-rock songs with tons of potential.
Overall tracks like 'History' and 'Borders' are thoroughly exciting thus making Only Rivals one of the most impressive Irish exports in quite some time and we guarantee you'll be hearing a lot more from the four-piece in the coming months.
We caught up with bassist Seán Reid to discuss the change from Home Star Runner to Only Rivals, the 'Details' EP, touring the UK, the Irish music scene and more.
Already Heard: Could you introduce yourself and tell us what you do in Only Rivals?

Sean: Hey! My names Seán Reid and I play bass in Only Rivals.
AH: Let's kick off with some background. Some people might know you under your former moniker Home Star Runner, which reunited last year and now you're known as Only Rivals. Why the name change?

Sean: Well when we first decided to be a band again and got into the practise room to write some music, it was after a few years gap. During those years we all had different experiences in our lives. Some of us travelled, others went to college. So it was in many ways completely fresh and new even though it was three of the same guys and a new drummer. When we were writing these songs it just wasn't the same band, it didn't feel like it was at all, but in a really positive way. It was a new beginning. So we decided it was time to be a new a band. It just felt like the right thing to do.
AH: From hearing 'Borders' and 'History', it seems Only Rivals is a more alt rock-driven rather than your former pop-punk sound?

Sean: Yeah, I would agree for sure. I mean, I don't think we will ever lose that pop punk influence as it just shaped all of our lives so massively. Everybody in the band grew up on it and still listens to it. New Found Glory, Blink, The Ataris, The Get Up Kids, Saves The Day and bands like that were huge inspirations to us. At the same time we love bands like Brand New, Foo Fighters and Biffy. When writing these songs we wanted to have huge choruses that you would associate with pop punk, but at the same time have these big heavy rock riffs and experiment sonically too.
AH: How has the response been to the name and sound change?
Sean: We really couldn't have asked for a better response really. The reaction and feedback coming our way has been beyond anything we could have ever imagined. With the name thing, people totally understood it was something new and they were cool with it. I mean we really can't thank all the people who have checked us out and sent us positive tweets and messages, it means the world to us.
AH: You're currently preparing for the release of your debut EP, 'Details'. How would you sum up the overall sound of the EP?
Sean:
Its definitely quite heavier than I had imagined it to be originally, which is awesome. I think there is a good balance between the dark and light in it. Steve (Arkins – vocals/guitar) and Jay (McTernan – guitar/vocals) really worked hard on their guitar tones in the studio. Lyrically, I think I speak for both Steve and I in saying we are super proud of it. We both worked hard with the lyrics in getting something that really means a lot to us. The theme of the entire EP is reflection. Its a reflection on my youth and on the last year or two of me and Steve's lives.
AH: Before the EP release you're touring the UK with Max Raptor and Fort Hope. Are you looking forward to getting out on the road?
Sean:
We're literally itching to tour! When we were recording the EP all we talked about was how we couldn't wait for the new year to come, so we could get out on the road. The venues look so cool and including ourselves, its a four band tour, which means lots of good times. We are extremely lucky as an Irish band to have the opportunity to tour the UK.
AH: Your touring alongside two other promising UK bands, why should fans come to these shows?
Sean:
Well as I said its four bands, that's a pretty big touring family, so the shows are going to have a big party atmosphere for sure, so come hang out! I think its always important to support promising bands and Max Raptor and Fort Hope are both awesome. We played the UK last October and everyone was incredibly nice to us, we really can't wait for it.
AH: Besides these run of UK shows, and the 'Details' EP, what else can we expect from Only Rivals in 2014? Any new material in the works?
Sean:
Well we just announced that we will be opening for All Time Low on their UK and Ireland "A Love Like War" tour in March along with Tonight Alive. That has us incredibly excited as some of the venues are amazing. I have always dreamed about playing the Brixton and on this tour we get to do it twice, which is so sweet. We really just want to hit the road hard and get this EP out there and hopefully hit up some festivals in summer as well. In terms of new stuff we actually have loads written, so recording will be on the cards for sure. We seem to write quite quickly so we've lot a of material and song ideas ready, which is exciting.
AH: Here at Already Heard we've been longtime supporters of fellow Irish bands like Starters and The Winter Passing. Are there any other Irish bands we should be keeping an eye out for in 2014?
Sean:
The Irish scene definitely thanks you for the support as well! Well both bands you mentioned there are recording their full lengths this year and both are going to be incredible. I've heard a few of the Starters demos and that record really will be something special. As well as that my very good friends in Red Enemy, a metal band from Dublin, just got singed to Mediaskare records and are off to LA to record their debut album. Its going to blow people minds with how heavy it is. I'm hoping that this year a lot of Irish bands will get recognised more because there are some incredibly talented and amazing bands on our small little Island.
AH: Do you have anything else you'd like to say to finish off this interview?
Sean:
Just hope to see loads of people over the next few months on tour. Its going to be so much fun. People can pick up our EP 'Details' on February 24th. We are super proud of it and we hope everyone enjoys it!
'Details' EP by Only Rivals is released on 24th February.
Only Rivals links: Facebook|Twitter|YouTube
Words by Sean Reid (@SeanReid86)