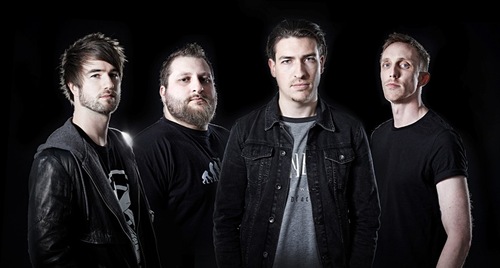 Despite being together for less than a year, Hull, Yorkshire quartet Of Allies have already catches peoples attention as their debut EP, 'Tempers' is a mix of bold riffs and soaring choruses that is bound to easily win people over.
With hints of Arcane Roots, Twin Atlantic, and Young Guns, the four piece look to follow in their footsteps and with tracks such as 'Ghosts' and 'In Screens' demonstrating their knack for writing hook-filled, edgy numbers, they're going to right away about doing that.
We recently grabbed a quick word with vocalist and guitarist Rich Nichols to find out more; the new EP, what makes a "big hook", the Hull scene and more.
Already Heard: Hi can you introduce yourself and tell us what you do in Of Allies?
Rich:
Hey, I'm Rich and I sing and play guitar in Of Allies.
AH: Let's jump right into your latest EP, 'Tempers'. For those who have yet to hear it, what can they expect?
Rich: It's a mixture of all our influences really. There's 5 tracks on there which encompass a years worth of work. It's a mixture of melody and big riffs with some softer moments in places. If you're into Deftones or Lower Than Atlantis you'll probably like it. Best way to find out is to have a listen!
AH: It seems you've been compared to a lot of familiar names such as Arcane Roots, Twin Atlantic, Young Guns etc. What do you make of those comparisons? Do you consider those type of bands as influences?
Rich: It's amazing to be compared to those bands. We have a tonne of respect for them all and what they have achieved, we just hope we can do the same! I think the emerging British Rock scene that those bands are in is an influence. There's some amazing bands coming out at the moment and to be mentioned alongside them is very humbling. I think we're of the same thought process in that we want to bring British rock music back to the forefront of music.
AH: The EP has been out for a few weeks now. How has the general feedback been thus far?
Rich: It's been unreal and has far exceeded our expectations and hopes. It's so awesome to hear that people are loving what we do as much as we love making it. It's been a humbling experience but it's also very exciting as the future looks great for us.
AH: From hearing the EP and reading a few reviews of the EP, it sounds like you're fans of producing "Big hooks". Can you talk us through the bands songwriting process?
Rich: The hook is the most important aspect of the song. It's what pulls people in and makes them want to listen to something over and over. Sometimes it comes in the form of a guitar riff and sometimes it's a vocal part. Our writing process basically starts with me taking the outline of a song to rehearsal for the boys to add their parts. We then collectively edit, chop and change for weeks at a time until it becomes a collective creation that we're all happy with.
AH: More importanly what are the vital ingridants for a "big hook"?
Rich: Well, for me, when I'm writing I try to find something that when I'm done gets stuck in my head. Often if I haven't recorded my ideas and I come back to write again and I can remember the part precisely, I know it's a keeper. There needs to be an aspect of simplicity to it to make it quick and easy to remember combined with repetition to then compound that part.
AH: You recently filmed a new music video (for 'In Screens'. What can you tell us about that?
Rich: We've been working with a local film maker called Josh Moore who is brilliant. He's very easy to work with and he totally gets what we're trying to do. We hired out the biggest club we could find locally through the help of a friend and used the main dance floor to film. It was for the song 'Play Dead' which is a fairly intense song and my personal favourite from the EP. It has a kind of an ethereal, dark feel to it which is also capricious at times and can be very heavy. We wanted to represent those aspects and highlight the changes in sound within the song and I think it turned out pretty sweet!
AH: Moving on. What should we know about the Hull music scene? Is it in a good state?
Rich: The Hull scene at the moment is really good. There's a tonne of great bands emerging with the help of the local promotors and BBC Introducing. We're about to play the Humber Street Sesh festival on August 2nd which showcases over 180 bands, artists and other creative types from the local area. Last year the event had a turnout of 40,000 people which is stunning. I think Hull in general is going through a period of change in terms of it's identity and with that is coming a wave of creativity from local artists.
AH: Now the EP is out, what's next for Of Allies?
Rich: We've got a few gigs around the country coming up and are planning a tour for October. We're just trying to spread the word and get as many people listening as possible.
AH: Do you have any final words to the Already Heard readers?
Rich: Thanks for listening and checking out my band, come to a show and I'll give you a big smooch.
'Tempers' EP by Of Allies is out now.
Of Allies links: Website|Twitter|Facebook
Words by Sean Reid (@SeanReid86)