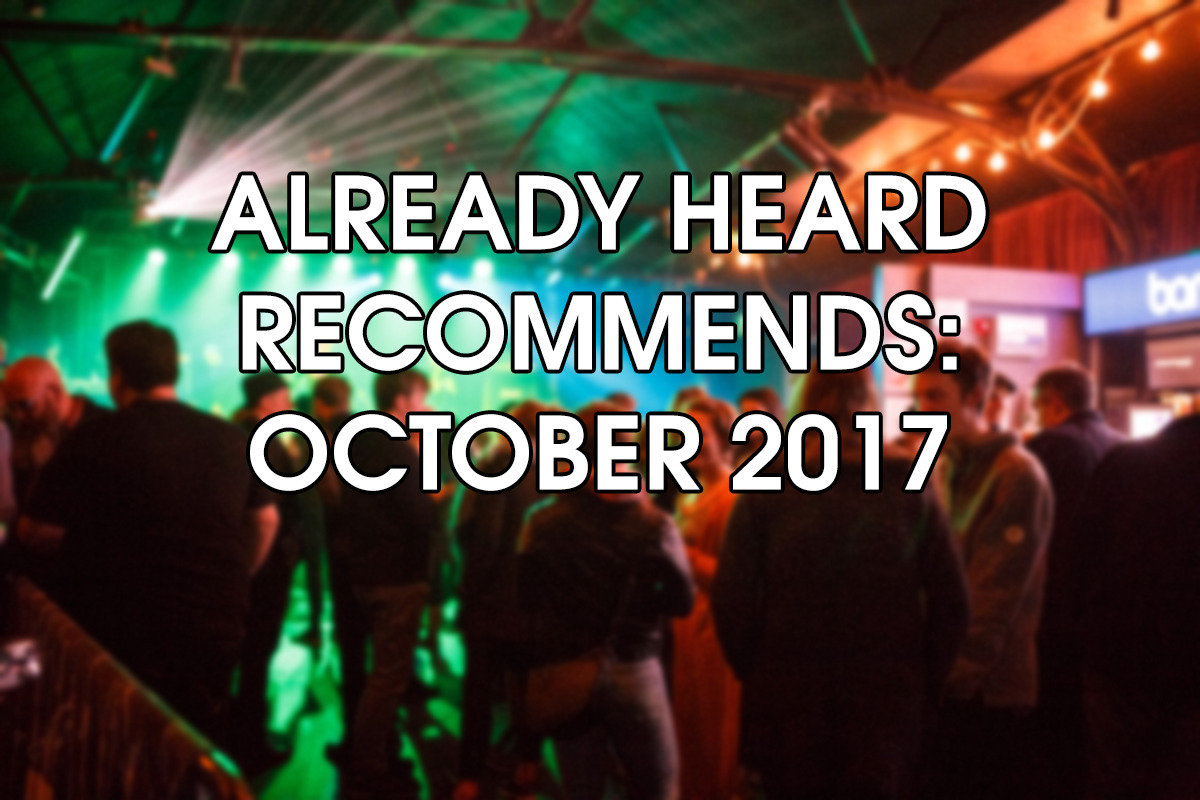 Last month we relaunched our "Recommends" feature under a new format. The combination of bite-sized interviews and highlighting bloody good new bands has had a positive reaction. So much so, that this month's edition has 10(!) need-to-know bands for you to discover.
From rousing rock 'n' roll via Canada to hardcore/pop-punk from Australia and Germany to thrash punk from Russia to several promising bands from the UK and America, this month's edition of "Recommends" certainly has an international flavour.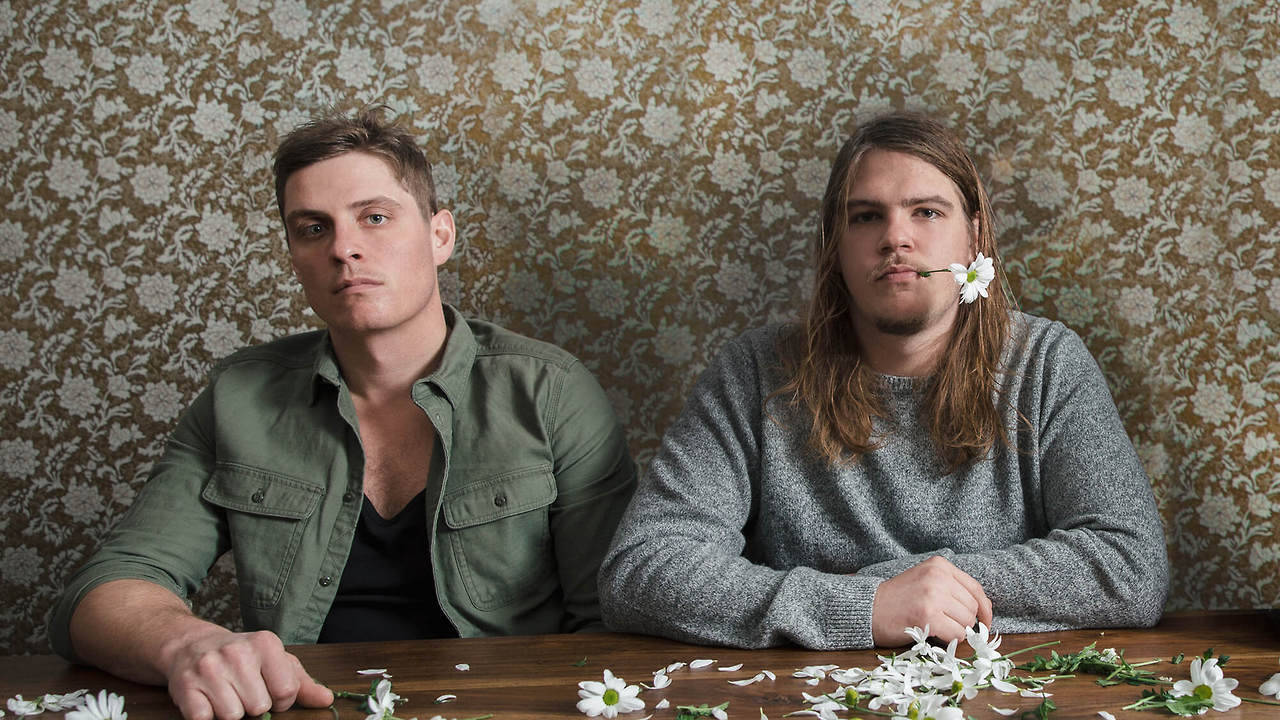 The Glorious Sons
On their second LP, Kingston, Ontario, The Glorious Sons' Brett Emmons offers a semi-autobiographical collection of songs about being in your mid-20s and trying to make sense of who you are and where you're going.
Formed by his brother Jay (guitar) in 2011, the Canadian rockers have built a strong following in their homeland and over the border in America, with critical acclaim on both sides. Now returning with 'Young Beauties And Fools', the Emmons brothers along with Chris Koster (guitar), Adam Paquette (drums) and Chris Huot (bass), have crafted a relatable set of genuine rock n' roll songs.
From the rose-tinted, anthemic 'Everything Is Alright' to the rousing pairing of 'My Poor Heart' and 'Godless, Graceless and Young' to the indie-folk ballad that is 'Hide My Love' and beyond, The Glorious Sons show versatility and lyrical depth.
For Fans Of: Augustines and The Gaslight Anthem
AH: 'Young Beauties And Fools' is your second album and first to have a UK release. As you're considered a new band to these shores, could you bring up to speed on the band's history? We know you and Jay are brothers but how did the rest of the band come together?
Brett: The band was my brother's vision. He'd been trying to get a good band with a real shot since he was out of college. I had quit school in Halifax (Nova Scotia) when they were starting up and I was trying to make a music career out there.
Knowing this, they were calling me about once a month to try and get me to come home and join the band. I turned them down stubbornly for a while until I came home and actually realized they were good. I went back out to Halifax for one more shot, came on some hard times, called Jay, asked if the offer still stood, and booked a flight back to Kingston the next week.
After that, things just started aligning. We had great hometown support and a lot of help along the way. Pair that with some ass-backwards luck, and a band willing to work hard for their opportunities, and that's why we're here talking to you now about our music.
AH: For new listeners, who would you compare your sound to?
Brett: I've never liked answering that question. For this record, it was simply about challenging ourselves to create rock 'n' roll music that is both relevant and challenging to our audience with the aid of technology and culture in 2017.
From hearing 'Young Beauties And Fools', we get the impression these songs are very autobiographical. How would you sum up the lyrical tone of the record?
Brett: Lyrically the album is just about my life in Kingston. I spent the better part of three years kind of stuck, wondering what the next step would be for myself and the band. I had a failed attempt at moving, lost a couple band members, and my grandfather, who we were very close with, passed away. It was a time of excess, and instability. Throughout that time, I was waking up and writing songs about all these things, And that's where these songs came from. At the time I didn't really know I was hitting the nail on the head, but when we got to LA and hooked up with our producers, those were the songs that stood out.
I will say that I cringe a little bit when I hear the word autobiographical though. Because some of the songs are simply observations that derived from these times. Those songs aren't about myself completely and take some real liberties. So I think it's safe to say that the record is semi-autobiographical.
AH: We understand the initial recording sessions for this album were frustrating, but then you ended up writing and recording it within two or so weeks. What happened?
Brett: I think we found the thing that we were looking for. A lot of it was our producers from Fast Friends, a lot of it was looking in the right place, being my voice notes. And some of it was just plain persistence. But as soon as we wrote 'Josie' the first day in Los Angeles, we knew we had captured something, and we knew where to keep looking. From there on, it felt that we had found our momentum again, and it hasn't quit since.
AH: Beyond the release of 'Young Beauties And Fools', what's next for TGS? Can we expect a trip overseas in the coming months?
Brett: You can expect a trip overseas. But right now, I can't see beyond this album. I have a feeling we are going to be away for a long time touring this. The work and the time away has really just begun.
'Young Beauties and Fools' by The Glorious Sons is out now on Earache Records.
The Glorious Sons links: Website|Facebook|Twitter|Instagram|YouTube
---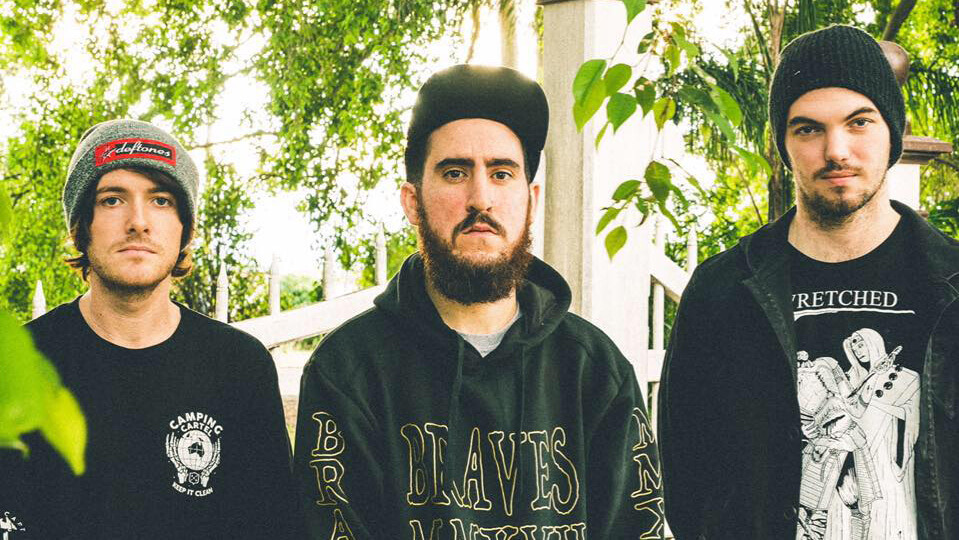 Satellites
It's safe to say by now that Australia is smashing it when delivering exciting new bands. No longer is a band from Down Under a novelty. With a whole host established and emerging Aussie names making themselves known in recent years, you can add Satellites to that growing list.
Based out of Brisbane, the punk rock trio just delivered their debut EP – 'Black Dog' and sees them firmly carry their influences on their sleeves. With an underlying hardcore ferocity, songs such as 'Glassjaw' and 'Thank You' thrive on bold, crunching hooks. While Mitch Chamberlain's vocals are carried with an equal amount of melodic angst.
Although they've seen their fair share of line-up changes, Satellites are now on a steady road, looking to share the stage with more of their influences. We got to know more about the band by speaking to bassist Dan Goodwin.
For Fans Of: Trophy Eyes, The Story So Far and Set Your Goals.
AH: You formed nearly four years ago and have played with a whole host of well-known names (Basement, Neck Deep, The Wonder Years). How much have those bands been an influence on you?
Dan: To be honest, I think every single band we play with, whether they're known or not, has had some sort of influence on us. It comes down to how good of a live show they have. With every band you see you take away things that work and things that don't. It's not like I can say this band influences me to do this and that band influences me to do that because that changes all the time with discovering new bands and seeing old bands I haven't seen in ages or even at all.
AH: For new listeners, what can they expect from your latest EP, 'Black Dog'?
Dan: This EP is the product of years of patience and perseverance amidst a constantly changing environment. I'm not going to say that it's groundbreaking by any means, but at the end of it, we're all standing here collectively proud of what created. If that's your cup of tea and you like melodic punk, then give this a spin a see what you reckon.
AH: Lyrically, what message do you aim to deliver on this EP?
Dan: Find something worth standing for and stand for it. Everywhere you look now, you see people saying or doing certain things because they feel like it's what's expected of them or because they've been told to believe in this or that. No one call tell you shit, it's your responsibility to figure out who you are. But, you don't have to be scared about it.
AH: We've discovered a few up-and-coming Aussie bands in recent months (Stand Atlantic, Cursed Earth, Bukowski). What other bands should we be looking out for?
Dan: Those three are fucking incredible bands, but since you asked jam these guys in your earholes and smoke… uhh. Check out Harbours, Blind Oracle, Worse for Wear and Sleepwell.
'Black Dog' EP by Satellites is out now on Penultimate Records.
Satellites links: Facebook|Twitter|Instagram
---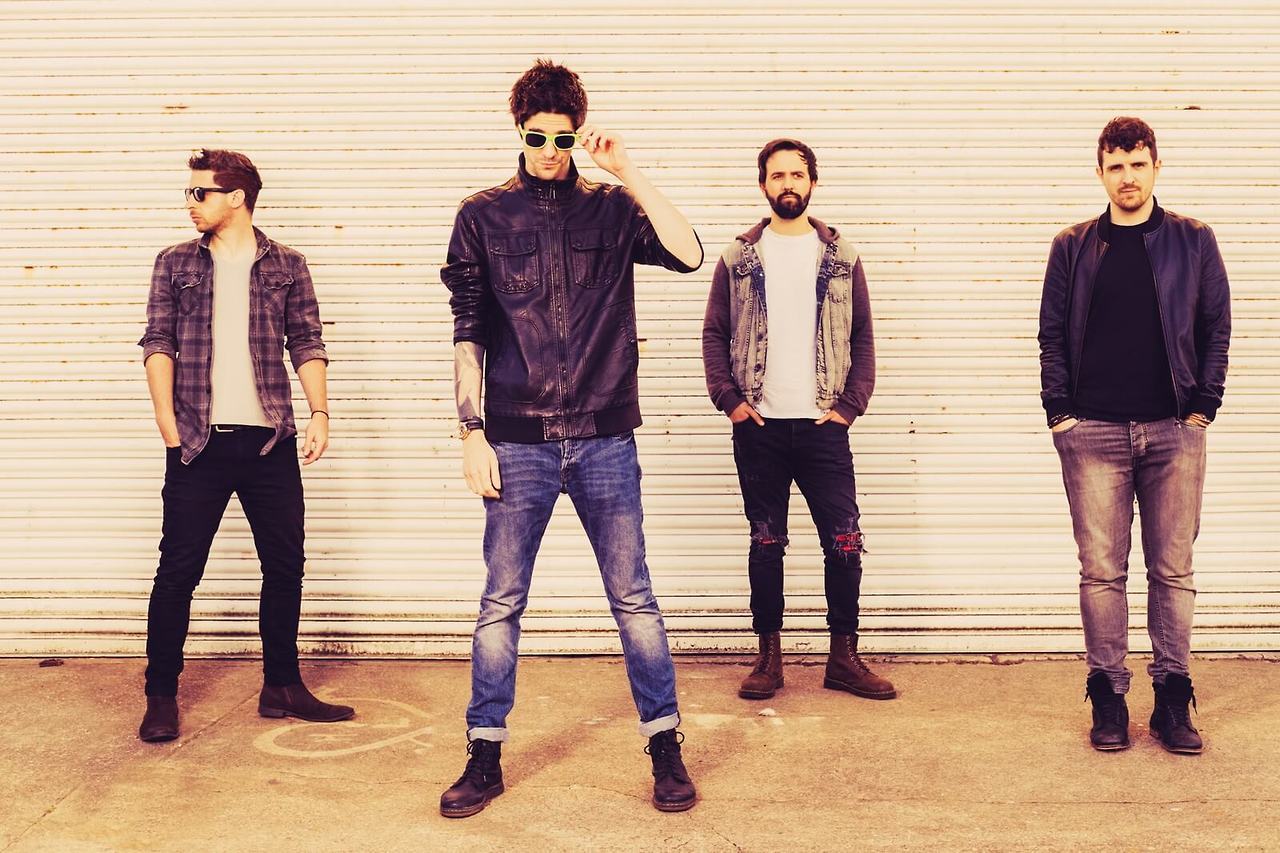 Witterquick
Last summer, Exeter rockers Witterquick released their debut EP, 'Beneath the Spinning Lights', to plenty of acclaim. Earmarked as "ones to watch" by a host of influential outlets, they have all the ingredients for big things; monstrous choruses and stadium-sized hooks etc. However, as we learn, their wave of momentum came to a halt due to combination of personal and professional issues.
Nevertheless, Witterquick have returned with a second EP – 'Fire & Ice'. By sticking to their laurels and becoming something they're not, the EP offers four infectious slices of heartfelt alt-rock. It's safe to say, despite their momentarily blip, Witterquick are back on track.
To bring us up to speed on all things Witterquick, we spoke to bassist Ollie Chanter.
For Fans Of: You Me At Six, Mallory Knox and Young Guns
AH: We hear the band has gone through a few changes since the release of 'Beneath The Spinning Lights'?

Ollie: We have. Being in a band is a Frankenstein's monster mix of being a family, friends, business partners, and a whole lot of other things. It takes a lot of work building the right relationship and sometimes that doesn't work out. We replaced our drummer and rhythm guitarist and left our management. There was a lot that wasn't right, so we wanted to strip back and focus on building the band and surrounding team that we wanted.

AH: Your last EP, 'Beneath The Spinning Lights', received a fair bit of praise. Did that feedback have any influence when writing 'Fire & Ice'?
Ollie: Not really. We were so pleased that 'BTSL' was received so well, it opened a lot of doors for us, but we've always been a band that try to focus on what WE want. Part of what made our first EP so unique was that we didn't copy trends and just wrote songs, which is the same approach we took with 'Fire and Ice'. It's all about the music for us, even though that seems to be the least important part of the current industry, we want to know that we were true to ourselves, wrote the best songs we could write as a bunch of guys, and the success we get from that is organic.
AH: How has the general response to them so far?
Ollie: Mind-blowing. We've been really surprised by the runaway hits so far, 'Hiding Place' for example currently has around 45,000 organic streams on Spotify which is insane. That song was just a fun cathartic song for us, dealing with our past demons and just shrugging everything off to start fresh, and it seems to have really struck a chord with fans. 'Shattered Suns' and 'Lie to Me' seem to have gotten people really excited. Seeing how the world reacts to the songs is such a relieving experience, not just because they love the songs, but having music out in the world takes such a long time it's amazing to send them off and see what happens.
AH: You worked with well-known producer Romesh Dodangoda on this EP. How was that experience?

Ollie: Romesh is a powerhouse. This is our second EP with him now, so he knows more about what we are and what we're about and I think that shows on this record. The elements and experience he brings to the songs, and to us, is invaluable. He can often see something in a song that we don't or brings out something that entirely changes the feel. It's an incredible experience really.
AH: You've also known your fair share of touring with a few festival spots. How have experiences influenced the new EP?
Ollie: We like to road-test new songs on tours before we commit them to a record. It's fun to see how an audience reacts to a song they've never heard. By playing with different bands and different crowds, you get a feel of what you 'want', in a way. When you play a big festival stage you want to have those big festival songs, it's the same for small clubs. Those moments influence you to shift a song into a festival anthem like 'Lie to Me' or you might write a high energy club song. The songs can be presented in any way we want, once you have a solid core the rest of it is just dressing. A good song can be equally as good as a western acoustic track, a club dance track, anything really, and we love to explore that. There are some lyrics that have snuck into the songs that are from experiences on the road too, but we'll let you pick those apart.
AH: Beyond the release of 'Fire & Ice', what's next for Witterquick?
Ollie: We've got a few tricks up our sleeves yet before we even get into 2018.

'Fire and Ice' EP by Witterquick is out now.
Witterquick links: Website|Facebook|Twitter
---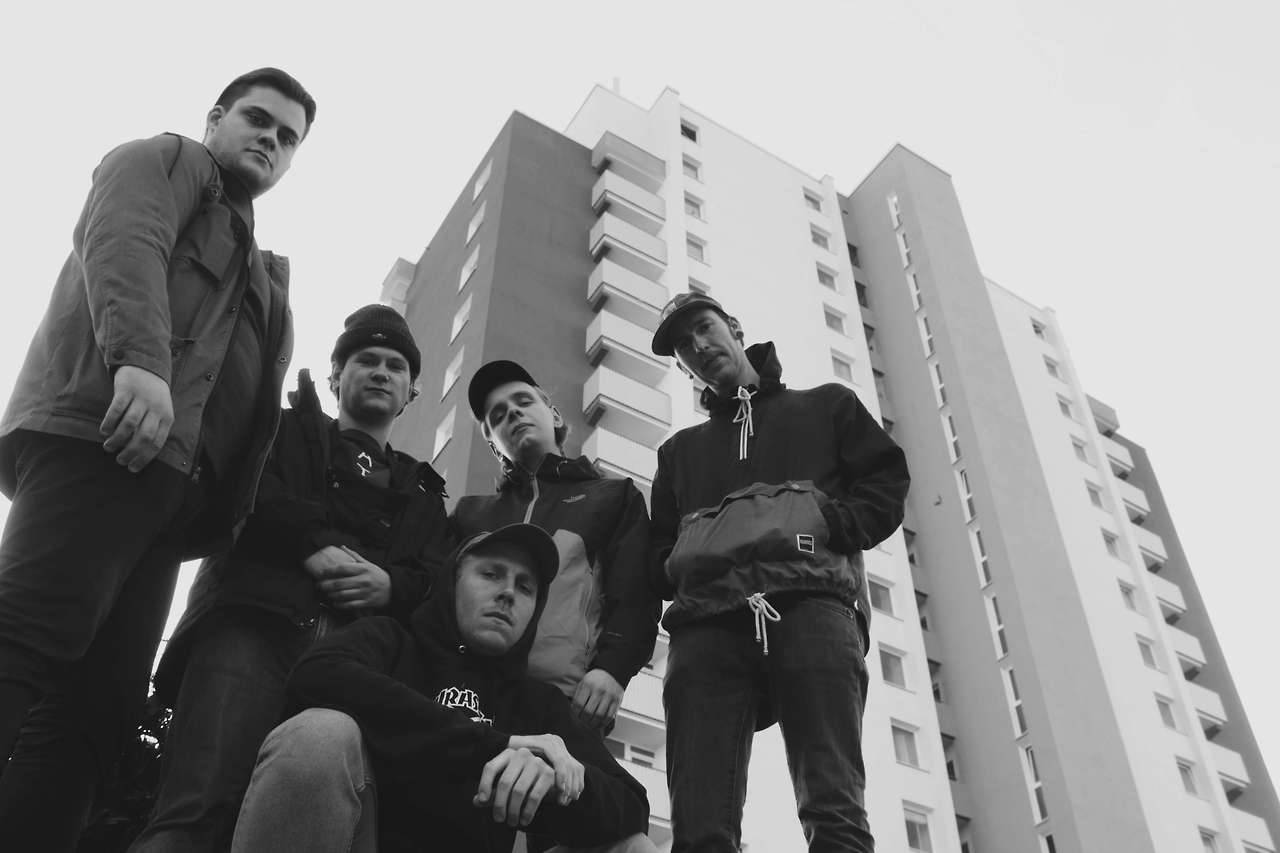 Earl Grey
We'll admit beyond its football team, we don't know much about Mönchengladbach. That's until Earl Grey landed on our lap. Over the course of three years, they've been fine-tuning their brand of hardcore/pop-punk with their latest EP, 'The Times You Cross My Mind', being their best work to date.
Over the course of just 13 minutes, the five-piece display a range of punchy riffs with a plethora of impassioned hooks throughout. Oh, and did we mention gang vocals appear too? Having roped in Sean Duddy (WOES) and Seb Barlow (Neck Deep, WSTR, Blood Youth, Catch Fire) to put the finish touches on 'TTYCMM', Earl Grey show plenty of intent wth EP #3.
Having toured extensively across Europe, while risking their lives, Earl Grey are planning to hit the road once more in the coming months. We caught up with bassist Lukas Andrzejewski to find out more.
For Fans Of: Set Your Goals, Neck Deep and Four Year Strong
AH: 'The Times You Cross My Mind' is your third EP. Can you bring us up to speed on the history of the band?
Lukas: We had our first practice around October 2014 and played our first show in March 2015. We had some member changes since then. Mo (Mewes) used to play guitar then switched to drums when our old drummer left the band.
We played a European and UK tour since then and went on the craziest adventure last summer; we played 20 shows in 21 days. We got into a car chase with Nazis in the Ukraine and we saw the Red Square in Moscow on that tour which was pretty impressive. Of course, we also played a lot of shows and weekenders during that time.

AH: 'TTYCMM' has been out for a few months now. How has the general response been?

Lukas: All of the responses we've had have been overall positive and people seem to like our new style. I mean, it's not drastically different from what we did before but I think the songs are way more thought out. Although, it didn't really open any doors for us, which we thought was pretty sad.
AH: From hearing the EP, there's a mix of hardcore and punk with a slight emo-tinge in the lyrics. How would you sum up the band's sound on this EP and how has it grown compared to past releases?
Lukas: I think you already described it pretty well. I'd say musically we are mostly pop-punk, with Pedro's vocals being straight up hardcore. We kind of have always done that but this time it was more efficient and we knew what to focus on. We also put way more time into songwriting and re-wrote every part until we were 100% satisfied. We've all grown as musicians during that time and I think the EP just shows that. The songs go together quite well and it's definitely our best release so far.

AH: Lyrically, we get the impression that the EP is very direct and honest?

Lukas: Exactly. We're not a band to make up some stuff and write about situations that didn't happen to us. I guess we're all pretty straightforward guys and also brutally honest. I also don't see that changing in our future releases so I think our lyrics will always be very direct and honest.

AH: You worked with Sean Duddy and Seb Barlow on 'TTYCMM'. What did they add to the bands sound that wasn't there before?
Lukas: We got to know Sean on our first Euro/UK tour when we played with his old band – Yeah Detroit. He wanted us on there and always believed in our band. This always really meant a lot to us, so we thought we'd work with someone who has an idea of how the band should sound and wants to get the best out of us. We've been friends since 2015, so the whole process was just really relaxed. He's very passionate about what he does and a great producer to work with. We're all super happy with the turnout and super proud of him for really getting everything out of us.
We got to know Seb through Sean, because his band (Woes) recorded their EP at his. He was super nice and really knows what he's doing. He just mastered the EP, but I think that this was the exact little touch that it needed. We would work with him again.
AH: You've also done your fair share of touring, especially in Europe. How have those experiences shaped Earl Grey and 'TTTYCMM'?
Lukas: As I said before, the Eastern Europe one probably shaped us the most. We were sitting in the van for very long periods, because the streets there are not as good as they are here, and driving anywhere just takes forever. We crossed so many borders (including ones with border guards holding AK47's) and drove through so many fucked up and shitty places there.
I think that at some point we all just wanted to die but whenever that happened, something really cool came up like beautiful scenery or a super big lake we could swim in and the world was okay again.
We broke lots of tires on that tour and had to pay lots of corrupt authorities. Something we wouldn't have experienced here but it definitely shaped us and brought us all together even more. I don't think that anyone of us will ever forget that time. We'll probably even tell our grandchildren about it.
AH: We see you're aiming to be touring Europe again early next year. Are there any countries or cities you'd like to go that you haven't been to yet?
Lukas: The March run with Hopes will probably include Germany, Switzerland, France, Czech Republic, Italy, Belgium and the Netherlands. We've never played in Italy or Belgium and had just one show in the Netherlands, so far so we're really looking forward to those shows. Also, Prague is an amazing city and I'm sure we'll all be super stoked to be back again. We want to tour the UK again really badly. We're planning to do so in May/June. Hopefully, it will work out this time! We'll also have some shows going on this year but next year will be the time where we'll be touring properly again.
'The Times You Cross My Mind' EP by Earl Grey is out now on Midsummer Records.
Earl Grey links: Facebook|Twitter|Instagram
---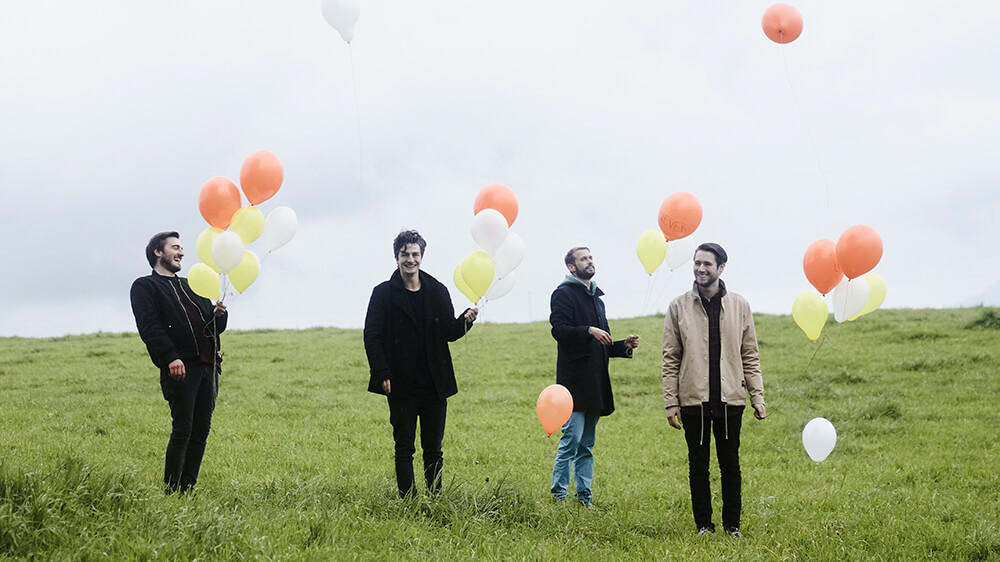 Cold Reading
Taking their cues from contemporary indie rock and 90's influenced emo, Swiss quartet Cold Reading produce a heartwarming and impassioned set of songs on their latest EP – 'Sojourner'.
Hailing from the city of Lucerne in Switzerland, the four-piece have shared the stage with names such as Four Year Strong, The Hotelier, The Flatliners and The Get Up Kids, all the while touring across Europe and the UK. 'Sojourner' picks up where their debut full-length, 'Fractures & Fragments', left off. Opening track, 'Books and Comfort', is an upbeat, infectious number. While the titular track hints at the band's stylistic expansion through the use of electronic drums and intimate guitars. Overall, the EP serves its purpose by raising the band's profile and handing them plenty of potential.
In the weeks leading up to the release of 'Sojourner', we spoke to the band about their history, the EP and the Swiss music scene.
For Fans Of: The Get Up Kids, Brand New and Mineral
AH: For those who are unfamiliar with Cold Reading, can you bring us up to speed on the history of the band?

Mike (vocals and keys): I've been friends with Chris (guitar) for many years before we started Cold Reading. Arthur (bass) used to play in a band called Face The Front with Chris. We actually met later Marc (drums) at a Funeral For A Friend show and soon after we started Cold Reading. In October 2015, we released our debut album, 'Fractures & Fragments', did some touring and soon started writing the songs that will now appear on the 'Sojourner' EP.
AH: Your sound has been described as a mix of indie rock and 90's emo. For new listeners, how would you define your sound?
Marc (drums): That's a pretty accurate description, though these terms are always quite vague. I'd say our music is certainly on the melancholic side of things, but we also love to write anthemic, uplifting melodies. The combination of these is one of the key characteristics of our sound I think.
Arthur (bass): And while there are bands we all agree upon and take major influence from ­– say Thrice or Brand New –, there are also major differences. Some of us love post-rock and 90s emo stuff way more than others, some prefer indie/synth-pop artists and so on. These diverging individual influences certainly broadened our sound.
AH: 'Sojourner' is the follow-up to your 'Fractures & Fragments' album. Has the band's sound changed on the new EP?
Chris: The sound has stayed within the same framework but we still tried to broaden the palette a bit. There are some synth and drum pads on two of the tracks to thicken the atmospheric textures. On the other hand, 'Books & Comfort' is probably the most direct and poppy song we've written. These tweaks won't startle listeners who already know our earlier songs, though.
AH: Can you tell us about the recording of 'Sojourner'? We understand you headed to a small cabin in your hometown of Lucerne?

Marc: Yeah integral parts of the songs were developed in a cabin in the backcountry near Lucerne. Of course, we continued on the songs in our regular rehearsal room, but we wanted to make sure to keep the cosy, peaceful atmosphere that worked its way into the songs when we were hanging out in that cabin.
Chris: We also did pre-productions for these songs, which we (surprisingly) didn't do when we recorded the debut album. Consequently, there was a bit more attention paid to details, and some finishing touches added in the final stages of the songwriting.
AH: In terms of the lyrical content on 'Sojourner', we get the impression it revolves around accepting mistakes and being optimistic. What do you consider the EP to be about?
Mike: The lyrics on 'Sojourner' capture moments on my journey to a more hopeful outlook on life's hardships and act as snapshots along the way. I learned to find solace within myself, as I've gotten better at putting up with setbacks and understanding failing as part of a development. To reconcile with myself is the vital element for me to accept myself.

AH: In recent years, you've toured across Europe and in the UK. How has the band's live show developed over that time, especially with support slots alongside names such as Four Year Strong, The Hotelier, The Flatliners and The Get Up Kids?
Arthur: We've never been a band who focus on elaborate visuals or crowd entertainment techniques when playing live. Our shows are relatively bare-bones, as we like to let the music do the talking. We have gotten tighter and more confident when compared to our first shows, of course. We've also been working on playing more cohesive sets, with segues, intros and outros to keep things flowing. That stuff also keeps the concerts more diversified for us.
AH: It's not often we hear about bands from Switzerland. What is the general music scene like over there?
Marc: The 'scene' is really small, but tightly-knit, so you can count on a loyal fan base and cool opportunities popping up, like supporting some bigger bands. It is such a tiny country, however, that there's no point of touring only in Switzerland, at least not if you are a small band playing a relatively marginalized style of music like we are. Of course, there are poppier bands or rap artists who manage to get quite big here, but I think with our sound it's difficult to gain a new audience outside that DIY-indie/alt-rock-whatever-scene we're rooted in.
Chris: Switzerland is still a great country to play shows in, as you are usually treated really nicely as a band, no matter how big or small you are.
AH: Alongside the release of 'Sojourner', you're going out on a short run in Germany. What are your plans regarding touring in the coming months?
Arthur: While we would love to tour as much as possible, we still have our lives outside of the band, with some of us studying or working as a teacher, so it's always tough to schedule things. Additionally, we want to focus on writing songs for a second full-length album. We'll not disappear completely, though, and we'd love to return to the UK soon. We'll see, cool stuff will be happening for sure.
'Sojourner' EP by Cold Reading is out now on KROD Records.
Cold Reading links: Facebook|Twitter|Instagram
---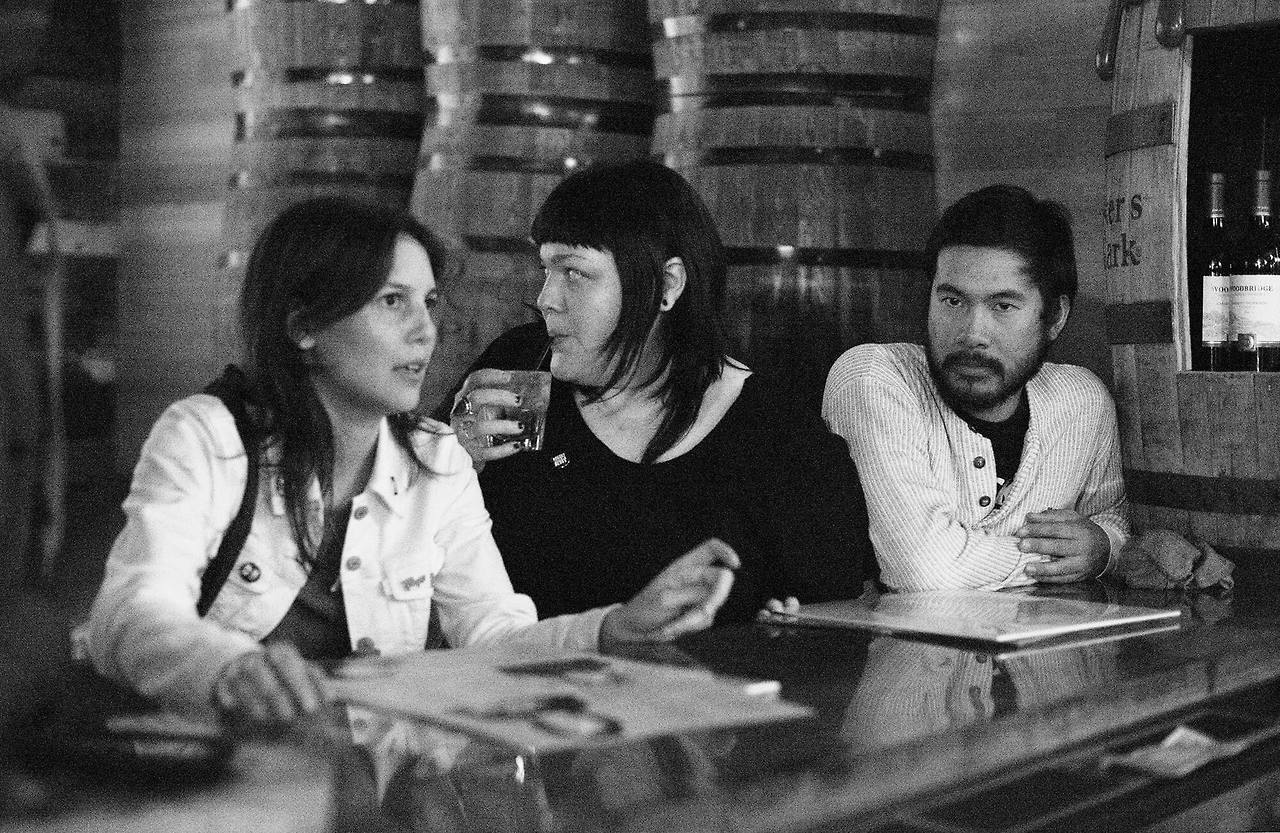 Monster Treasure
Some bands can be over-the-top, writing elaborate, slick songs. Other bands can be like Northern California's Monster Treasure. The former high school friends; Rachel Orimo (vocals/bass), Briana Granados (guitar/vocals) and RJ Mar (drums), showcase a blistering display of fuzz-driven rock that breeze in and out effortlessly. Add to that dreamy vocals and hooks, and you're left with a band with tonnes of potential.
Having collectively returned to their hometown of Stockton in 2011, the trio moved in together and soon found themselves jamming in the living room. Fast forward six years and Monster Treasure have just delivered their second album. Simply titled 'II', their sound has been described as "Blondie meets Nirvana" and rightly so. The combination of grunge-esque fuzzy guitars and harmonious indie-punk vocals has an addictive quality.
With 'II' now out in the open, you can expect to see Monster Treasure returning to the UK this month, where they'll be joining Slowcoaches. Before heading over, we talked to Rachel Orimo about 'II', their hometown and how their split songwriting works.
For Fans Of: Teenage Fanclub, Nirvana and Ash.
AH: You've just released your second album ('II') but could you give us a brief overview of the band's history. We hear you were all high school friends.

Rachel: Yeah! We've been friends since high school. Briana was the one who got me into going to local punk shows. Soon after, we met RJ and we all became close friends, went to shows together and hung out all the time. We all played in punk bands in high school. Afterwards, we all moved away. I moved to the Bay Area for college and Briana and RJ moved to Seattle for a bit; they played in a short-lived band called Rabbit Rabbit. By 2011, we all ended up moving back to Stockton into a house. We all knew we wanted to play music again, so we did. The three of us just clicked. We wrote and recorded our first EP with our friend Ben Hirschfield in my Grandma Mildred's basement. Our buddy Vince of Squirmy Records and Nich & Dal of Phono Select Records joint-released it on cassette tapes and it was well received, particularly in Sacramento.
We kept playing shows and writing new songs, which led up to LP 1, which Ben recorded as well at the then-new Nu-Tone Studios in 2013. Kevin Showkat created Harlot records, reached out to us and released it in 2014. A couple years later, Tarik of Leisure+District contacted us out of the blue, said he heard and liked LP1 online. Turns out that he is a wonderful person with a background in music/business looking to bring us to the UK in 2016, which was and is fucking amazing. We still can't quite wrap our heads around how magical this all is.
AH: 'II' was recorded last April. How does it feel to finally have it out and how does it differ to your self-titled debut?

Rachel: Damn it feels good to finally have it out! We've been playing these songs for almost two years now and we've been finalizing these recordings since April when we could. I think 'II' is different because LP1 was our first studio recording experience. I feel like our voices and playing are more confident. It was a different experience, but the process wasn't brand new or as intimidating to us.
Working with Ben for all of our releases has been great too because I feel like we've all grown as collaborators and we've always worked well together. He listens to our weird or detailed descriptions on how we want something to sound and he gracefully and patiently makes it happen. He also played the saw and added cool subtle guitar parts here and there. Generally, LP2 music is more upbeat than the first. I think it definitely reflects that we're continuing to hone our style but also maintaining the raw element we've always had.
AH: We hear you and Briana split songwriting duties. Does that have any effect on the sequencing of the album and making it coherent?

Rachel: We do and I think it's safe to say that it doesn't effect sequencing too much. Variety with a consistent style is cool. I watched Tom Petty & The Heartbreakers' "Damn The Torpedoes" VH1 Classic Albums and (of course) he described it best; 'What both of them do that's so great is when I give them something, they give it back to me better than I thought it was in the first place.'
We show the songs to each other, stay true to what we initially want, tweak/add stuff, drench it with our style(s) and luckily, they all usually just work. Briana has the amazing ability at finding the perfect flow/sequence for both LPs. With 'II', we added in a few different things in between tracks that we thought would be good for the flow and make it different than LP1.
AH: How much of an influence has Stockton, CA been on your music?

Rachel: Despite its bad reputation, Stockton is an underdog city. We all grew up there, so I feel like Stockton will always be a part of who we are as individuals, as a group of friends, and it'll probably always manifest in our music in one way or another.
We're lucky we grew up there when there was a busy music scene, especially a punk scene. We saw crazy fun shows in all over the place.
Whenever we're living there we hate it, but when we leave, we feel homesick. It's resilient in the sense that a lot of tough, genuine, funny, supportive, unique, good-hearted people live and grew up there. On the other hand, it's also a sad, slow town full of struggle, violence, drugs and abandon which is depressing. For all the bad, there's the good that's just a little bit tougher to find, like concrete roses I suppose.
AH: Besides the release of 'II', you're coming over to the UK this month for shows with Slowcoaches. What can people expect from a Monster Treasure show?

Rachel: We are SO excited to tour with Slowcoaches. Their music and shows are epic! As for us, best-case-scenario is to expect a loud feel-good rock 'n' power trio that sounds like mermaids and chainsaws (someone told us that once). RJ is a fantastic drummer, people are always captivated by him live and it's fun to chant "R-J, R-J!" so come watch him shred. Briana's guitar and voice will melt your face off. I might bleed all over my bass which has been happening frequently. Bloody fingers crossed, we'll spark some girl-pits along the way as well.
'II' by Monster Treasure is out now on Leisure & District.
Monster Treasure links: Facebook|Bandcamp
---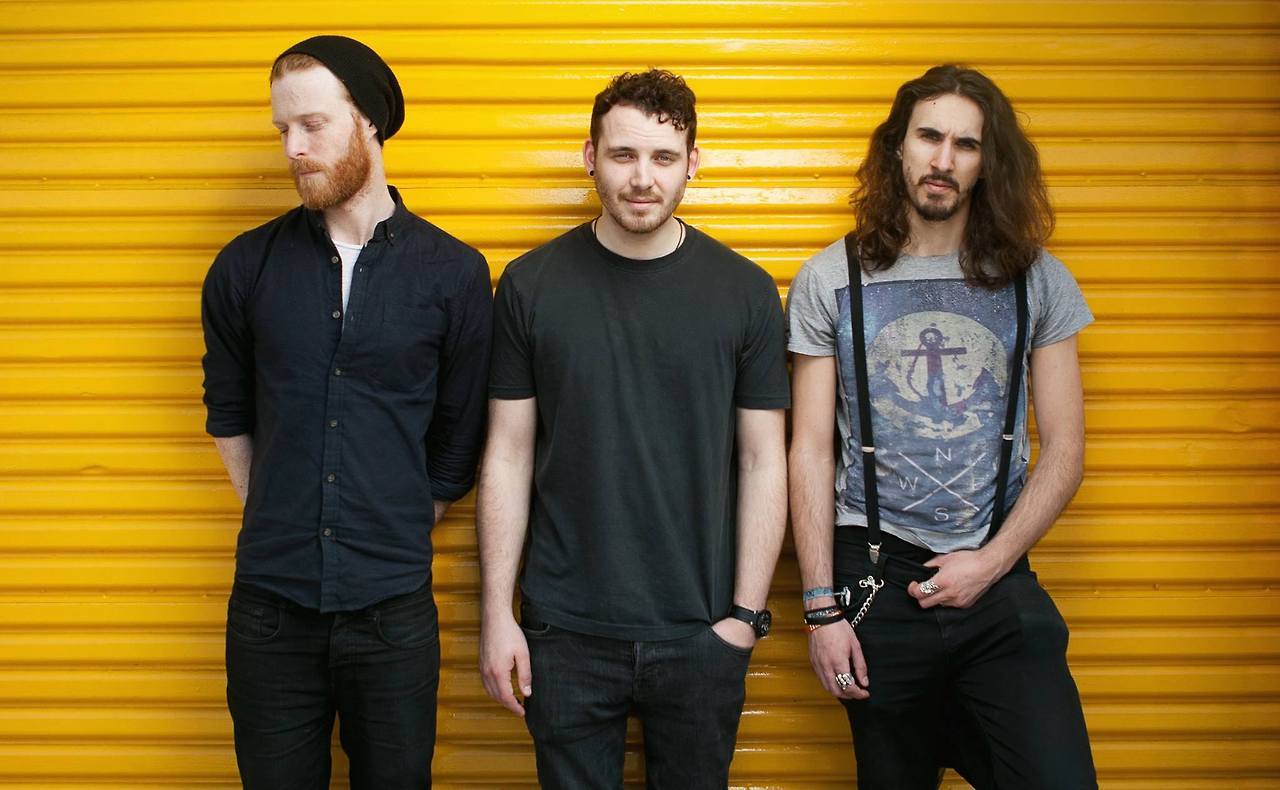 Eyre Llew
On their stunning debut album, 'Atelo', Nottingham trio Eyre Llew produce a cinematic and mesmerising collection that simply consumes you from start to finish. Since forming in the summer of 2014, the trio, made up of Sam Heaton (vocals and guitar), Jack Clark (piano and drums) and Jack Bennett (guitar), have been honing in on their sound through releasing several singles and touring throughout the UK.
'Atelo' has been in the works for the best part of two years, yet it's certainly been worth waiting for. Eyre Llew's craftsmanship is perfectly executed throughout. From the soothing intimate piano on 'Havoc', to the breezy harmonies on 'Oslo' to stirring build on its title track, 'Atelo' is one of the most compelling records we've heard this year.
With the album now complete and out, Eyre Llew will be hitting the road hard in coming months, with a hometown release show being followed by a European run.
Fresh off a tour of South Korea, we spoke to guitarist/vocalist Sam Heaton to fill us in on their story so far.
For Fans Of: Bon Iver, Sigur Ros and Explosions In The Sky
AH: Can you bring up to speed with the history of the band since you formed in 2014?
Sam: We got together in August 2014. It just clicked. By 1st September we had already recorded the first single we wrote together ('Mortné'). From there on, we wrote, recorded and shot a music video for a single – releasing it on the 1st of each month, every month. We released nine singles before we played our first show, at The Maze, Nottingham. It really launched us into the live scene from there.
A year later from that we had played a load of festivals and were embarking on our first UK tour. Over 2016, we toured up and down England, Scotland and Wales while writing and tracking 'Atelo' when we could fit in rehearsals. It was over the winter months of 2016/17 where we properly started recording the record. In all, we spent about two years writing and recording it.
Towards the end of recording in January (2017), we started collaborating with a bunch of creatives on a music video series – shooting two parts in Norway, Gran Canaria and various places around the UK. It's a really exciting project with big things on the horizon. Whilst that was going on, we embarked on a big UK tour in March followed by playing loads of festivals including Y Not and Dot to Dot. We also played our first showcase in Europe at Seazone Festival in Poland. As a result of that, we were asked to tour around South Korea last month, which was an incredible experience and has really allowed us to step up a level.
We're doing a 5-week tour in ten or so countries in Europe in November/December as well which we can't wait for. With the progress over this year, we know that 2018 will be our most exciting yet; with offers to tour various countries around Europe and Asia. We can't say much now but we're ecstatic about it all.
AH: 'Atelo' is your debut album and follows several singles. How vital were those singles in finding the band's sound?
Sam: It was a way for us to get comfortable and start writing together. We were gradually finding out what we were comfortable doing composing/releasing that way. What we didn't realise would happen before the months went on was how much it built us up and projected ourselves onto the local music scene as this new band with loads of material that's coming out. For us, the writing part has always been easy, we now actually have to discipline ourselves and stick to a writing/recording or touring schedule as we can get carried away with a number of tracks we do. I'm positive it was those early months that built that chemistry up with each other – an I'm really pleased we did.
'Atelo' is self-produced and has been in the works for two years. How relieved are you to finally getting it out there?
Sam: We're very relieved and kind of exciting. There's always that worry of what will people think of it and stuff, especially as we feel like we've had people waiting on this for so long now. I think from all the work we've put into it, we're just looking forward to touring it as much as we can, seeing where it takes us and gets writing the next thing in the background as soon as possible. We've actually got plans for the second, third and even the fourth releases already (haha) but like I say we have to discipline ourselves with what we're doing and when because we can find ourselves writing too much.
It's kinda of crazy that we've never had a collective release like an EP to even keep us going 'til this point – just singles… Not many bands do that. It wasn't something we intended really but it definitely seems to have added that excitement for it from the reception we've had off the videos and even the pre-orders.
AH: From hearing the record, we get the impression that the aim was to produce an immersive body of work?
Sam: In all honesty, we just do what we do. We've had people come up to us and say 'how do you write something like that' or 'to write that kind of thing you must re-work and build up songs until it gets there right?' Well, we just jam together. There isn't really a secret formula or anything like that. The two Jack's and I jam together and within a band practice, we could have loads of ideas floating about. Then it's this kind of thing that comes out. Maybe one day we'll release old demos of songs when we were composing them. I've got hundreds of clips on my phone(s) from the years with these two and most of the songs final recordings aren't very far from how they were the day we jammed it and recorded it on our iPhones so we wouldn't forget it. The album was a collection of stuff we wrote over 2016. We're all in the same mindset with where we want to go composition wise – which is a really lovely thing.
AH: Lyrically, what themes does the record cover?
Sam: To cut lots of long stories short it's a lot of personal stuff that we've been through. touching on friends, family, loss of loved ones, moving on and being positive in the situations your in and will be reaching in the near future. It's mixed. People I think are starting to recognise that we're not just a 'sad' band and we never intended to just be a sad sounding band – it's just what was coming out I guess… I remember a girl came up to us after a show and was expressing how much she enjoyed it and she described it as sounding like hope. Which I loved and we've gone with that since.

AH: This past summer, you've played numerous festivals. How did you find those experiences?
Sam:
Good. Bad. Mixed and really exciting. To be included on those lineups was a really great thing for us. Having our name up there with assorts of incredibly talented artists. As a young band, you find yourselves playing earlier slots or smaller stages while bigger bands are on. Outdoor festivals are the tricky ones for us, as we often like to perform in dark places with our small lighting rig and when it's daylight that doesn't come across. It' just an aesthetics thing I suppose but it means a lot to us. I guess the worry is people won't experience you in the way they could. It's interesting the difference between urban, outdoor, showcasing and international festivals as well. Different ways of working, different types of audiences and generally just different vibes. They all have been really fun to do. The feedback we've had from everybody over the summer has been incredible. Really uplifting and encouraging.
AH: To mark the album's release, you're playing a hometown show in Nottingham in November. With such a cinematic sound, what is your live set-up between the three of you?
Sam: Well, the primary instruments in Eyre Llew are two guitars, drums and piano. JB (Jack Bennet) and I run stereo rigs with our guitars, each with a guitar amp and a bass amp at the same time. JC (Jack Clark) plays piano and drums at the same time running his drunk kick through a bass amp. So even though we're just two guitars doing the reverb-y stuff, we still fill out that low end like a regular band would.
For the launch show, we're decorating the venue with loads of fairy lights with the aim to make a sky of stars kind of vibe. We've asked a lighting engineer to choreograph a light show along with our set as well, which we're really looking forward to seeing. Plus as of writing this, we're less than 50 tickets from a sellout show – which is incredible for us! We can't wait.
'Atelo' by Eyre Llew is out now.
Eyre Llew links: Website|Facebook|Twitter|Instagram
---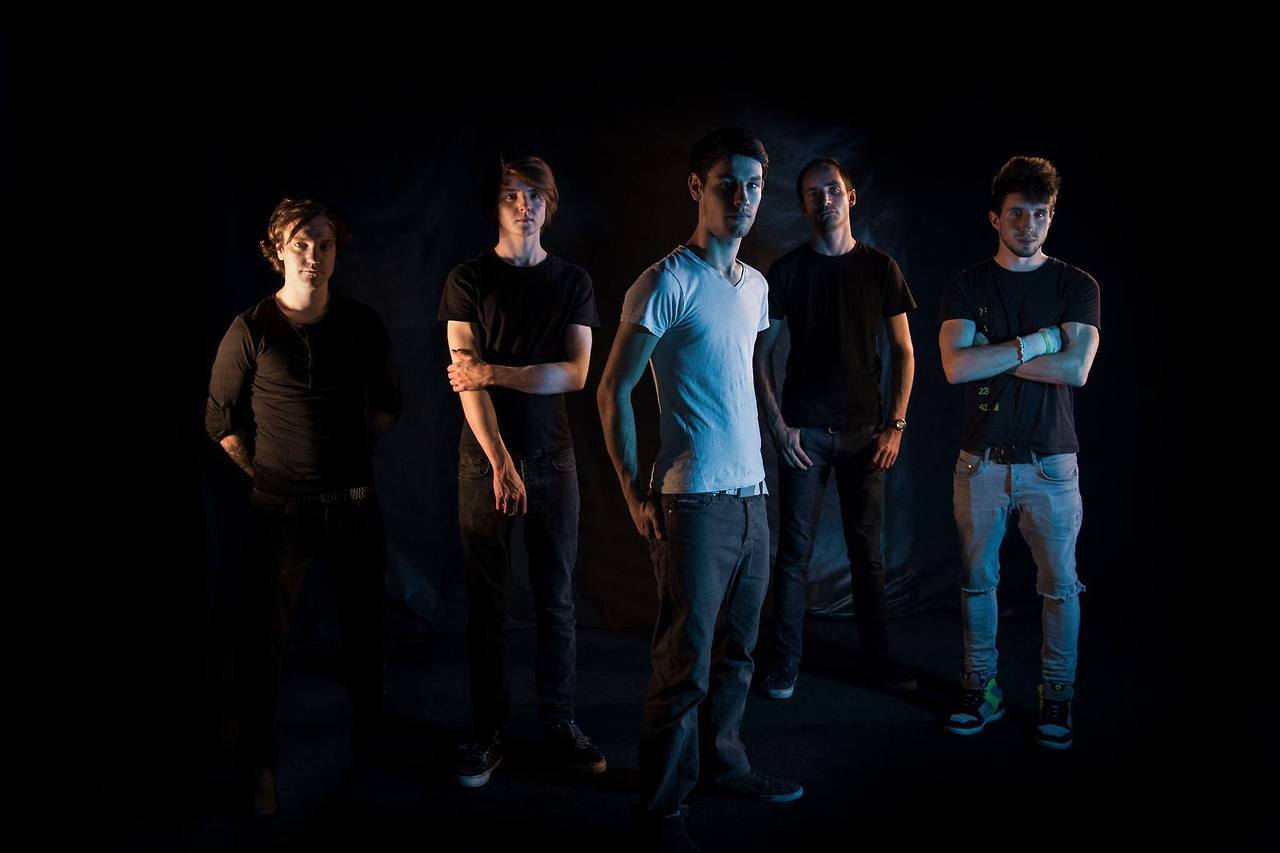 You Win Again Gravity
Hailing from Windsor, You Win Again Gravity have a tendency to blend metal, math and melodic elements on their new mini-album; 'Anonymity'. Over the course of its eight songs, the quintet showcase a stringent, dynamic display that takes in a variety of influences; Deftones, Northlane and Thrice. The end result is a cohesive record that highlights its member's talent; Jack Jennings' soaring vocals, Andy Janson's groove-ridden basslines, James Mackenzie's toe-tapping drum work while Daniel Dreelan and Johnny Bastable show versatile with an equal mix of technical riffs and striking guitars.
We grabbed a quick word with drummer James Mackenzie to find out more about b>You Win Again Gravity and 'Anonymity'.
For Fans Of: Deftones, Press To Meco, Northlane
AH: For starters, can you give us a brief overview of the history of YWAG?
James: The band actually has its roots all the way back in school. I started a covers band with a couple of friends and then over the years members joined and left, people switched around on instruments but we really became YWAG when Jack (Jennings) moved from guitar to lead vocals and Andy (Janson) joined on bass a few years back.
AH: And now you've just released a mini-album called 'Anonymity'. How has the band's sound grown on these eight songs?
James: I feel like we've progressed in our songwriting through the last couple of EPs and now really knew what we wanted from 'Anonymity'. There's a bit more variety and experimentation than on our previous releases. For example, the final track is about 8 minutes and a couple of additional instruments used. But it still feels very much like us, especially having stuck with Oz (Craggs) at Hidden Track Studios on production duty.
AH: From hearing the mini-album, it's a melting pot of post-hardcore, tech metal with a hint of prog. How would you sum up the band's sound to new listeners?
James: Well, you've managed it pretty nicely there! When asked, I find it can be tricky, to sum up a band like ourselves (with tech and prog influences) without sounding a bit pretentious. We do mess about with time signatures, keys, etc. But we try and do it in a way that remains accessible whilst keeping you a bit on your toes. Whether you like Deftones or Northlane or Circa Survive or so on, I feel like there should be something for you here.

AH: 'Grace & Focus' was the first song to be released from the mini-album. Do you consider that song a good introduction to what YWAG is all about?
James: I think so. We agonised over which song would be the lead single. It's very hard to judge your own music and there were varying opinions among members but we decided Grace & Focus encapsulates our sound in a neat 4-minute package and had a chorus that hopefully will get stuck in your head!
AH: What lasting impression do you hope people take away after hearing 'Anonymity'?
James:
The best that you could ever hope to achieve is that you can communicate how much you enjoy writing and playing the songs that you do. We hope that it leaves people wanting to listen to it enough to unravel it fully.
'Anonymity' by You Win Again Gravity is out now.
You Win Again Gravity links: Facebook|Bandcamp
---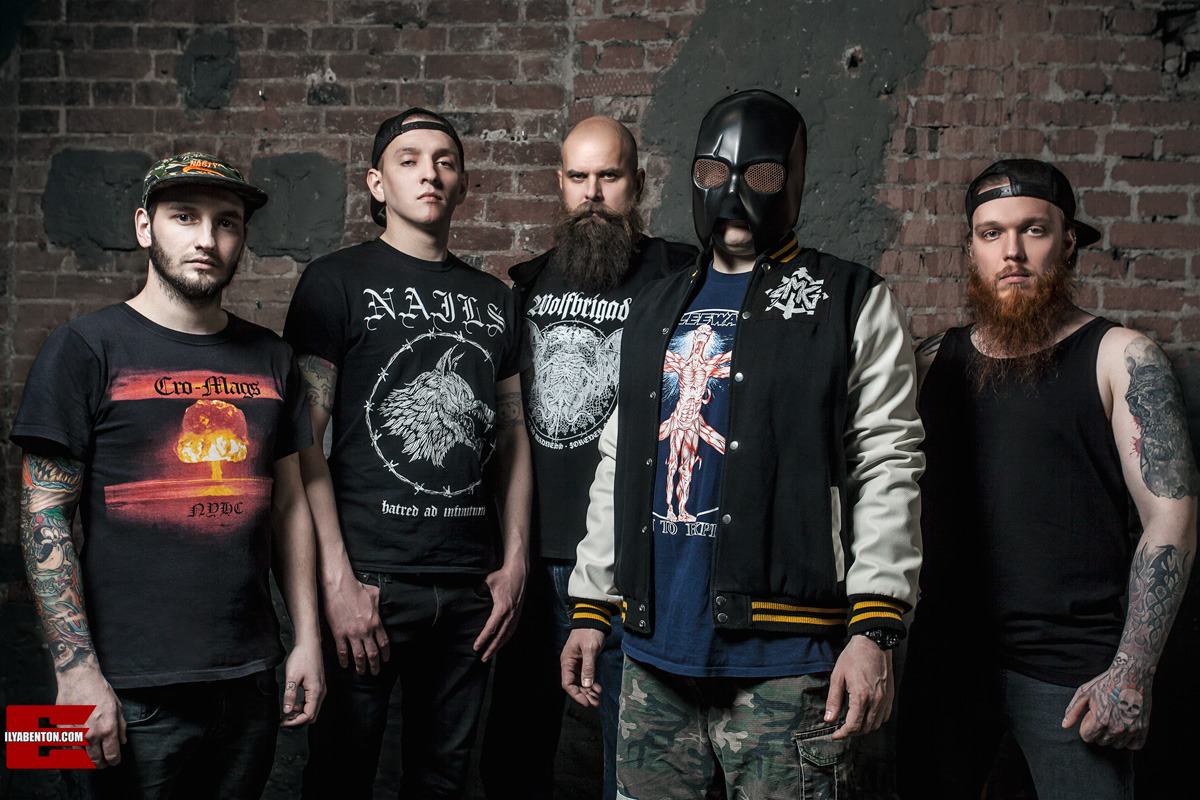 Siberian Meat Grinder
Brought together by a mutual love for thrash-metal, hip-hop, and hardcore punk, Moscow-based Siberian Meat Grinder have been a major part of Russia's DIY scene since forming in 2011. The quintet's sound is a mix of thrash and punk with Vladimir Siberian's spitting rhymes adding a hip-hop layer to proceedings. Their new album, 'Metal Bear Stomp' is a relentless onslaught of gang vocals, aggressive riffs, and breakdowns.
With songs about writing graffiti on trains, relentless touring and destroying the enemies of metal, 'Metal Bear Stomp' has a lot to offer with a defiant undertone of unity. However, don't be fooled by their tough, NYHC-like demeanour, SMG often give back, raising money for various children and homeless causes.
In the weeks leading up to the release of 'Metal Bear Stomp', we spoke to Siberian Meat Grinder founder and vocalist Vladimir Siberian about the record, giving back to communities and who Bear-Tsar is.
For Fans Of: Suicidal Tendencies, Sick Of It All and Agnostic Front.
AH: It's rare we hear about Russian hardcore bands in the UK. Bring us up to speed on the history of the band so far?
Vladimir: The band was started in 2011 by a group of people from different corners of Russia – Siberia, Urals, Moscow etc. We knew each other for years due to our involvement in DIY hardcore scene and street culture. At some point in our lives, we all moved to Moscow and decided to combine our experience and skills to create an act of supreme power. The idea was to bring together hardcore punk, metal, hip-hop, graffiti, skateboarding and other stuff we love to develop our own style of street music. Since that moment, we've released one EP, two LP's (including 'Metal Bear Stomp'), toured Russia and Europe many times and shared the stage with lots of amazing acts, including Agnostic Front, Terror, Sick Of It All, Nasty, Deez Nuts, Suicidal Tendencies and others.

AH: You're set to release your new album 'Metal Bear Stomp' soon. We hear you explored beyond hardcore/metal/rap on this record?
Vladimir:
As usual, we tried to incorporate more genres into our noise, taking influence from black metal, melodic death, reggae and even grime. Also on this album, our music became even more fast, aggressive and crazy than before. Let's hear what happened in the result.
AH: For new listeners, what can people expect to hear from 'Metal Bear Stomp'?
Vladimir:
We tried to do our best to create a record full of high-speed, aggressive and heavy music with hip-hop flow and lots of infusions from other genres, sometimes really surprising ones. In our opinion, it's the perfect soundtrack for spraying graffiti on walls and trains, doing crazy shit on your skateboard or BMX and running like a madman in a massive circle pit.
AH: Some of the profit from the album is going to the "A Gift To The Angel" foundation. Can you tell us more about this and what was the motive behind the initiative?
Vladimir: From the first days of our band, we've been trying to regularly take part in various benefits, mostly raising money for children's hospitals and shelters for the homeless kids. We believe that helping those in need is an essential part of the street culture, and we're happy that our music is good not to only make people hurt each other in the moshpit, but also to make this world a little bit warmer place.
Speaking about this particular action all the profits made by our crowdfunding project which you can find here. All the money will go to "A Gift For The Angel" foundation, which supports children with cerebral palsy.
AH: Lastly, who is Bear-Tsar?
Vladimir: Bear-Tsar is our mascot – an ancient being, the ruler of the dark Siberian dimension, full of secrets and mysteries and the commander of the worldwide army of the headbangers and pit maniacs – usually he presents himself as the giant bear in a cape and a crown.
'Metal Bear Stomp' by Siberian Meat Grinder is out now on Destiny Records.
Siberian Meat Grinder links: Facebook|Instagram|YouTube
---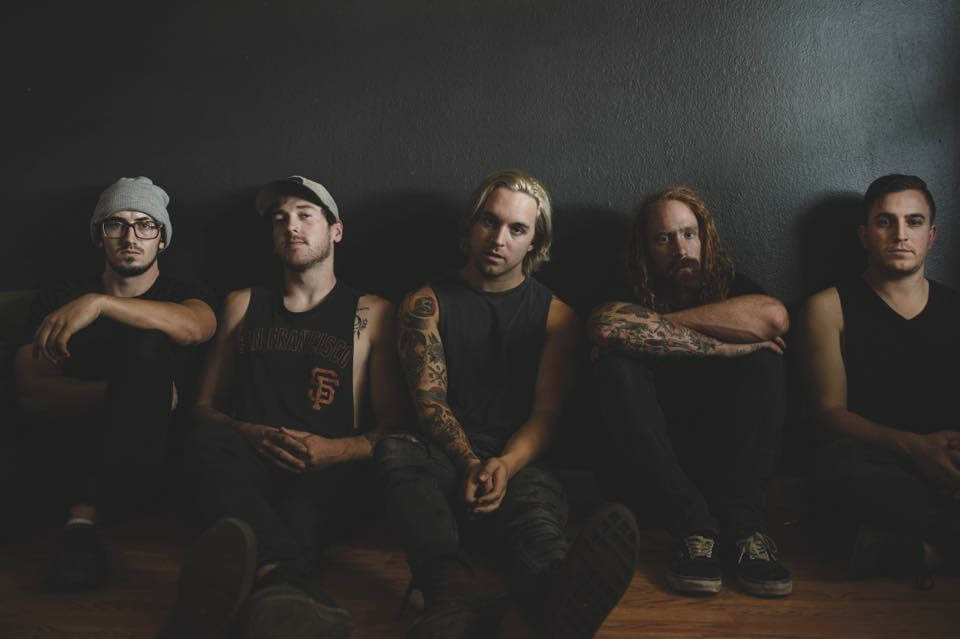 Shine Bright
On their new EP, 'More Wild Than The Wind', Utah metalcore outfit Shine Bright pay homage to the genre's bands of yesteryear. With hints of Underoath, Thrice and Vanna, the EP has its fair share of crushing riffs, screamo vocals with the occasional melodic hook worming its way in on songs such as 'Remorse' and 'Grow Up'.
However, don't think Shine Bright are straight up imitators as 'More Than…' has plenty of substance as it offers a thought-provoking set of songs based on transition.
Vocalist Zane Watrous recently spoke to Already Heard on variety of topics; their history, 'MWTTW', the Utah music scene and more.
For Fans Of:Underoath, Vanna, and Beartooth
AH: For many, 'More Wild Than The Wind' is an introduction to Shine Bright? However, it's not your first release. Can you bring us up to speed on the there history of the band?

Zane: 'MWTTW' is our second EP. We've been a band almost 3 years now, with over 12 tours under our belts. I've always been into the idea of larger concepts that cross between multiple albums. Our first release, 'Lantern', was an ode to nostalgic times, while 'MWTTW' is representational of transition and emerging adulthood. We've had several member changes, and several changes in the direction we wanna go, but now we've got our sights set.
AH: As for 'More Wild…' itself, how do you think the band has grown on this EP?

Zane: I think the whole concept behind 'MWTTW' is a testament to growth in general. Everything about it embodies growth in our personal lives and growth as a band. It's the bridge to who we truly wanna be a band. Musically, we've started really focusing on writing with the song structures as the foundation, rather than a riff or melody.
AH: The EP is your first on Standby Records. How did you two come together?

Zane: Our relationship with Standby began very humbly and extremely ordinary. We sent in a demo and began a conversation. Regardless, it's been a good time and great relationship thus far.
AH: You've been labelled as "post-hardcore" and "melodic hardcore". For new listeners, how would you define your sound? Also, who do you consider as your influences?

Zane: I've always found it difficult to label our sound, especially without having an outside perspective. In our core, we're all raised from the mid-2000s end era, and we love the music and try to keep a loose grip on that world, but we wanna push from the nostalgia and push something fresh.
We all listen to stuff like Trophy Eyes, Brand New, and a lot of Deftones. Lately, I've been getting pretty into Highly Suspect. Aside from that, we hardly listen to most hardcore subgenres.
AH: You're currently (at the time of writing) touring in support of the EP. How have the shows been so far?

Zane: The shows thus far have been killer. We're all getting more comfortable, more confident, and feeling more and more in tune with "showmanship". Sales of 'MWTTW' have been amazing, and we are immensely grateful for everyone that picked up a copy. If this keeps us touring and living life, I'm all for it.
AH: As for the Utah music scene, what is its current state? Any bands we should check out?

Zane: Utah. Hmmm. It's so hard to say anymore. Our hometown boasts the hometown of In:Aviate, Meg and Dia, and even Brendon Urie; so it's been very exciting and humbling following in the footsteps of some hometown heroes. St. George is a completely different world from Salt Lake and northern Utah, and we aren't as connected to that scene as we should be. But for some bands that are killing it? Check out Nevermind, Living in Fiction, Classic Jack, and Charlatan.
AH: Looking past the EP release, what else does Shine Bright have planned?

Zane: Tour. Tour. Tour. It's safe to say we love perpetuating this free travel thing. Seeing the country and hopefully, the world is extremely motivating in itself. We'll be hitting the studio again in the Spring to start working on a full length. One should expect to hear some maturation and new ideas. Either way, we're just living the dream day by day: Get home from tour, party at the Bright House, and grind until we get what we want.
'More Wild Than The Wind' EP by Shine Bright is out now on Standby Records.
Shine Bright links: Facebook
---
Words by Sêan Reid (@SeanReid86). Main photo by Helen Messenger.