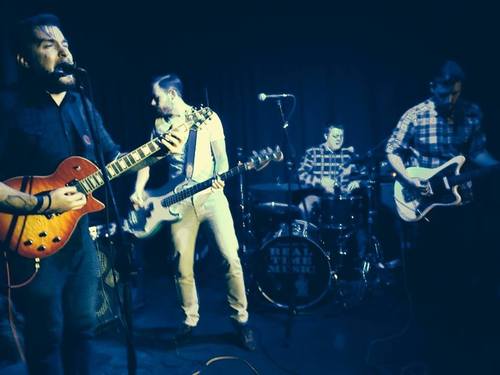 Formed through drunken nights in shitty "rock clubs" and influenced by the likes of Jimmy Eat World, Saves The Day and The Get Up Kids, Sheffield quartet O Captain have bucket loads of potential of their debut EP is anything to go from. Entitled 'Ghetto Hikes', the bands lyrical sentiment mixed with a stirring indie-pop sensibility quickly won us over.
Although it is still early days for the four-piece, they're still gaining plenty attention especially in the local area; they're set to play 3 slots at this weekends Tramlines Festival in Sheffield. In addition as bassist Ryan Smith tells us, new material is in the works and if 'Ghetto Hikes' is just the beginning, we expect future O Captain releases be more versatile yet as compelling.
To find out more about O Captain, Ryan took some time out from preparing for Tramlines to tell us how the band came together, their influences, what Sheffield bands we should be listening to and more.
Already Heard: For starters can you tell us who you are and your role in O Captain?
Ryan: O Captain is Thomas Bower on lead vocals and guitar, Michael Watson on drums and vocals, Paul Bamforth on guitar and I'm Ryan Smith and I play bass and also sing.
AH: Can you tell us a bit about the bands background?
Ryan: Back in early 2013 none of us were performing music. So we just decided to get together in a practice room and see what happened. With the exception of Mike, we've all known each other for years through drunken nights at shitty "rock clubs" in Northern England. After our original drummer departed to work in China, we recruited Mike who'd recorded our first demo in his bedroom. Since then we've had a lot of fun, performing and writing music we love.
AH: So you've recently released your debut EP called 'Ghetto Hikes'. For those haven't heard it yet, how would you describe it to them?
Ryan: For fans of sad songs and sad songs disguised as happy songs.
AH: From hearing the 3-track release, I hear a strong early-2000's indie/emo influence, am I right?
Ryan: For sure, that was our musical education. We were in college throughout this period and really just learning how to play our instruments, so you can't help but have this influences ingrained in you for life. Bands like Jimmy Eat World, Saves The Day and The Get Up Kids are bands we've always loved and still do. Emo is enjoying a bit of a resurgence at the moment with all the twinkly influenced bands around. And while I don't think we really sound like them, I think we still fit into that pigeon hole. But there are a whole lot of other influences from the indie rock world too, which I think bleeds over.
AH: If you had to pick 1 of the 3 songs from 'Ghetto Hikes' to sum up O Captain, which would it be and why?
Ryan: That's a tough one! 'Summer Party Jam' is definitely a lot more punk rock influenced, 'The Union' has more of an indie feel and A New Year is probably the most 'emo' of them all. So yeah, a tough one to answer!
AH: How has the feedback to the EP since its release?
Ryan: It's been pretty overwhelming! It was a pretty soft release; no press lead in, no release date announced beforehand. We literally got the mixes back and uploaded them straight online before rehearsals one evening. But people seem to dig it, which is a great feeling because we do too!
AH: You're also set to play a few times at Tramlines Festival soon. For those in attendance, why should they come and see O Captain?
Ryan: This will probably be published after we've played but yeah, we're playing 3 shows across all 3 days. We've got a fair few songs now so each set will probably be a little different dependent on: a) how long out set time is; b) how lively the crowd seem and c) how much Red Stripe we've drunk throughout the day.
AH: Speaking of Tramlines, how influential is it to have a festival like that for a city like Sheffield?
Ryan: It's fantastic. We missed out last year due to drummer changes as mentioned so to be playing 3 shows this year should be fun. It's a great festival and the atmosphere is usually amazing wherever you go. There's so much going on whatever your taste, just look at the main stage headliners: Public Enemy, Katy B and The Cribs. Then you've got bands in smaller venues like Nai Harvest, Bad Breeding and Allusondrugs, alongside big DJs like Annie Mac. It's a great weekend.
AH: The city has a long history of producing highly rated bands. Are there any up and coming bands we should be checking out?
Ryan: The first ones that spring to mind are our good buddies in Gilmore Trail who are a FANTASTIC instrumental post-rock band. For the punkier sound, Bad Blood are reminiscent of early Title Fight stuff, and of course emo heavyweights Nai Harvest.
AH: As much as we love 'Ghetto Hikes', 3 songs just isn't enough. Can we expect to hear more material in the near future?
Ryan:
Glad you like it! We're actually looking at some dates in August to record for an Autumn release. Possibly a 4 track, maybe 5 depending on how the writing and recording sessions go.
AH: Finally why should Already Heard readers check out O Captain?
Ryan:
Man, you'd hope they'd be invested enough to check us out if they'd read all the way through our rambling, right? We've been compared to Bayside, Jimmy Eat World and Saves The Day (which is pretty flattering) so if, like us you're into that sound hopefully you'll be into it!
'Ghetto Hikes' EP by O Captain is out now.
O Captain links: Facebook|Bandcamp|Soundcloud
Words by Sean Reid (@SeanReid86)