Although the year is winding down, that doesn't mean there are any exciting bands out there. This month's dose of "Recommends" consists of three bands at different stages of their career.
First up is Marseille metalcore band LANDMVRKS. Having released their second album, the Frenchmen are on the ascent with a UK tour alongside While She Sleeps set for early 2019.
As for Belgium-based quartet Slow Crush, they formed short of two years ago and are now part of the ever-impressive Holy Roar Records roster with their debut album, 'Aurora' gaining plenty of praise.
Finally, there is melodic metal newcomers DAY. The duo began life as collaboraters on YouTube before deciding to write their own material together.
---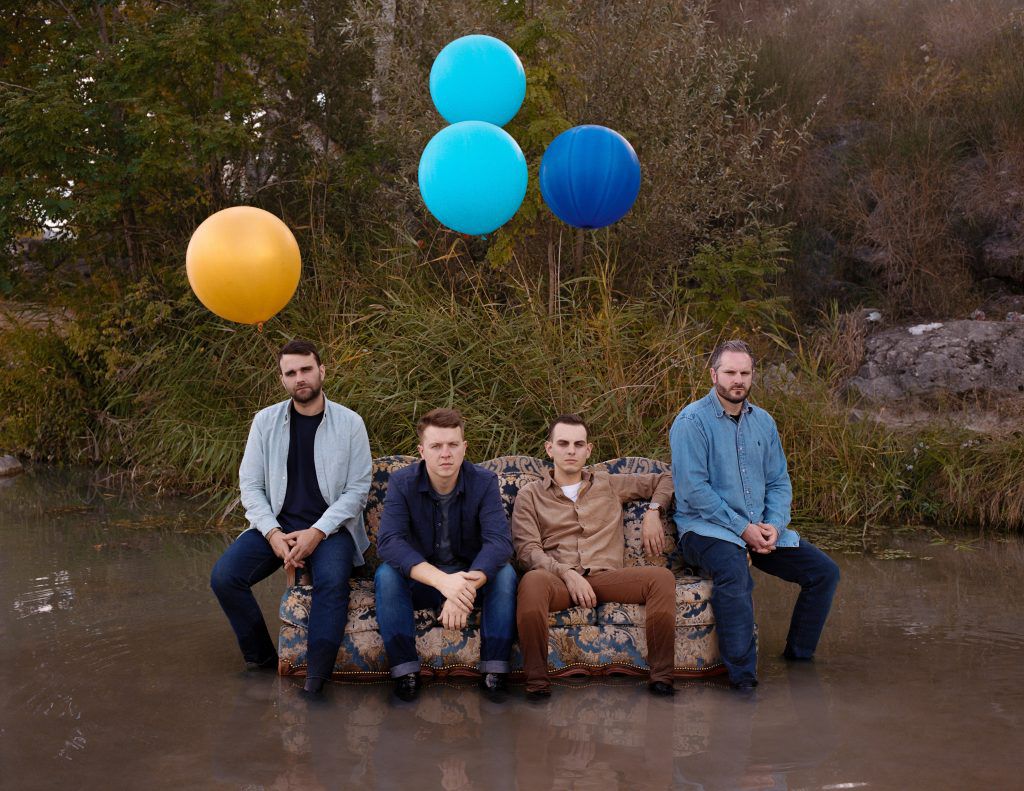 LANDMVRKS
Originally formed under the moniker of Coldsight, Landmvrks formed in 2014. Based out of Marseille, France, the quartet recently released their second album, 'Fantasy'. While it firmly sticks to their metalcore origins, through Florent Salfati's spitting hardcore vocals, big choruses and even bigger riffs, Landmvrks show a mature approach on 'Fantasy'. Peppered with stylistic nods to hardcore and 90s punk-rock, songs such as 'Scars', 'The Worst Of You And Me' and 'Blistering' exemplify their growing versatility.
'Fantasy' is also their first release on German-based label, Arising Empire. With names such as Alazka, Novelists and Polar on the roster, Landmvrks feel like a perfect fit for the label. In their relatively short time together, they've shared the stage with a host of major names such as Architects, Pierce the Veil, and The Devil Wears Prada. While they'll be coming over to the UK in early 2019 as support for While She Sleeps.
To learn more about the rising French metallers, we spoke to vocalist Florent Salfati about the band's formation, 'Fantasy'
For Fans Of: Novelists, Alazka, and Annisokay
AH: We understand that you've been together for four years, first known as Coldsight and then Landmvrks. For those hearing the band for the first time, can you bring us to speed on the band's backstory?
Florent: Our drummer (Nicolas Soriano) and I started playing together in 2012. I was singing in a beatdown/hardcore band at that time called Hate In Front, and I was looking to play guitar in another band because I had tons of music that I had recorded alone in my room. So we picked up the ashes of Coldsight which was our drummer's band. Through changing line-up and being desperate to find a singer who could satisfy us, I switched Nico (Exposito) from singing to joining us on guitar and we decided to change our name to create a brand new band – Landmvrks.
AH: And now you're set to release your second album, 'Fantasy'. What can new listeners expect from the album, and how has the band developed since 2016's 'Hollow'?
Florent: The first album was a big compilation of my bedroom demos and some new music that we had made afterwards. On 'Fantasy' we have developed a coherent universe, we have worked much more on all of the artistic aspects and we have developed our sensitivity during these two years; so people can expect a Landmvrks in great shape with all the ingredients of the first album developed to their utmost, also with innovation and risk-taking. Fantasy is the album we wanted to do from the very beginning, 'Hollow' was the introduction, 'Fantasy' is the first act of the development.
AH: In terms of the band's sound, were there any aims you had when writing the record?
Florent: We wanted a very polished but also a very raw album… we wanted something coherent but also diverse. We like to vary the songs and present 11 songs that don't sound alike so that the listener can follow a story without getting jaded. That's why we vary the intentions, structure and riffs and we're not afraid to take on different influences depending on the titles.
AH: It's also your first on Arising Empire. How did you join up with the German label?
Florent: We have been in contact with them for a long time. We wanted a label that would be invested and that would show us interest, and we didn't want to sign with just anyone. After many emails were exchanged, and at the right time, we thought it was time to move up a gear and give them our confidence, for the future of our career.
AH: What songs from 'Fantasy' would you consider the perfect introduction to Landmvrks?
Florent: The song 'Fantasy' is a good introduction to Landmvrks, it contains all of the ingredients that make us who we are; sharp riffs influenced by the hardcore scene, melody, catchy choruses and a deep atmosphere with a background of love and sorrow.
AH: The record also sees you collaborating with various people include Novelists' Florestan Durand and Aaron Matts of Betraying the Martyrs. How was it working with them?
Florent: Novelists are very close friends of ours, so the collaboration with Florestan was done in very simple way – we had this instrumental part in 'Scars' which deserved a beautiful guitar solo and we just knew that his sensitivity would fit perfectly into this song! The same thing goes for Aaron, that we had met several times in situations that we shared with Betraying The Martyrs. He was very happy to take part. He recorded on his side in Paris and the result is amazing!
AH: For some, metalcore can be one of those genres that can be overcrowded with bands. What makes Landmvrks stand out?
Florent: What makes us stand out is that Landmvrks are not only a metalcore band! We incorporate a lot of other influences like punk rock, hardcore, even hip-hop, even if it's in a subtle way I guess it makes the difference.
AH: You've just been announced as support for While She Sleeps' UK and European tour. How big of an opportunity is this for a band like Landmvrks? Also, why should people come down to these shows early to check you out?
Florent: It's a really big opportunity for us! We've already shared the stage with the Sleeps back in January for three shows in France, which were some of the best shows we've had. People should come to the show because we've been working really hard on our brand new live set for our new album 'Fantasy', and you will not be disappointed.
'Fantasy' by LANDMVRKS is out now on Arising Empire.
LANDMVRKS links: Website | Facebook | Twitter | Instagram | Bandcamp
---
Slow Crush
With their blend of reverb-laden guitars, textured execution and ethereal vocals, Belguim-based band Slow Crush have been winning over plenty of admirers with their brand of heavy shoegaze. The quartet formed less than two years ago yet their debut album, 'Aurora', sounds like a band with plenty of experience. On tracks such as 'Tremble', 'Shallow Breath' and 'Collide', they take you on a compelling journey that is overshadowed by a gloomy cloud with Manchester native Isa Holliday's floating vocals being weaved in throughout.
Although it's still relatively early days for the four-piece, their CV already includes notable appearances at Roadburn and Eurosonic. On top of that, 'Aurora' is one of many standout releases from the sublime Holy Roar Records this year alongside Rolo Tomassi, Møl, Pijn and Conjurer.
As the year comes to a close, Slow Crush are ending a significant year with a short run of UK shows before heading to America in March. Vocalist/bassist Isa Holliday recently spoke to Already Heard about Slow Crush's background, 'Aurora', and their future plans.
For Fans Of: My Bloody Valentine, Slowdive, Nothing
AH: It seems like it's been a whirlwind couple of years since forming in early 2017. How did Slow Crush come together?
Isa: We've all known each other for forever. Jelle (Ronsmans), Steven (Cammaerts) and I have been playing on and off in hardcore/punk bands since our teens and got to know Jan (Jouck) through that very scene. After our Doom band broke up, Jelle and I started jamming, testing my vocal waters, as it were, as I'd never sung in a band before. Turns out I couldn't quite get the vocal power for Doom but Jelle had wanted to do a more indie, shoegaze band for ages anyway, which lent well to my voice so we took it from there. Got Steven and Jan on board, played our first show in March 2017, released our EP 'Ease' two months later and watched the whirlwind commence!
AH: You recently released your debut album 'Aurora'. For those who have yet to hear the stunning record, what should they know about it?
Isa: 'Aurora' is a shoegaze, grungey heavy dream-pop album that hits you with loud, fuzzy, reverb-laden guitars and pounding drums contrasted by soft dreamy vocals. Did I mention reverb? Expect lots of reverb!
AH: Although the band's sound is drenched in walls of ethereal shoegaze and gloomy guitars, we hear the lyrical side of the album has a social conscience. Care to tell us more?
Isa: We have one real "protest" song on the album, I suppose, which is 'Tremble'. The song is us raising our voice for the voiceless – about the many injustices (such as animal rights, human rights, the marginalization of refugee migration, domestic violence…) lightly brushed over and swept under the rug by politicians and media misinformation. When the higher-ups and media turn to fearmongering, things don't add up. We ask our audience to keep a critical mind and look deeper to form your own opinion of what's right and wrong. Compassion, self-care and escapism are themes that heavily drive this album.
AH: You've recently been on tour in Europe. How have you been finding the response to the new songs live?
Isa: We literally just got home from a two-week tour with our Finnish friends, Mumrunner. Living in Belgium, pretty much bang smack in the middle of Europe makes it easy for us to hop over borders for shows. We've been lucky enough to do a couple of EU tours this year but this is the first one since the album's out and the response has been great! Although we had the crowd moving prior to the release, you can spot a few more enthusiastic dancers now, when we play the title track 'Aurora', for instance. It's always easier to disappear into music you know.
We recently played a hometown show and met a lot of new faces who discovered us through the national radio station, Studio Brussel. They invited us in for a live interview after the release and have been playing us almost daily ever since. We're so grateful for the exposure we've been getting on all platforms. We get messages from fans worldwide sharing how 'Aurora' has touched them. It's amazing!
AH: Besides a couple of UK shows next month, can we expect to see more of Slow Crush in 2019?
Isa: We definitely hope so! We'll be back over in May for the fantastic Ladyfuzz Fest and hope to be back over more in the summer. Book us and we will come!
AH: Although you've achieved quite a lot so far. What other aims does Slow Crush have?
Isa:
For being a relatively young band, to see how much we've done in this short time is crazy! Playing the internationally acclaimed Roadburn Festival as our third show ever, being featured in Kerrang! and the fact 'Aurora' was sold out in US before it's release are a few mental things that absolutely blow our minds!
In December, we're supporting Nothing in France before hopping across the channel to play Bristol (Bopfest), Sheffield and Leeds. Next year in March, Slow Crush will hit the USA! Starting in Austin, Texas with DreamGaze festival and working our way up the West Coast. Really looking forward to all of that!
As for future goals, we just want to play as much as we can in as many new places as possible. We'd love to tour in Australia, Asia, South America, Canada… you name it! It's a galaxy far, far away kind of long shot but we would absolutely love to play on Later with Jools Holland! Haha! That would be a dream come true.
'Aurora' by Slow Crush is out now on Holy Roar Records.
Slow Crush links: Facebook | Twitter | Instagram | Bandcamp
---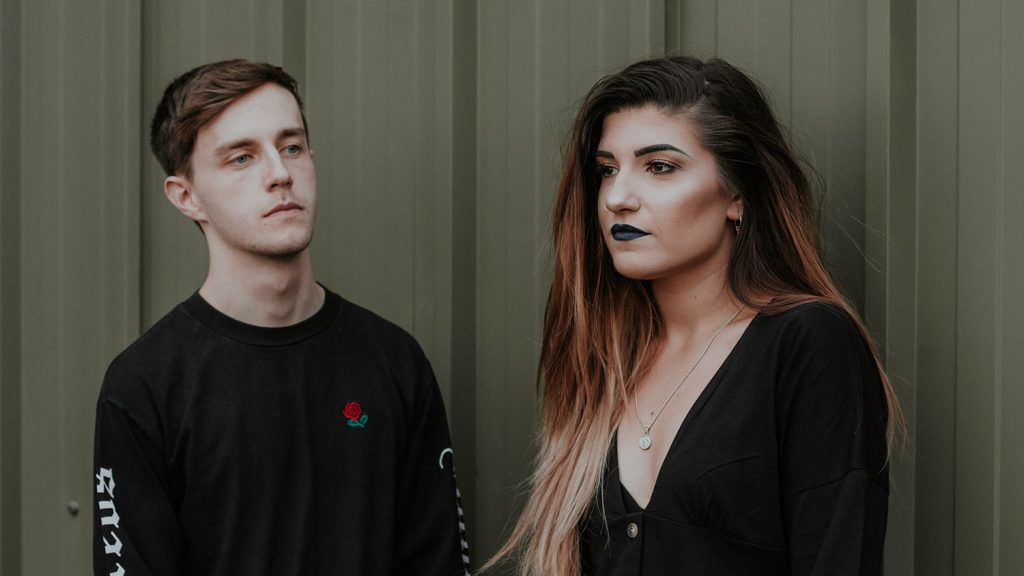 DAY
With the YouTube boom in recent years, musicians and creators have found a place to collaborate in a variety of ways. For Nottingham-based vocalist Christina Rotondo, she used the platform to showcase her skills by putting a softer touch on metalcore and pop-punk hits. As for guitarist Ali Marshall from Surrey, his interest in production, mixing and mastering led him to reaching out to Christina to work on a cover of Alexisonfire's 'This Could Be Anywhere In the World'. Besides their individual work on YouTube, the members of DAY have played festivals such as Download and UK Tech-Metal and shows with Napoleon, Silent Screams and Heart In Hand.
Fast forward to early 2018 and the duo would soon put in the foundations for what would become DAY. As debut single, 'Reverie' shows, it combines Christina stunning vocal prowess with Ali's technical production know-how and powerful guitar playing, to create a melody-driven slice of atmospheric metal.
While their past experiences in bands have stumbled, Christina and Ali have developed a relationship that has potential to see them thrive. It might be early days for the duo, but that didn't stop us from asking DAY about how the two of them came together and what can we expect from them in the future
For Fans Of: Palm Reader, Periphery and Northlane
AH: So with you and Ali living in different parts of the country, how did you come together to form DAY?
Christina: Ali found me via YouTube and asked me if I wanted to do a cover song together. I remember at the time being really overwhelmed with work so I had to turn down a lot of covers without even listening to people channels, but there was something in my head which said you need to check his out – so I did. It was insane – the instrumental of the cover he sent me was so good I thought it was an official instrumental from the band. We worked on a few more together and eventually, Ali got in touch and asked if I wanted to work on some original music.
AH: Once you came together, did either of you have an idea of what you wanted this band to be?
Ali: Not particularly! I just remember mentioning to Christina one day about possibly doing some original music together (after collaborating with her on a few covers for her YouTube channel) and she seemed up for it! After emailing lots of ideas back and forth to each other, we naturally found our own sound and decided to put it under the name 'DAY'.
Christina: I think it was really just a "everything happens for a reason" kind of moment. I knew from the second I did a cover with Ali I had to work with him, but I remember him saying he was really focused on producing – so I was honestly over the moon when he suggested it. He lives basically in my hometown, right by my parents, and I even worked with and know his dad really well which is crazy – I remember him talking about this son who liked the same music as me and I wondered if we'd get along… haha!
I knew I personally wanted it to be something different from what I've done, but most importantly I wanted it to be comfortable and me. Something that gave me that buzz about writing music that I've been missing for a while. We're really lucky – Ali is crazy talented and we've got so many different opportunities at our fingertips, so it'll be nice to see the band progress.
AH: Both of you have played in previous projects with varying levels of success. How have those experiences helped influence DAY?
Ali: It definitely helped me realise that you've got to be working with people who are equally as passionate, otherwise it's very easy for it all to fizzle out. Being a two-piece also stops there from being 'too many cooks in the kitchen', so to speak. Communication and decision-making is a hell of a lot easier.
AH: Some people may know (Christina) more for your YouTube content. For a new band, how beneficial is having that following already in place?
Christina: Its really important to me, and that was the whole point of setting up my YouTube in the first place, so its a nice reminder as to why I started creating content originally. I just really wanted an output into my musical 'journey', but most importantly, I wanted people to know that I had so much more to offer, and they could find new music through my band at the time. As I've been out of projects for so long, its been a little hard focusing on solely covers, but nothing has really challenged me creatively, until DAY. I think its something my current subscriber base will really enjoy.
AH: In terms of songwriting, how much of a collaborative effort is DAY?
Christina: Ali writes all of the instrumentation, does all of the mixing, does the demos as well to give me a realistic expectation of what the track will sound like, and I write all of the vocals and lyrics. I do like to send over a few different variations and then Ali can help me pick something that sounds best from a new perspective, but honestly, this band is 95% Ali!
AH: Your debut single is called 'Reverie'. What can you tell us about the track lyrically?
Christina: it's definitely the most 'raw' track that I've written. It's really personal to me and it's a song where I can really pinpoint what I've written about and what I was feeling at the time. With a lot of other works I have written, I've just kind of gone along with sentences that work together and the song ends up being about a huge variety of things but I think this one is kind of obvious (at least I think it does.) But I'm considering doing a bit talk through an explanation of the writing for 'Reverie' on channels like my Patreon, where people who support our music can find out a bit more about it.
AH: Besides 'Reverie', what else can we expect from DAY in the foreseeable future?

Ali: We've also got another single ready to go, so expect to see that sometime soon. We're also about to start writing for our debut EP.
'Reverie' by DAY is out now.