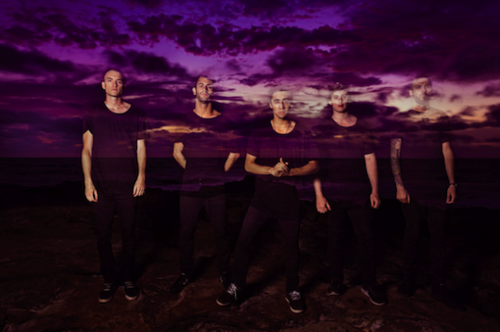 Since exploding on to the scene in 2011 in their native Australia, Northlane have gone on from strength to strength with their sophomore album, 'Singularity' entering the Australian album chart at number 3! Now the five-piece are planning on following in the footsteps of Parkway Drive by invading the UK.
This week sees the UK release of 'Singularity', a blistering collection of atmospheric metal and hardcore that the band have dubbed "galacticore". Northlane will also be making their live UK debut on the Impericon Never sAY Die alongside the likes of Emmure, Carnifex, I Killed The Prom Queen and more before jumping across the atlantic for their first North American run with Veil of Maya.
Already Heard spoke to guitarist Josh Smith to find out what UK fans can expect from Northlane, success in Australia, the Australian music scene and more.
Already Heard: Can you introduce yourself and your role in Northlane?
Josh: G'day, my name is Josh and I play guitar.
AH: For new listeners how would you sum up the bands sound and who would you consider as your influences?
Josh: There was a running joke for a while, we were coined "galacticore". Expect a fusion of metal, prog and hardcore. Our music is a reflection of everything that's listened to so it's really hard for us to just drop them directly on paper, but our more direct Influences include Architects, Incubus, Karnivool and in the early days For the Fallen Dreams.
AH: Having had success in Australia, you're set to come over to the UK this month for the Never Say Die tour. What can fans expect to see from Northlane's UK debut?
Josh: We've always been a very passionate and energetic live band, I guess the beauty of a live show is you never really do know what to expect, every show is different but we always give it our all.
AH: The tour coincides with the UK release of your second album, 'Singularity' which has been praised by many critics and entered the Australian album chart at Number 3. Did you ever expect to get such an overwhemling response?
Josh: Absolutely not, we just did the best we could and released the best album possible, albeit in a very short turnaround from the release of our first album Discoveries. We have worked very hard for a number of years, we have also carefully planned every step that we've taken but you never really know where your music will take you, and for us this sort of success was quite unprecedented.
AH: One of the tracks, 'Quantum Flux' has received similar success as well. Can you tell us what the track is about and how it came together?
Josh: Quantum Flux is about discovering beauty and joy in an everyday environment which is usually considered dull and boring. There is a lot that we take for granted in life, many things we don't give a second glance to but if we do take that second glance we realise that the world is a much more beautiful place than we'd otherwise consider. The track was written by Jon early on in the writing process and set the tone for the rest of the album, Adrian wrote the lyrics.
AH: Going back to the UK tour, are there any cities or other places you'd like to visit whilst you're over here?
Josh: Everywhere we are going, every city is an adventure, you never know what you're going to uncover or experience whilst travelling.
AH: With yourselves and Parkway Drive having success abroad, how would you describe the current state of the Australian music scene?
Josh: The Australian music scene is at an all time high right now and there's a bunch of bands here that are just about to explode and take over the world.
AH: Are there any other Australian bands we should be looking out for?
Josh: In Hearts Wake and Thy Art is Murder are killing it right now, there's also a band called Humality that opened up for us the other night and we couldn't believe we hadn't heard of them before. Other honourable mentions go to Saviour, Stories, Hearts Like Wolves and Aversions Crown.
AH: What are your plans following the Never Say Die and 'Singularity' UK release?
Josh: Straight after this tour ends we are headed to the US & Canada for our first ever major North American tour with Veil of Maya and our best pals Structures!
AH: Finally why should Already Heard readers check out Northlane?
Josh: Because we are bringing positivity to heavy music, and that's a very rare trait.
'Singularity' by Northlane is available now on UNFD.
Northlane links: Facebook|Twitter|Tumblr
Words by Sean Reid (@seanreid86)