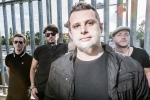 Hailing from the music hotbed that is Hertfordshire, My Little Empire are the latest rock hopefuls from the area, and with their new single 'Solitude' hitting all the right marks then the quartet are certainly one to keep an eye on.
Since forming in early 2010, My Little Empire have played alongside Don Broco and Spy Catcher and have received comparisons to the likes of Kids In Glass Houses. And it's clear why, as tracks like 'Solitude' is a brilliant slice of honest, pop-rock that leaves you wanting more.
Already Heard caught up with drummer Nathan Wright to discuss the new single, working with Spy Catcher's Thomas Mitchener, the Hertfordshire music scene and more.
Already Heard: First of all who am I speaking to today and what do you in My Little Empire?
My Little Empire: Nathan I'm the one behind the kit!
AH: Let's jump right into the new single, 'Solitude'. It's a upbeat, feelgood number and your first material since releasing 'Bound to Nowhere'. How has the bands sound developed on the single compared to previous material?
MLE: After getting such a great response from the album we really wanted to come out the blocks hard and fast and I think this has come across really well with the new single. So I guess the mentality was to go in hard but not stray away from our roots and I think we managed to do this with 'Solitude'.
AH: From hearing the single, it reminds me of bands like Kids In Glass Houses. For new fans are there any other bands you would compare yourselves too?
MLE: Yeah I mean we love the Kids In Glass Houses guys and really respect their sound and their angle on the scene. I think we're probably in the same ball park with them and You Me At Six, Spy Catcher and even more.
AH: You worked with Spy Catcher's Thomas Mitchener on 'Solitude'. How was the experience working with him and what input did he have on the single?
MLE: Tom is a long term friend and recorded our début album. He completely understands our angle as a band and individually what we want our instruments to sound like. He always knows how to get the best takes out of me as a drummer for example. His "hold back there" and "let it out here" vibes are always a great help, and he likes me laying down straight hard drums, which is basically me in a nutshell.
AH: I understand a video for the single is due soon. What can we expect to see from it?
MLE: We got Ian Collins on board with the new video and we shot it last weekend. You can listen to the single and think lyrically it's about one thing but once you see the video it completely spins the track on its head and you finally know what the track really is about.
AH: Following the single and video, can we expect to hear a lot more of My Little Empire in 2013?
MLE: 2012 has been a real blast and we have done things we only dreamed of doing, and now coming into the back end of the year. More opportunities have opened up for us and as long as there's a place for us in the industry, we won't take our foot off the gas. Probably another one, maybe two new singles in the first half of the year, then a tour towards the end, fingers crossed on a new album as well. 
AH: You're from the Hertfordshire area which has in recent years produced several notable bands. What is the state of the music scene in Hertfordshire?
MLE: You know probably 8 years ago is was really pumping, bands like Gallows, Enter Shikari, Friendly Fires and loads of other well known bands used to play where we do now every week. But at the moment it has kind of dropped off alittle, which is a shame. There's a lot talent still in the area. I hope people don't think it's bled dry just yet!
AH: Does it give you confidence seeing local bands doing so well on a National scale?
MLE: Of course! You know guys round haven't broke just nationally, it's also international recognition, so there's always hope for us.
AH: Do you have any final words for the Already Heard readers?
MLE: Follow us on Twitter and Facebook, all them social media sites and catch us at a show, hang out, we love what we do and want to share the ride!
'Solitude' by My Little Empire is released on January 14th 2013.
My Little Empire links: Official Website|Facebook|Twitter|Tumblr|Soundcloud
Words by Sean Reid (@SeanReid86)