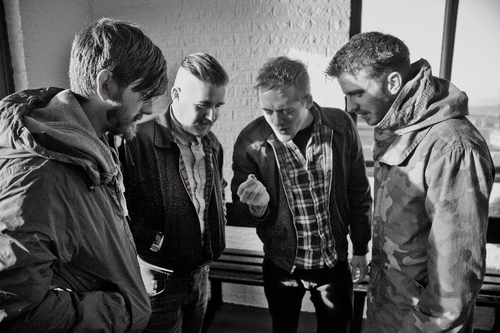 Hailing from Belfast, alternative indie rock quartet More Than Conquerors have been compared to the likes of Manchester Orchestra, Brand New, Twin Atlantic and Biffy Clyro but their influences very much lay in their hometown. Their debut album, 'Everything I've Learnt' thrives off the bands youthful angst and sense of belonging with the end result being a powerful, exciting mix of melody-driven alt rock that is on par with the bands comparisons.
We spoke to vocalist/guitarist Kriss Platt where he discussed the influence Belfast and its music scene has had on the band, what we we can expect from 'Everything I've Learnt', their forthcoming UK tour and more.
First of all can you introduce yourself and your role in the band?
Kris: I'm Kris Platt and I sing and play guitar in More Than Conquerors.
Your sound has been described as a cross between British post-hardcore and US alt rock. For new listeners, how would you sum up More Than Conquerors' sound?
Kris: There are big riffs and big hooks. It's music that gets you moving.
AH: Although you've had comparisons to Manchester Orchestra, Brand New, Reuben and Twin Atlantic, we hear local bands SixStarHotel and Panama Kings have had a major influence on you. Care to explain?
Kris: Before More Than Conquerors existed we were going to see bands like Sixstarhotel, Panama Kings and Fighting With Wire in Belfast. The atmosphere excited us, and the thought that we could do something similar excited us even more. These bands were our bread and butter, normal guys, small rooms, sweaty shows and catchy songs. They helped us realise what we actually wanted to spend our time on.
AH: How much of an influence has Belfast and its musical scene had on the band?
Kris: Belfast is a tough place and if it's taught me anything it's that you just have to get up and do it yourself because no one's going to do it for you. Some of my favourite bands in the world come from this small city. There really is a lot going on that everyone else needs to take heed of.
AH: This month you're set to release your début album, 'Everything I've Learnt.' You've described the album is about being frustrated and having a sense of belonging. Is this a message that comes across strongly on the record?
Kris: Not necessarily, the lyrics can sometimes be cryptic but there are a few instances where the frustration is extremely evident. There are lots of things I've wanted to say and ask for a long time so it took a lot of guts, I'm happy I did.
AH: We've heard two songs from the record so far, 'Jaw' and 'Try-Antlers', what can you tell us about those songs?
Kris: 'Jaw' is about faith or religion coming between two people which in turns makes those two people despise everything they've ever believed in.
'Try-Antlers' is a song about a girl (which never usually happens for me). It's also the first time I've included sarcasm in a song. It's not that obvious to others but it's funny to me.
AH: In terms of the entire scope of the whole record, do these songs give us a good idea of what we can expect from the full album?
Kris: They're definitely two of the heaviest songs on the album yet they still give a really good sense of the album's scope. It's a raw and honest sounding record with no frills so 'Jaw' and 'Try-Antlers' were the perfect choices to showcase that.
AH: How do you hope people react to the album?
Kris: I know it's not going to be for everyone but that really doesn't bother us. It's something we're extremely proud of and I just hope people see that. If they like the songs and want to sing them along with us then we couldn't ask for anything more.
AH: Following the album release, you're on tour in October. When it came to writing the album, did you have the aspect of performing these songs live in mind?
Kris: Songs never begin as stadium anthems, if they do you've lost the essence of songwriting. They come when you're least expecting them and they don't care if you're playing them in your bedroom or to a million people. Ask Katy Perry that, she may have a different answer.
AH: What can we expect from a More Than Conquerors show?
Kris: We make sure to play every show like it's our last , hopefully that comes across and you enjoy it like it's the last show you'll ever see.
AH: This interview is part of our "Recommends" series which highlights up and coming bands, why should Already Heard readers check out More Than Conquerors?
Kris: We're relentless in every song we write, every show we play and every tour we do so you really should join us for the ride.
AH: Do you have any final words to close the interview?
Kris: Support independent music; One Direction have enough money.
'Everything I've Learnt' by More Than Conquerors is released on 30th September through Smalltown America.
More Than Conquerors links: Facebook|Twitter|Bandcamp
Words by Sean Reid (@SeanReid86)