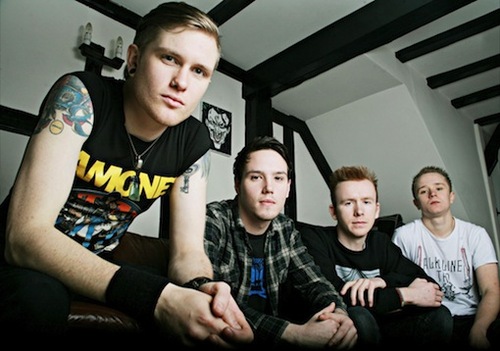 With a through and through punk rock sound influenced by bands such as Alkaline Trio, Misfits, Bad Religion and several others, Guildford four-piece Miss Vincent have caught the attention of many with their new EP, 'Creepy'; five tracks of brash, crisp and energetic punk rock that speaks from the heart.
Overall Miss Vincent and 'Creepy' shows a confident band that will only get better as they continue to test out material on the road.
Already Heard talked to guitarist Lawrie Pattison where he discussed the bands beginnings, the growing Guildford music scene, how 'Creepy' came together and more.
Already Heard: Hi. First of all can you introduce yourself and your role in Miss Vincent?
Lawrie: My name's Lawrie, I'm the ginger, big-eared guitarist and backing vocalist!
AH: The band have been together just over 18 months. Can you tell us how Miss Vincent came to be?
Lawrie: I was at uni and trying to find/start a band. Alex was trying to do the same thing and I found an ad he put online and he'd listed loads of bands that I was into. I emailed him and we sent some demos back and forth, met for a chat in the pub and that was that! After many months of searching, Jack, our drummer replied to an ad that I put up at uni, he came along for a hungover audition and we welcomed him into our midst. We had a bassist but she didn't last very long, so we toured for the latter half of 2012 as a three piece, but eventually we felt that something was missing. We found Owain in February this year and the four of us have been touring and writing and being dickheads together ever since!
AH: You've been described as "Guildford's answer to Alkaline Trio and Misfits". Would you say that is a fair description especially to new listeners?
Lawrie: We've been compared to a lot of different bands, from Trio and Rise Against to Paramore and even Guns n Roses (weird, right?) and it's cool that everyone seems to hear something a little different. I think you can definitely hear our influences in our music though. We like to throw the occasional Misfits cover into our live set as well, but I don't think we sound that much like them specifically.
AH: From reading our track-by-track guide feature, we know 'Creepy' is about being frustrated. Can you tell us how a Miss Vincent song normally comes together?
Lawrie: Typically Alex (Marshall – vocalist/guitarist) will write a song, bash out a rough demo and send it to us, then we all have at it! We'll come up with ideas on our own and then work on the songs together, changing and reworking things. We toured all the songs on 'Creepy' for months and that had a big impact on them, we had the time to try out different things along the way. Alex writes all the lyrics as well, and they tend to come from his personal experiences. Basically he just moans about shit and collectively we turn it into a song!
<a href="http://missvincent.bandcamp.com/album/creepy" data-mce-href="http://missvincent.bandcamp.com/album/creepy">Creepy by Miss Vincent</a>
AH: I understand you toured relentless before recording 'Creepy'. How important is it for a band at the level of Miss Vincent to be playing shows and testing out material beforehand?
Lawrie: For us it was really important, like I mentioned, touring really had an impact on the way the songs turned out. I think it depends on the band though, that's just what works for us. I'm sure there are some bands who keep everything close to their chest until they think it's ready to be heard by anyone, it's all just different approaches.
AH: You finished a run of UK shows earlier this month. How were they?
Lawrie: So good! I remember the drive home after the last show and we were all so gutted that the tour was over. The reaction from people was great as well, every show apart from one was somewhere we hadn't played before, so to play somewhere new and have someone want to come and chat to us about the band or buy a t-shirt or something is awesome, we really appreciate that.
AH: What was the reaction like to the songs from 'Creepy'?
Lawrie: 'Creepy' was all finished by the time we toured, so we would've been pretty bummed if everyone thought the songs were shit, haha! Playing new places we're never sure how people are going to react, but thankfully the reaction was pretty good, from crowds, other bands and promoters!
AH: Let's talk about your local scene. How would you sum up music in Guidlford?
Lawrie: Great bands, great venues, great promoters. Our good friend Brad from Hooligan Promotions gave us our first ever show at The Star, and a new promotions company called GU1 PUNX has just started up and are already putting on solid lineups. Overall Guildford's pretty fucking decent!
AH: Are there any friends we should be keeping an eye on?
Lawrie: Our buddies in Drones (their frontman Daly actually recorded 'Creepy') have a new EP out on September 9th! Also Trails, Dead, Darko, Fly This For Me, The Afterparty, all awesome bands.
AH: Besides the mini-album release, what else do you have planned in the coming months?
Lawrie: We're touring again at the end of September (20th – 27th) which we can't wait for, hopefully we'll squeeze in another tour before the end of the year as well, and maybe another video! Other than that we'll just be working hard, practicing, writing some new material and playing as many shows as we can!
AH: Do you have any final words to the Already Heard readers?
Lawrie: You can download our EP 'Creepy' totally FREE from our Bandcamp page! So please go and check it out, it would really mean a lot to us. Also, it's fucking FREE!
'Creepy' by Miss Vincent is available now on Bandcamp.