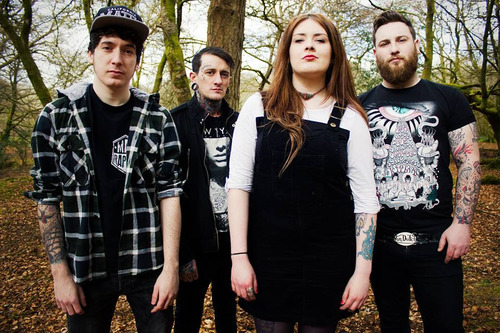 This week Northern Ireland rockers Making Monsters unleash their new EP – 'Attention', a riff-filled collection of gritty, hard rock numbers, that makes the quartet stand out from the dozens of female-fronted bands doing the rounds in recent years.
Since forming 2 years ago, Making Monsters have gone from strength to strength playing shows with the likes of Young Guns, Max Raptor, and Fort Hope along the way. Now 'Attention' is getting the band just that. Tracks such as 'Nosebleed' and 'Limits' shows the bands versatility by combining heavy riffs with a soft, melodic side.
Before Making Monsters make their way over to the UK for a run of shows, we caught up with leading lady Emma to discuss the bands formation, the new EP, the importance of radio airplay, and more.
Already Heard: To begin with can you tell us who you are and what you do in Making Monsters?
Emma: My name is Emma, and I sing in the band!
AH: Let's get started with the basic. What's the story behind Making Monsters coming together?
Emma:
Each of us did our time playing in local bands, but things didn't work out. Paul (guitar) and Brian (drums) had been working on an instrumental project under the name of 'MakingMonsters' for a couple of months, and naturally got the urge to take it to a live audience. They bumped into me competing in a local battle of the bands, got chatting, the next week we jammed, and 3 weeks later we had our first show! Things clicked, we kept our heads down, worked hard, and haven't looked back.
AH: Excellent. So for new listeners how would you sum up the bands sound?
Emma: I always find this a tough one to answer! We try not to be one specific sub genre of rock, with a mix of real heavy stuff, and sometimes easier listening, so there's something in there for everyone, but its generally riff orientated, sometimes brutal, and sometimes melodic vocals.
AH: We had a peak at your Facebook page where you state Jagermeister as an influence. Besides what are your musical influences?
Emma: Each of us have pretty different music tastes, but share the odd few favourite bands, such as Deftones, The Used and Reuben. I'll listen to anything thats got good lyrics, and a catchy melody, despite the genre!
AH: Moving on towards your new EP, 'Attention,' we hear it takes on a few different lyrical themes. Care to explain?
Emma:
I find it very important to keep themes in mind when writing a song, It should have importance and meaning behind it, but its also cool when its something the listener can relate to. The EP contains a lot of different themes, from heartache and my experiences growing up, to the quirky side of things with 'Attention'. 'What It's Worth' provides you with the chance to stand for what you know is right.
AH: Overall what can new and old listeners expect from the EP?
Emma: As opposed to when we first started, a more mature sound. We've definitely got a better idea of who we are, where we want to be, and progressed a lot in terms of songwriting and playing.
AH: You're heading out on tour in support of the EP, and earlier this year you played alongside Max Raptor, Fort Hope and Only Rivals. First of all what can people expect from a typical Making Monsters show?
Emma: Loud, angry ruckus but, sometimes sweet… We like to take our audience by suprise and shake them up a little.
AH: Going back to your UK with Max Raptor etc, as well as your Irish tour with Young Guns, how have those shows helped developled Making Monsters as a band?
Emma: Touring with such talented bands has literally been a dream come true. Our first UK tour in January of this year was an amazing experience, and indeed a learning curve. To be able to watch these acts performing every night was inspiring and has taught me so much. We're very lucky to have had the chance to tour with such great people.
AH: On top of that you've had some exposure through various major radio stations such as BBC Radio 1. How vital is this exposure for a young band like Making Monsters, especially when it seems digial streams and YouTube video views are apparently more influential?
Emma: For a little band in Northern Ireland, it has helped us in many ways. It helps us reach a wider audience, and without it we wouldn't have the listeners we have today. I still can't believe its us on the radio when we're played! So weird..but very cool!
AH: Finally why should Already Heard listen to 'Attention' and come out and see Making Monsters this month?
Emma:
Because we've worked our wee balls off and are coming all the way over on an 8 hour ferry, with a bag full of riffs, a mission to turn some heads, and melt some faces.
'Attention' EP by Making Monsters is out now on Death By Records.
Making Monsters links: Facebook|Twitter
Words by Sean Reid (@SeanReid86)