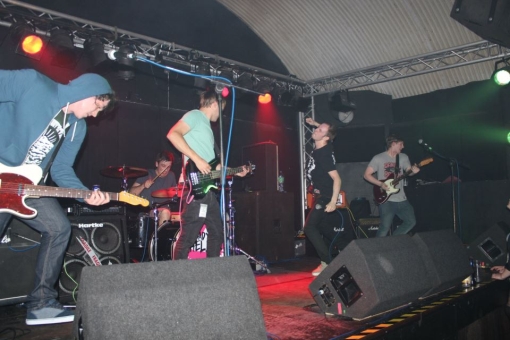 Leeds Pop Punk quintet Make Your Mark formed from the ashes of fellow Leeds band Left Right Goodnight in late 2011 and over the past 12 months they've been building a strong following with their brand of so called "pissed off pop punk."
Their début EP, 'Moments' has seen Make Your Mark be compared to the likes of Fireworks, Apologies, I Have None and Transit and following it's release last May, they've played shows whenever and wherever possible including shows alongside Me vs Hero, With The Punches and Nai Harvest.
2013 is starting off bright for Make Your Mark, first with the Already Heard-sponsored UK tour alongside Calls Landing later this month, followed by a new EP later in the year.
We caught up with Zak from the band to find out more about Make Your Mark's history, their new material, the Leeds music scene and more.
Already Heard: Hey Make Your Mark. Who am I speaking with today and what is your role in the band?
Make Your Mark: Hey I'm Zak and I play lead guitar.
AH: This interview is part of our "Recommends" series which highlights exciting new bands. For our readers can you give us a brief history about the band? I understand you were part of an old band called Left Right Goodnight?
MYM: We've all played in LRG at one time or another. Mert (Vocals) and Dan (Guitar) were the founding members and involved till the end. Don (Bass) had an stint in the early days before leaving and I was fan turned member who got to play the last show with the band back in 2009 supporting A Loss For Words at Cockpit 3. After a few years off we decided to start jamming again, had a few line up changes but then finally settled with the line up we have today with the addition of James on drums. We spent a few months practicing, we wrote a bunch of songs and decided to record our debut EP moments in February 2012.
AH: Your début EP 'Moments' has seen you be compared to Fireworks, Apologies, I Have None and Transit. What bands would you say have influenced Make Your Mark and who would you compare yourselves too?
MYM: When we started writing we didn't really have a style in mind, we would just play music we enjoyed and liked the sound of. I think Transit's full length 'Listen and Forgive' had just come out before we went to record, so on the production side of things, we definitely took a lot from that record. The comparisons to Fireworks took us all completely by surprise, we are all big fans but never really felt like we were writing music that even came close to the quality of theirs. We all have similar tastes but I think we've all been individually influenced by other artists and when we bring it all together we create our own awesome amalgamation.
<a href="http://makeyourmarkband.bandcamp.com/album/moments" data-mce-href="http://makeyourmarkband.bandcamp.com/album/moments">Moments by Make Your Mark</a>
AH: For those who haven't heard 'Moments' yet, what should they know about the EP?
MYM: We like to refer to ourselves as "Pissed off Pop Punk". We tackle issues like; work, friendships and creating something new. The three songs we chose to record were the best from a bunch that we wrote when we first started. Mert (Vocals) was the main source for the musical and lyrical content on this EP and we all added our own style to fill them out. We were lucky enough to record with Bob Cooper over at Propeller Studios in Castleford.
AH: I understand you're planning new material for this year. What can we expect from these new songs?
MYM: Since releasing 'Moments' back in May, we've never stopped writing, songs have come and gone, certain demo's will probably never see the light of day. We're our own worst critics, so if we're all not 100% happy with a song, and there doesn't seem to be any direction to take it, we'll scrap it or put it on the shelf and come back to it another day. The majority of the songs we are going to release have been apart of our set for the past year, this have given us the chance to fine tune our sound.
AH: How has the bands sound developed on the new material?
MYM: Its come along leaps and bounds, with 'Moments' we were still experimenting with what direction we wanted to go, but now we definitely know what our sound is and where we want to take it. We aim to make every song different, with music thats interesting, lyrics that are provoking and hooks that are so full of energy they make you want to listen over and over.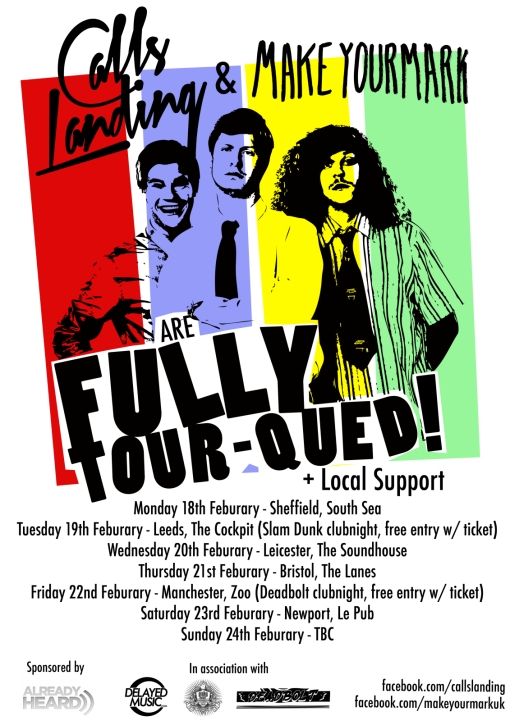 AH: Later this month you're heading out on tour with Calls Landing. For people who haven't seen you before what they expect to see from a Make Your Mark show?
MYM: Pure unadulterated raw energy. We like to put everything we've got into shows, being a new band its important for us to make an immediate impact on people seeing us for the first time. I feel after seeing a put on a great show, listening to their music afterwards is always more enjoyable.
AH: Can we expect to hear new material on the tour?
MYM: We've only recorded 3 tracks so far, but we've been playing around with a set of 8/9 songs the best part of the last year, so for those who haven't seen us before there's a lot of new material. We have however been writing new material since the new year, so we'll be looking to integrate those songs into the set as well.
AH: In the past you've played shows with Me vs Hero, With The Punches and Nai Harvest. Have these shows helped or influenced your sound and live performance in anyway?
MYM: Playing with well established bands does encourage you to play harder, you're going to be introduced to a group of their fans who possibly haven't heard of you before, so its a great opportunity to get our music heard and gain a few new fans. Its also a great chance to meet and learn from bands that have toured all around the world, after the MvH and WTP show we let the guys stay at ours after a pretty heavy night, and it was good to hang out with those guys and hear stories from their travels.
For us though our first defining moment came after a show we played at a tiny bar in Leeds called Milo. It was a bit part show, very little promotion, with bands coming from completely different backgrounds. We didn't expect anything of it, maybe a few friends turn up, so our attitude was pretty much "Fuck it, lets have some fun". Before we knew it, it was our turn to play, James didn't have a full drum kit. Dan was borrowing an amp that had no gain whatsoever. Dons bass wasn't even audible, and there wasn't even enough room for us all on the stage, so Me and Mert were on the floor. We looked out across the room and it was packed, a lot of our friends had turned up and all the other bands stuck around to watch us, and despite all the little problems we just went hell for leather, like we were at band practice, we probably played half of our stuff wrong and were out of tune for most of the set, but we didn't care and it turned out to be our best show to date. Since that show we've taken the attitude into each show, cause if it ain't fun, it ain't worth doing!
AH: With yourselves and Calls Landing hailing from Leeds. Do you think by having 2 Leeds touring shows the city's music scene is pretty strong at the moment?
MYM: I think its going through a resurgence at the minute. A lot of great bands and artists, the likes of Jimmy Holland and Hearts and Souls who both have released great new material in the last few months and the heavenly Opie Deino who is on to great things. With us and CL going on tour together I think this a testament to what is happening in Leeds at the minute and a great opportunity for the rest of the country to get a taste of whats to come.
AH: I'm guessing the hometown show at The Cockpit is going to be a highlight for both bands?
MYM: Definitely, this is a chance for us both to prove ourselves in our hometown. We're hoping for a good turn out, and its a great chance to showcase what a good Pop Punk scene Leeds has. It'll also be our split EP release show, so its gearing up to be a great night for all.
AH: Why should people come out to see you and Calls Landing?
MYM: Because its all the best elements of pop punk combined is a sexy little tour package. Its going to be such a fun tour, so to miss out would be a mistake.
AH: Besides the tour and new material, what else can we expect from Make Your Mark in the coming months?
MYM: In March we'll be playing shows with Nai Harvest at The Packhorse in Leeds and our first festival appearance at Skintfest in Chesterfield with our friends Calls Landing, Hearts and Souls and Jimmy Holland. We're planning to record a new EP in April/May as part of a bundle and following up that release with another tour over summer. We're hoping to make 2013 a big year for MYM.
AH: Do you have any final words for the Already Heard readers?
MYM: CM Punk got screwed at the Royal Rumble.
Make Your Mark links: Facebook|Bandcamp|Twitter|Tumblr
Words by Sean Reid (@SReidPortfolio)