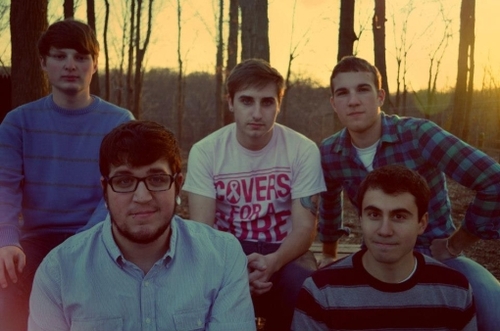 Connecticut rockers Life on The Sideline who have only been together short of a year yet they are a promising pop-punk band who have played shows with Major League, I Call Fives, State Champs and With the Punches.
Their latest EP, 'Outpatient' sees the band pouring out their personal frustrations and sadness resulting in a deeply personal and honest release, that hits the lyrical core of the pop-punk genre effectively.
With new material in the works, Already Heard spoke to bassist Eddie Leahy to discuss a variety of topics; how the band came together through Craigslist, standing out from the pop-punk crowd, 'Outpatient' and more.
Already Heard: Hi. Can I ask who I'm speaking to today and what your role in Life on the Sideline is?
Eddie Leahy: My name is Eddie and I am the bassist in Life On The Sideline.
AH: Although you've only been a band for a year, can you tell us how Life On The Sideline came together? I understand Craigslist played a major part in your formation?
Eddie: Yes, everyone in the band met through Craigslist. I was the last person to join the band in our current line-up. I've been in a couple bands in the past that were formed through Craigslist ads actually, but there was something different about this one ad that really caught my attention. The ad stressed a member who would truly be dedicated, willing to make sacrifices and most importantly be willing to work in a family like environment; as soon as I finished reading the ad I knew that these were the group of musicians I had been looking for.
AH: This interview is part of our "Recommends" feature which highlights up and coming bands. For our readers who have yet to hear you guys, how would you summarise your sound?
Eddie: It is really hard for me to actually summarise our sound. I cannot give you one band we sound like because I have had people come up to me telling me we have vocals like A Loss for Words, some guitar riffs like Transit, or even at times we sound like Silverstein which I honestly don't know where that comes from. I love having people tell us what we sound like; it is always awesome to have people you don't know approach you comparing your music to some of your major musical influences. We do not stride too far away from the pop-punk sound on vocals whilst incorporating more indie-led guitar riffs. Maybe you can call us Pop-Punk/Indie…
<a href="http://lifeonthesideline.bandcamp.com/album/outpatient" data-mce-href="http://lifeonthesideline.bandcamp.com/album/outpatient">Outpatient by Life on the Sideline</a>
AH: With the Pop-punk genre being as popular and big as it is, why should fans of the genre take a chance on Life on the Sideline and makes you stand out from the crowd?
Eddie: Fans should listen to us because we are the different side of Pop-Punk. We like to think we put a slightly different spin on the whole idea of the genre by using different chords progressions and interesting guitar riffs. We are a breathe of fresh air in the genre, not trying to stray away from some the core roots but still able to throw a little something different in to the mix.
AH: Your latest release is an EP called 'Outpatient' which I hear is rather personal. Can you tell us more?
Eddie: I'd love to, so our EP 'Outpatient' was a very personal experience to us mainly because at the time everyone in the band was going through some sort of change or personal challenge. Now I know that it is the general idea that pop-punk is all always about losing a girl, having to grow up, or getting through a tough experience in life, but that is what music is, it is pure emotion expressed through the musicians who created it and that is exactly what is was for us; all of our pure emotion went into this EP the anger, sadness, frustration, all the issues that were going on in our lives that only music could fix compiled into these two songs. Whilst the content and the stories behind the EP is very personal to some members, what I will say is that if you listen to the EP, especially the lyrics, you can get an insight into how we were feeling at the time.
AH: What response do you hope people have from listening to the EP?
Eddie: After listening to the EP I want people to be able to sit back and feel everything we felt when writing it. We hope this is a release that our fans – pre-existing and new – can relate to.
AH: Even though you haven't been together for long, you've already played shows with Major League, I Call Fives, State Champs and With the Punches. How have these shows helped developed the band?
Eddie: They have helped us an extraordinary amount because we were able to see how other bands presented themselves on stage and we were able to better ourselves based on that. Those guys have such great qualities as live musicians from crowd interaction to stage presence.
AH: What are the bands plans for 2013? Will you be recording new material?
Eddie: We are planning a couple of short tours for this summer, and we're also currently working on the follow up EP to 'Outpatient,' which we hope to be out some time during summer.
AH: Finally why should Already Heard readers check out Life on the Sideline?
Eddie: They should check us out because all of our music is 100% honest and we put all of our heart and souls into it; all I can ask is for people to check us out and if they like it they like it and if they don't at least they gave us a chance.
'Outpatient' by Life On The Sideline is available now on Bandcamp.
Life On The Sideline links: Facebook|Twitter|Youtube|Bandcamp
Words by Sean Reid