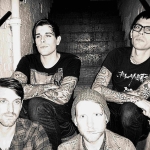 South London hardcore group Lay It On The Line only formed at this start of the year but have been steam rolling forward ever since. With two EP's; 'Midnight In The Bellagio' and 'A Lesson In Personal Finance' already under their belt but the quartet made up of Tristan Chate, Matthew J. Scott, Matt Ash and Mike Scott don't show any signs of slowing down anytime soon, with a new single '…And They Stole The TV' recently released and a full-length titled 'Crowhurst' in the works.
With experience from touring in previous bands (Phinius Gage, Not Katies, and Hundred Reasons) Lay It On The Line are a hungry band who are offer more than you're usual heavy, melodic hardcore sound with elements of grindcore and punk thrown in alongside detailed, intriguing lyrical concepts such as murdered former Head Teachers and lone sailsmen going insane.
Already Heard caught up with vocalist Mike Scott to find out more about the bands formation, '…And They Stole The TV', concept for 'Crowhurst' and more.
Already Heard: First of all can you introduce yourself and your role in Lay It On The Line?
Mike: Hey – my name is Mike and I am the vocalist for the band.
AH: I understand you only formed at the start of the year. How did you all come together?
Mike: Yeah it was recent. It started because Dave and Matt were jamming together for a post-hardcore project late last year and they decided they wanted to do a beatdown band. I said I was up for vocals, but as we didn't have a bassist we came together for a jam and I played bass. We wrote what would eventually be our demo (Midnight In The Bellagio) in one 4 hour practice, with no vocals. Amazing how quickly it didn't turn out to be a beatdown band at all. And within the week we booked a day's recording with our mate Luke from the Human Project, drove up to him to do it and got involved. I wrote the vocals on the basis of a bad iPhone recording of the practice and within a fortnight we had the demo. Tristan joined on the back of that – and so the whole thing was done during January this year. Quite nice doing things quickly.
AH: The band includes members of Phinius Gage, Not Katies, and Hundred Reasons. How has the experiences from those bands influenced and affected Lay It On The Line?
Mike: Well I can't talk for the others (Tristan was actually in the band before it was Hundred Reasons as far as I understand), but touring with Phinius Gage had quite an affect on this. I have been doing acoustic stuff since that band split and I spent at least the last couple of years seriously missing making some proper noise. I gave a couple of other bands a go, but they didn't work out. I knew that being in a band with the right people is a really strong feeling, and so since I have that feeling back I have not been taking it for granted. I did some great tours with Phinius Gage, but kind of let it pass me by in a drunken haze a lot of the time. Great shows I barely even remember. The second time around I am appreciating it more. And am happy to be doing nothing but vocals for once!
AH: For those who haven't heard you before, how would you describe your sound?
Mike: I guess it's a mixture of abrasive and melodic hardcore. Between us we listen to grindcore, powerviolence and punk rock and everything in between, so it's a mixture of all of it. How clichéd does that sound eh?
AH: You're about to release a new single called '…And They Stole The TV.' What is the single about?
Mike: One thing we did settle on straight away was that every release would be a concept about one particular subject. The demo was about a gambling addict in Vegas – '…TV' is the lead song from our EP 'A Lesson In Personal Finance' – which is all about an old head teacher at mine and Matt's school – he was gay, but never came out until after retirement, when it transpired he had been paying rent boys for sex. Anyway, he didn't pay one – and the rent boy in question broke into his house to try and steal stuff to get his money's worth. He ended up killing the head teacher. Nasty shit. The story ended up on Crimewatch and everything.
AH: I understand you're planning a full-length ('Crowhurst'). What can we expect from the album and how has the bands sound developed since your previous EP's 'Midnight In The Bellagio' and 'A Lesson In Personal Finance'?
Mike: Well 'Crowhurst' has been our main plan since the very first practice. Sadly, Dave left recently because of personal commitments, so we have got another Matt on board to replace him. We were 2/3s of the way through writing the album – but are settling on a mini-album because the whole album concept was Dave's idea. So it's going to probably be a 9/10 song affair. It's going to be about Donald Crowhurst, a man who threw himself overboard during a one man sailing journey around the world. He had entered a competition to win £5000 for sailing around the world in the quickest time – which was a lot of money in 1969 I'm sure. His descent into madness is documented in his diary they found onboard after he died. Really interesting story and a great subject for the record. We have started recording it already.
AH: You're also played several shows throughout the UK. With your sound I can imagine shows being chaotic?
Mike: Well it all depends on where we are playing I suppose, but I'd like to think that when we are playing a house show in a room meant for 5 people and playing to 10 times that, it's going to be good fun. Many, many more shows to come. We don't deal with stuff through an agent or anything, so pretty much we will happily play any DIY show going.
AH: In your short time together, what have been your standout moments?
Mike: Well the reaction from people from all parts who've never watched us live is a great feeling. It means a lot. We enjoyed every second of recording the EP and we are enjoying 'Crowhurst' too. The gigs have been great fun too – supporting Ignite in London meant a lot, but really it's the ones in tiny squats and kitchens that mean the most.
AH: Finally why should Already Heard readers check out Lay It On The Line?
Mike: Ah that's a tough question. Because I've asked them nicely?
'…And They Stole The TV' by Lay It On The Line is available now.
Lay It On The Line links: Facebook|Tumblr|Bandcamp
Words by Sean Reid (@SeanReid86)