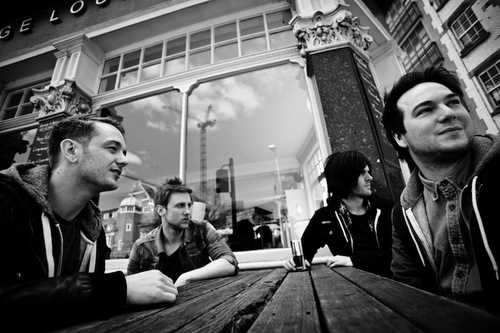 For Nottingham quartet Lacey, the past 18 months has been a busy time for them. Having toured with The Blackout and Patent Pending, being selected as finalists in the Red Bull Download Festival 2013 contest and releasing their 'Outlaws' EP last September. Yet their is no slowing down for these alternative pop-rockers.
With the bands debut full-length in the works and an April UK tour with Patent Pending and People on Vacation in place, Lacey's dynamic and melodic style is bound to win over many as tracks like 'Hometown' and 'Burning Out' are reminiscent of bands like Jimmy Eat World but with even bigger choruses.
Lead guitarist Josh Lewin recently took to some time out from writing the bands debut to discuss their beginnings, the 'Outlaws' EP, their forthcoming UK tour and the influence of Nottingham.
Already Heard: Can you introduce yourself and tell us your role in Lacey?
Josh: Hi my name is Josh Lewin, and I play lead guitar, we also have Graham Turner on lead vocals and bass, Pete Maksymiw on guitar and David Pearson on drums that make up the rest of Lacey. We are aware we have pretty lame rock and roll names so all suggestions are welcome.
AH: I understand you got together in 2010 and used to be a trio. How and why did you become a four piece?
Josh: When we started we were without Pete. At the beginning I was sitting on the sidelines without a band and my guitars were just picking up dust whilst Dave and Grazz were playing together in another group. A fortunate break up, well that's how I see it, left Dave and Grazz without a band. I have been writing songs with Grazz since well forever, even before this other project he and Dave were in. So I saw a great opportunity to start something again and re ignite the 'magic' we once had. I think the early Lacey days before we even had a name were about finding our sound, like most bands do, for Lacey introducing Pete and becoming a four-piece was the final piece of the puzzle.
AH: In the past you've been likened to bands such as Jimmy Eat World and Funeral For A Friend, for new listeners how would you sum up Lacey's sound?
Josh: I'd describe our sound as melodic, dynamic, infectious alternative rock. We've all got fairly different individual influences which we all bring to the table from riff-based stuff like Funeral For A Friend to more chilled out indie-rock like Two Door Cinema Club, and big excessive drum sounds like Saosin. You can hear parts of those influences in our music and I personally listen to a lot of Explosions In The Sky and I take a lot inspiration from them when writing my lead guitar parts for the tracks. I think then we all have collective influences that we all grew up with like Taking Back Sunday, The Get Up Kids and Jimmy Eat World which kind of forms the backbone of our sound.
AH: From your recent 'Outlaws' EP and songs like 'Hometown' and 'Burning Out', it seems you're fans of writing stadium-size choruses. Can you explain how a Lacey song comes together and what inspires you?
Josh: I honestly believe inspiration can be taken from anything and I listen to a wide range of genres, I personally take inspiration outside of music as well, which helps me write. A Lacey song usually starts with the guitars in the form of a riff, which then we all structure into a song before Grazz completes it with melodies for fun. Lyrically Grazz takes inspiration from his own life as well as others, I think with his lyrics, he manages to avoid the clichés you've heard so many times before.
AH:The 'Outlaws' EP has been out for a few months now. How has the feedback been from both fans and critics?
Josh: 'Outlaws' is definitely the best Lacey yet! As I said previously every band has to find their sound I really feel 'Outlaws' is confirmation we have found ours, it's four back-to-back bangers yet no song sounds like the last! I think we even surprised ourselves when we heard the final mix. We have had some unbelievable nice things said about 'Outlaws' from critics and fans which is humbling and our fans have been amazing with the support they have given us, I know they believe in us to really take this band to the next level which is a massive boost.
AH: I hear you're currently recording an album. How far are you into it and how has the recording gone so far?
Josh: Yes, the first Lacey album is on its way and we are recording it stages. We're not the type of band that sit down for hours and churn out 10 songs and record an album, a Lacey song takes a while to come together. We have recorded 3 new songs already with our Producer Ian Sadler of Emeline Studios and we're returning after tour to finish it off. We are aiming to have ten new tracks, we considered putting some tracks from our previous records but we all decided we want this first album to be its own record with all new material, they may be some bonus tracks with re vamps of the some older songs. I think this album is shaping up to be the big brother to 'Outlaws', it's bigger, and more mature in regards to song writing and if they were to fight it would kick the crap out our previous record.
AH: Can we expect to hear the album in 2014?
Josh: That is what we're aiming for, we don't have an exact date yet but 2014 will be the year.
AH: 2013 was an eventful year for you guys; touring with The Blackout then Patent Pending, playing the Hit The Deck Festival in your hometown and being finalists in the Red Bull Download contest. How have you found those experiences and how have they helped the band develop?
Josh: Experience is everything. We are so grateful for all the opportunities we've had so far and last year especially and we have learnt so much from them. Touring with the Patent Pending lads is something we could have done for all 365 days of the year, they are the most infectiously awesome Americans I have ever met and watching them do their thing night after night was insane.
Being asked to headline the Red Rooms stage at Hit The Deck in Nottingham was amazing and we saw so many great bands play that day.
The Red Bull Download competition is a day I'll never forget, we were greeted with free burritos, Red Bull and the Don Broco boys, which is always going to be a great way to start a day. Hanging out in the studio, recording a track and having a beer with Rob and Si from Don Broco was all awesome, they gave us some really good advice, which we have definitely taken on board. We can't thank Red Bull Studios enough for given us the experience. We were also runners up in the 2013 Rock The House competition, which we went to the House of Commons to mingle with MPs for, that was another amazing experience, so many industry experts getting together to support a great cause, raising awareness of Intellectual Property rights and the importance of live music.
AH: Although you're in the middle recording your album, you've just released a music video for 'Hometown' from the 'Outlaws' EP. What can you tell us about the video?
Josh: Yeah, the 'Hometown' video is out there! It is all shot in Nottingham; the impressive looking hall is the Nottingham Albert Hall. We were really fortunate to have the opportunity to shoot in that location and I'm stoked how its looks on camera. The streets shots should be recognizable to Notts folk, although trying to shoot a music video late at night in a public space isn't the easiest experience!
AH: Speaking of touring, you're going to be back on the road with Patent Pending and People on Vacation in April. Are you looking forward to those shows?
Josh: I can't wait. I love all the Patent Pending boys, they are the nicest guys, despite their hatred for English food! Joe Ragosta was Face-timing us in whilst we were in studio just to catch up, see how we are. I'm sure he's got better things to do but that's how genuine and nice he is, he also has the craziest of hair styles, I'd hate to see his bill from the barbers! We met up with the Bowling For Soup lot when they played Rock City on their Farewell tour and we met Jaret and Ryan who are from People on Vacation and they are both heroes! I didn't tell Jaret the countless times I have sang my heart out to 'Girl All The Bad Guys' want as I was trying to be cool but I'm sure as I was watching Bowling For Soup, from the onstage bar, I made a complete fool off myself singing and dancing around! So to go on tour with all these guys is going to be massive party and I can't wait.
AH: What can gig-goers expect from this tour?
Josh: It's the Spring Break Tour, which isn't something we have here in the UK but we all know for the Americans it is one massive party and I think that is a good description of what the shows will be and probably the most entertaining gig you've ever been to. People on Vacation, which is Jaret Reddick of Bowling For Soup other project, and Patent Pending are two bands that know exactly what a rock show is about. They have you from the first minute to the last; you will not want the set to end, even if it means missing your train home. I feel we have grown a lot one the last year with all the experiences we've fortunate enough to have and we are more than ready for this tour.
AH: Besides that tour can we expect to Lacey at any festivals this summer?
Josh: We will be playing Nottingham Hit The Deck festival the day before we go out tour! There are do many great bands playing that day and we can't wait to share the bill with them.
AH: Going back to your hometown. The city offers many venues for emerging bands to play, how much of a factor has Nottingham been for Lacey?
Josh: Nottingham has some amazing venues, and we have been lucky to play the majority! We always have a great hometown support, which makes tour dates in Nottingham extra special! We've even had MPs backing us to represent the city in competitions, which is flattering. We owe a lot to Nottingham, and we hope to one-day give back everything it has given us.
AH: So with the album, the tour and the music video in the pipeline, is there anything else we can expect to see from Lacey in 2014?
Josh: I'm not sure if I can even divulge this information, but we have a single form the album coming out around the same time as tour.
AH: Finally why should Already Heard readers check out Lacey?
Josh: Because we may just be your new love.
'Outlaws' by Lacey is out now.
Lacey links: Facebook|Twitter|Instagram
Words by Sean Reid (@SeanReid86)