Every week, we're bombarded with new music, from bands hungry to get noticed. For us here at Already Heard, "Recommends" is our platform to highlight some of the best up-and-coming bands from around the world.
For this month's edition of "Recommends" we put the spotlight on two of Australia's most promising exports; Pagan and Polish Club, as well as one of our own "Brit Rock" upstarts – Fine Creatures.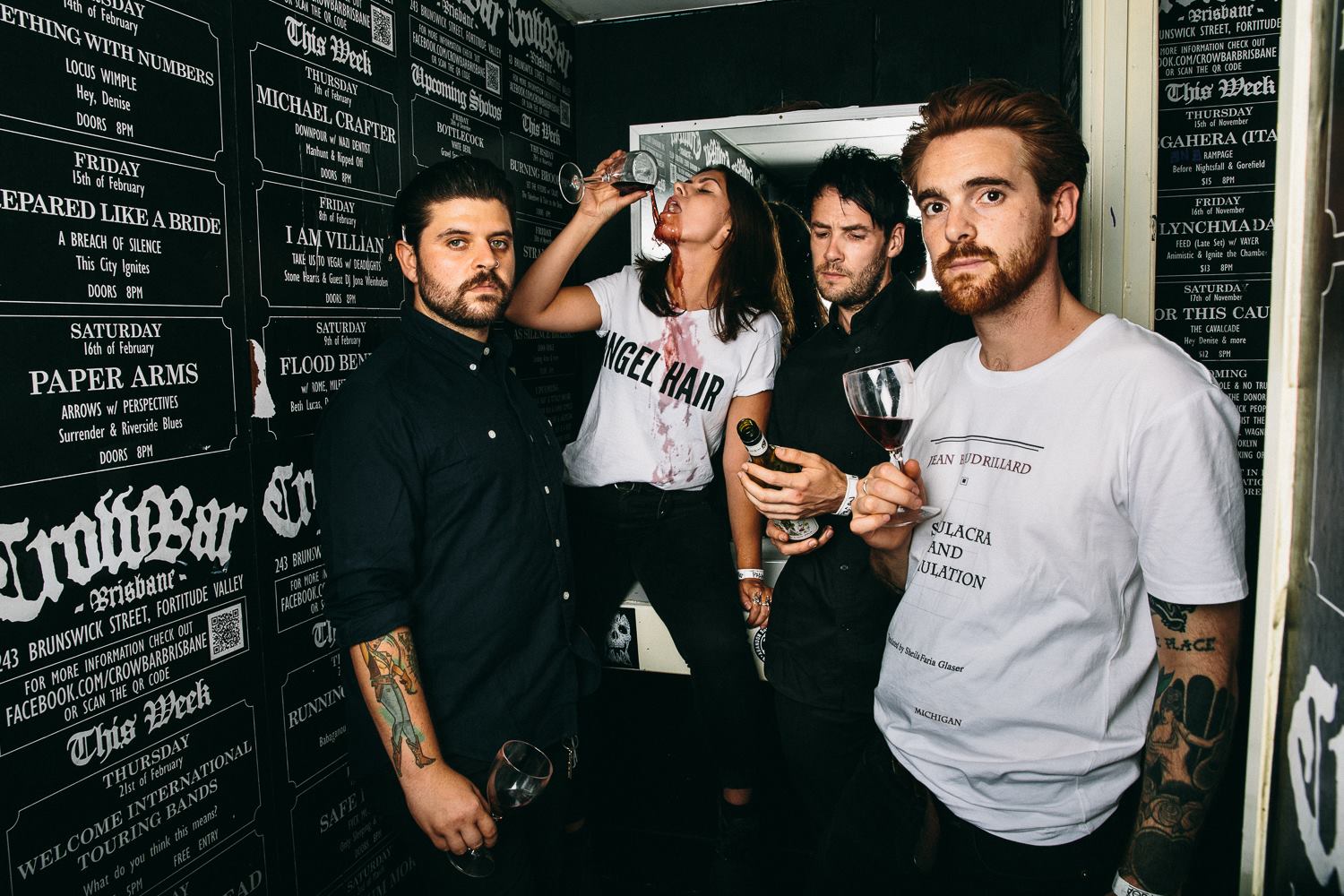 Pagan
Meet self-proclaimed "blackened rock n' roll" band – Pagan. Hailing from Melbourne, Australia, the quartet have been turning heads in recent weeks with their debut album, 'Black Wash'. Its a tornado of no-holds-barred sleazy rock n' roll, black metal and punk rock with the occasional infectious hook thrown in for good measure. It's a fusion that works so damn well!
Songs such as 'Silver,' 'Imitate Me,' and 'Death Before Disco' show what Pagan are all about; a monstrous sonic blast that ebbs and flows with passionate vocals, riveting instrumentation and the odd upbeat moment.
Throughout Xavier Santilli provides a bucket load of stiff, sturdy riffs, while being complemented by bassist Danny Bonnici and drummer Matt Marasco. Nevertheless, at their core of is Nikki Brumen's versatile, enthralling vocals. One moment she's delivering ear-piercing shrieks, the next producing guttural creams. Overall, 'Black Wash' is an outstanding debut that shouldn't be ignored. Ferocious and compelling.
As we learn, Pagan were never meant to get this far. Nevertheless, here they are and are on rise. We spoke to bassist Danny Bonnici to discuss "blackened rock n' roll," 'Black Wash' and signing with Hassle Records here in the UK.
For Fans Of: Blood Command, Marmozets and Employed To Serve
AH: 'Black Wash' has been out for a few weeks now. What is the current mood amongst the band right now?
Danny: The response has been far beyond anything we could have ever anticipated. We got pretty nervous in the lead up to the release date, but I just remember feeling this overwhelming sense of calm and achievement when the record was finally given to the world. Like this weight we'd been carrying on our shoulders for almost two years had been lifted, and this Frankenstein that we'd been working on was finally alive.
AH: For many readers, this will be their first exposure to Pagan. Can you bring us up to speed with how the band came together in 2015 and how you came to make 'Black Wash'?
Danny: Pagan is basically a collective of friends who all met through old punk rock bands that we used to play in. I think we all just formed a bond that transcended playing music, but music was our common interest and kind of became the conduit for the little family we'd become. Initially, the plan was to release a few songs, play some shows in Melbourne and then call it a day. It was never meant to become what it has, and I think that attitude is why the band is doing pretty well now. We treat it like it could all be over tomorrow so we try to make the most of it.
As far as making the album goes, our friend Lochlan became involved with EVP Recordings her in Australia and pretty much said "Yeah, don't break up. I'll sign you and you're going to make an album instead". And so we did!
AH: In recent weeks, 'Death Before Disco' has been getting plenty of praise. Do you consider the track an ideal introduction to Pagan for new listeners?
Danny: Yeah, I think so. We very intentionally made it the first proper song on the record for this exact reason. I think it's a very good tasting plate of everything Pagan has done so far, but also hints at some of the new ground we tried to cover on 'Black Wash' and might expand on moving forward.
AH: The band's sound has been described as "blackened rock n' roll" but having heard the album, there seems to plenty of different elements throughout?
Danny: The "blackened rock and roll" term was just something funny that we coined ourselves early as a reaction to a lot of music journalists not really understanding certain bands because of their inability to characterise them.
It's a pretty ridiculous term to be honest, especially considering how much our music has changed since the band first started writing songs. We all listen to so much music, and what might surprise people is that only a small percentage of the music we enjoy and share with each other is heavy music. The challenge for us is hearing something in a pop song, or a jazz song or in classical music or whatever, and thinking about how we can pull that idea into our world and make it heavy and gnarly!
AH: In terms of the lyrical content of 'Black Wash,' we get the impression it's inspired by personally emotional events. Care to tell us more about the album's lyrical side?
Danny: Nikki is obviously best placed to answer this, but ultimately the album revolves around the feeling as though you are stuck in a situation or relationship that is destructive and negative, and feeling as though there is no escape. This is definitely a reflection on a personal scenario that she went through while we were making the record, and we created the idea of the Church of Black Wash as a metaphor for this.
It was influenced by a lot of the famous and tragic stories of new age cults or religious sects which lure people in as followers with blind faith, only for them to realise that everything they were promised and dedicated their lives to would never come to fruition.
AH: Over here in the UK, 'Black Wash' is being released through Hassle Records. How did you strike up that partnership?
Danny: To be honest they kind of just emailed us out of the blue asking what our plans were. This was about two years ago, so a while before we'd really considered putting an album together. From there we kind of just maintained a pen-pal relationship with those guys, and so when the idea to put an album together was on the table, naturally they were the first person we thought to ask about putting the album out in the UK and Europe. The label is run by good people who care about Pagan and have a lot of faith in the band, so we're stoked it all came to fruition.
AH: With a UK label on board, surely you'll be paying us a visit sometime soon?
Danny: I can't say too much yet, but I can tell you that there is currently an Excel spreadsheet floating somewhere in the ether that contains a list of dates and venues that certainly are not Australian ones.
'Black Wash' by Pagan is out now on Hassle Records.
Pagan links: Facebook | Twitter | Instagram
---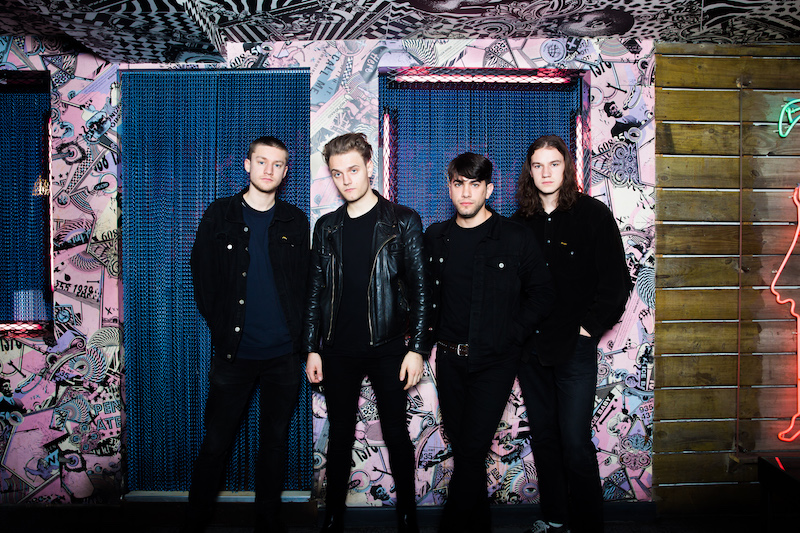 Fine Creatures
The origins of Fine Creatures stems from a mutual admiration for '60's pop and '90s alt-rock. So it's no wonder their debut EP, 'Electric La La Land', is a winding blend of catchy pop hooks with grungy riffs and hints of psychedelia smattered across its six songs.
James Hall (guitar/vocals), Finn Hodgson (bass) and Jack Bazzani (drums) came together at University in Brighton before later adding Malte Henning on guitar. Collectively, the quartet have developed an intriguing brand of Brit Rock. Songs such as 'Money' and 'Settle Down' ride on a wave fuzzed-out guitars, a groove-ridden bassline and playful choruses. Whereas 'Get Up' and 'Birthday Cake' captures a band full of confidence.
Although 'Electric La La Land' documents a band in their infancy, it's clear Fine Creatures are heading in the right direction. We spoke to frontman James Hall about their formation, describing themselves as "the dirty Beatles", their influences and more.
For Fans Of: You Me At Six, Fangclub, and Fizzy Blood.
AH: We hear you guys started the band while at University. Can you bring us up to speed on the history of Fine Creatures?
James: Yeah, we all met at University, The music that brought us together first was a mutual love of the Beatles, 60s pop and 90's rock. At the beginning, we were a three-piece, and I wrote a bunch of songs that we were all really into, we went into the studio after about a year of playing the Brighton circuit and recorded the first EP.
After spending time in the studio, and gigging relentlessly, our confidence grew tenfold. We soon picked up management and an agent which was an exciting next step for us. We went on a few small tours around the country and then recently went on tour with Fangclub, which was an incredible experience. We are now prepping the release of our first EP, which we're thrilled to get out there!
AH: You've described the band as "the dirty Beatles". How did you think of that description?
James: "The Dirty Beatles" quote came from when we first started the band, I wanted to start a band with music that had this immediacy but at the same time this melodic core, I think now we've evolved into something much more versatile and interesting. We've always been the kind of band that puts the song first, that's our main focus. We want to write pop music with an edge, and I think that's the kind of band we're turning into.
AH: With hints of grunge, pop, alt-rock and psychedelia on 'Electric La La Land', where do the band's influences come from?
James: We have a bunch of different influences, from 90s grunge to Modern Pop. The first EP is very in your face pop/rock/grunge. When we were writing 'Electric La La Land', we were in a place where we felt like we wanted our music to be as direct as possible, lyrically, and musically. We love being brash and exciting but we also want to write great songs, and let the melody shine through.
AH: You've released a few singles so far. How have you found the response so far?
James: The response on the singles so far has been great! We're a new band, so we're finding our feet a bit but so far the feedback has been really positive! I think when the EP comes out it will be a real moment for us. There's a song on the EP called 'Money', which is by far our favourite on there, and I think people are gonna get into it.
AH: What influence did producer Dan Austin (SLØTFACE, Mallory Knox, Young Legionnaire) have on shaping the EP?
James: Dan Austin was incredible. He gave us the confidence to find our who we are musically, and he helped shape the songs into something we can be proud of. He's very relaxed but hard-working, His imprint on our music has really moved things forward.
AH: In regards to the lyrical side of the EP, is there anything that ties it all together?
James: Lyrically, the EP is very personal and at the same time observational. At the time I was writing lyrics for these songs, I wanted to express feelings of anxiety and distress but having a positive release of optimism. The EP thematically is about fighting negativity, and sometimes expressing these feelings are a kind of therapy for moving things forward. For me personally, it was therapeutic to talk about my own struggles and the struggles of others. It's also a fun sounding record, we wanted a darkness but we never wanted to forget the joyful aspects of our music.
AH: Beyond 'Electric La La Land,' What else can we expect to see from Fine Creatures?
James: After the first EP, you can expect a lot more music! We're always writing and prepping for the next stage. We're excited to show you all what's next!
'Electric La La Land' EP by Fine Creatures is released on 27th July on Symptom Records.
Fine Creatures links: Facebook | Twitter | Instagram
---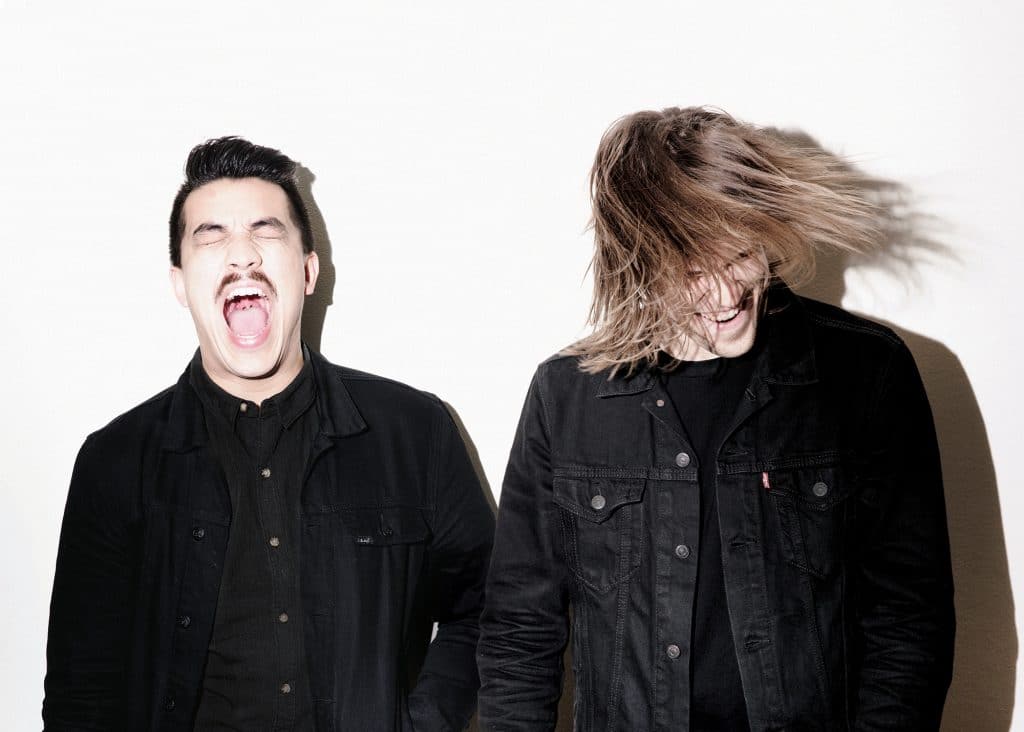 Polish Club
Take one listen to 'Come Party' from Aussie duo Polish Club and you'll instantly be hooked. It's just one of many infectious highlights their debut album, 'Alright Already', has to offer. On songs such as 'Beat Up', 'Why Should I?' and 'Whatuknow', guitarist/vocalist Novak and drummer John-Henry provide a take of soulful rock n' roll, taking in elements of '50s rock, motown and garage rock.
Over the past three years, they've been winning over audiences in their native Australia for their exhilarating live show. And now they're heading to the UK. They arrive on these shores after supporting Royal Blood on their Aussie arena shows as well playing their first US dates.
Showing what's possible with just a guitar and drum set (and Novak's impressive vocal chops), Polish Club supply a raw, unbridled energy that grabs hold of you and leaves you with a beaming smile.
As they prepared for their UK visit, we spoke to Novak about how he and John-Henry formed Polish Club, the reaction to 'Alright Already' back home and their live shows.
For Fans Of: Dune Rats, The Hard Aches, and Gang of Youths
AH: For starters, how did the two of you come together? We hear it involved having an occasional drink together?
Novak: I mean we kind of floated around the same social circles for a few years soon after high school. I knew he (John-Henry) was a dashing, smart-talking boy and he knew I was a smarmy, loud-mouthed dude, but it wasn't until we figured out we could both make a racket by ourselves that we decided to start PC.
AH: Since forming in 2015, how have the two of you developed Polish Club's sound to what it is now?
Novak: We took a little while to figure out how to best make the most of my loud voice and his frantic drums, and once we did that we really got into a collaborative songwriting groove. We're now less focussed on our limitations and more focussed on how different we can be while maintaining a sense of genuineness.
AH: So that brings us to 'Alright Already'. The album has been available in Australia for quite a while. How has the response been since its earlier this year?
Novak: It was a huge change for us here. Despite albums being generally seen as somewhat of an archaic concept in modern music, it still has a massive potential to legitimise a band, especially a rock band, and can capture a moment more than anything else.
The reaction was more than we expected, it got great radio support and reviews and every tour we've done has seen venues double in size and sell out. It's a strange thing trying to essentially start over again in a new country and continent, but that's a pretty exciting challenge for us. We love having to win over people.
AH: A few singles such as 'Come Party', 'Beat Up', and 'Beeping' have been released over here. Do these give a good idea of what we can expect from 'Alright Already'?
Novak: Yes and no. They're the straight-to-the-point fast songs that really cut to the core of what we're doing with just one guitar, vocal and drum kit. There is another side to the album though, which you'll see with songs like 'Divided' on the album. These ones are slower jams, more romantic and earnest, but still loud and vital. I don't see why I can't be belting out a sweet melody at full volume just because it's a more tender song.
AH: How would you sum up the tone of 'Alright Already'?
Novak: It is what it is. And what it is is a loud, fun and no-bullshit album. I don't care if you give it 30 minutes or 3. Just flick through it and you'll get the gist, and if you remotely dig it, you'll dig the live shows.
AH: As part of its UK release, you're going to be playing three shows in London in early August. How would you describe a typical Polish Club show and why should readers come and check you next month?
Novak: For me, live shows are what it's all about. There's no point in making music unless you share it with people and doing so live is the most visceral and impactful way of making that connection. There's no escaping us during the live show, we enjoy playing to new people and having to win over a crowd, and there's something about watching a couple of blokes barely getting through a live set because they're going for it as hard as they can. There's a precariousness about it that we and our Aussie crowds love. You'll love it too unless you don't enjoy fun.
'Alright Already' by Polish Club is released on 10th August.
August
2nd Paper Dress Vintage – Riff Raff, London
4th Nambucca – Generation Next, London
5th The Old Blue Last, London
Polish Club links: Website | Facebook | Instagram
Words by Sêan Reid (@SeanReid86)
---
If you have enjoyed reading this article and would like to help us produce more content and promote more great new music, please consider donating to our Patreon page.