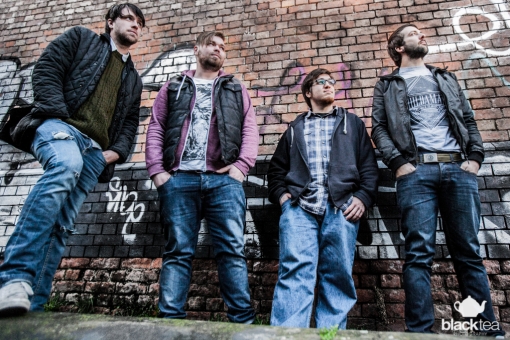 Later this month Kent rockers IRIS release their new single 'Lights At Ten.' It's a punchy, pop-rock number and is the first slice of the bands forthcoming full-length. With its soaring chorus and slick, powerful guitar lines, 'Lights At Ten'offers plenty of promise of what is to come.
Having toured up and down the country since forming in 2010 and played with shows with a crop of rising UK bands; Arcane Roots, Mallory Knox, Hildamay, Feed The Rhino, and Sonic Boom Six, IRIS are now set to follow with their dynamic album, which sees the band collarborate with producer Oz Craggs (Feed The Rhino) once again. On top of that, the quartet head out on a short run of UK shows in May.
Lead vocalist and guitarist Adam Smart took some time out recently to discuss 'Lights At Ten', how the new album is coming along, the growing "underground" British rock scene and more.
Already Heard: Can you tell us who you are and your role in IRIS?
Adam Smart: I am Adam, the lead singer and rhythm guitar player.
AH: This interview is part of our "Recommends" series which highlights new bands to Already Heard readers. For those who are unfamiliar with IRIS, how would you sum Iris' sound?
Adam: I would say the IRIS sound is a mixture of rock, pop, post hardcore and punk with catchy choruses and heavy hooks. It's 100% honesty, lyrically and musically. We don't have one particular band or scene that we sound like.
AH: Next month you're set to release a new single called 'Lights At Ten.' What should we know about it?
Adam: It is the first single we will be releasing from our album which will be out later this year. It's kind of a fresh start for us and is 3 and half minutes of where we are at now.
AH: The single is a preview of your debut full-length and sees you working with Oz Craggs (Feed The Rhino) again. What can we expect from the album?
Adam: Well there's only a few songs complete right now but personally I think they are the best songs we've ever wrote. The album will be a journey through all our influences, and will encompass everything we want to achieve musically over 12 songs. Because it will be our first album the majority of it will be up-tempo and exciting. All of the tunes will be great, we won't release it until that is the case!
AH: In comparison to your 'Out Of Fiction' EP, how has the band's sound developled on the new material?
Adam: Well we have two new members since the last EP, so naturally there's a different feel to it. I think it's bigger and more epic definately. It's gotten faster also and more dynamic. Which is great for live performance, and the choruses are even bigger than before. Lyrics I think are more descriptive and mature. Overall I hope it's a more powerful experience in every way.
AH: When do you think we'll hear more about the album?
Adam: Probably not till late Autumn/early Winter time. We really wanna grab as many people with two or three singles and videos first. We want to get that buzz as big as possible before we drop the album.
AH: Over the past two years you've played shows alongside a host of emerging UK bands. Has those live experiences influenced your writing in anyway?
Adam: Sometimes. There's definately sections in our songs that we know an audience will react to or will work particularly well live, but it's hard to say if those experiences come first when developing a song, or we think about them after like when we are putting sets together. I think there's an intensity that happens live that is always going through your head when writing a new song, but still the process has to feel natural. I think that's why are stuff is sounding faster tho, cause you've got to imagine how a crowd would react…and I want them to feel energised!
AH: Having played shows with the likes of Arcane Roots, Mallory Knox, Hildamay, and Attention Thieves. Would you say the underground British rock scene is strong at the moment and is starting to get the attention it deserves?
Adam: I think so yeah. The market for rock is bigger, or can be bigger at least than any passing "scene." A good rock band will out live most and a great rock song can be popular anywhere in the world. Those bands may have started underground, but the sky's the limit for them depending on how commercial they want to be. I hope to see more and more promoters putting on rock shows this year and more UK rock acts breaking through.
AH: The single release is being followed by a series of UK dates. What can we expect from a typical Iris show?
Adam: You can expect sweat, passion and loudness. You can also expect to be ushered to the front, be jumping up and down and clapping your tits off. Most importantly you will be entertained and our songs will be stuck in your head for days afterwards.
AH: I understand you're also playing some festivals this summer. Where can we expect to see you?
Adam: Well we are confirmed for a few small festivals but are also in the Road to Redfest competition and also hoping to appear at Hevy festival and Butserfest also. It's early days and I'm hoping after many a tour and new releases next year will be our festival year.
AH: Other than the new single, album and live dates, what else do Iris have planned for 2013?
Adam: We plan to have everything ready to coincide with these things. Our website and social mediums are growing quickly and I'd like to see the band gaining more popularity. We always have new merch lines and video diaries. We are also planning a few more acoustic shows and maybe some acoustic recordings. I'm hoping for the band to be seen, heard and recognised on a bigger level. I'd like to say we are planning on taking over the world but that makes me sound like a James Bond villan!
AH: Any final words to share with the Already Heard readers?
Adam: Only that I'd like you to check us out, come to a show and get involved. So hopefully we'll see you on the road!
'Lights At Ten' by IRIS is released on 29th April.
May
2 The George, Andover
3 Hole In The Wall, Colchester
4 The Walmer Castle PH, Deal
6 Pure, Basingstoke
30 The Lady Luck, Canterbury
June
2 The Prince Albert, Brighton
IRIS links: Official Website|Facebook|Twitter
Words by Sean Reid