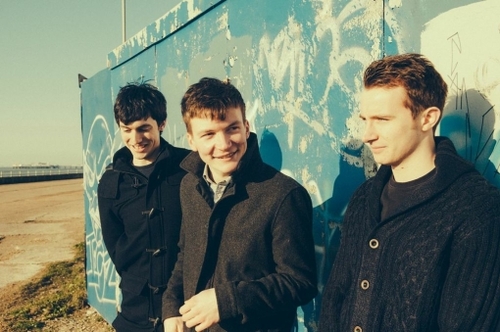 Although Brighton trio In Dynamics have released a couple of singles, they are already making a name for themselves with their blend of snappy vocals and rich melodies which have been compared to Twin Atlantic and Arcane Roots.
Their latest single, 'Liposuction,' is a thriving British alt-rock number with angular riffs and three-part harmonies and, most importantly, gives In Dynamics bucket loads of potential. Here at Already Heard are especially excited to see what the bands forthcoming EP will bring later this year.
With the EP complete and UK shows in the works, we talked to vocalist Beau Boulden to discuss influences, 'Liposuction,' and more.
Already Heard: Can you introduce yourself and tell us your role in In Dynamics?
Beau: Hi I'm Beau, I'm the lead singer and guitarist of In Dynamics.
AH: For new listeners can you tell us how the band came to be?
Beau: We all met at school and started playing and writing songs together in Jack's room. We've grown up together and have always loved being in this band. 
AH: How would you describe the bands sound and who would you compare it to?
Beau: We see our sound as a sharper, more intelligent take on pop music, writing complex, interesting songs, whilst staying accessible and understandable. So it's definitely somewhere between Abba and astrophysics…
<a href="http://indynamics.bandcamp.com/album/liposuction-single" data-mce-href="http://indynamics.bandcamp.com/album/liposuction-single">Liposuction (Single) by In Dynamics</a>
AH: Who would you consider as influences?
Beau: Between the three of us, we listen to such a variety of music. Biffy Clyro, Dry The River, Arcane Roots, Muse, Death Cab For Cutie, Damien Rice, Johnny Cash, Rolo Tomassi, Reuben, Jimi Hendrix, Fleet Foxes, ACODA, Enter Shikari, Three Trapped Tigers, Fall of Troy, the list doesn't end. 
AH: Your latest single, 'Liposuction' is available as a free download. What is the track about?
Beau: 'Liposuction' is about not allowing yourself to be trapped within the endless cycle that life can be, and liberating yourself to take opportunities into your own hands. 
AH: We hear you're working on a new EP. How far are you into the making of it?
Beau: We recorded the bulk of it earlier this year with Chris Coulter (Arcane Roots and Jumping Ships.) It's completely finished and we can't wait for everyone to hear it. 
AH: What can we expect from the EP? Does 'Liposuction' serve as a good preview of what's to come?
Beau: 'Liposuction' is slightly more far removed from the other four tracks on the EP, but we felt it served the perfect purpose as a preview. It possesses most of the elements of what our music is about, but the EP burrows much deeper into the dynamics of our songs. 
AH: On top of the EP, what else do you have planned for the rest of the year?
Beau: We'll be playing a lot of shows, including headlines at The 100 Club in London, and Audio in Brighton. Keep an eye on our website for upcoming dates to be announced. 
AH: Finally why should Already Heard readers check out In Dynamics?
Beau: Because surely you have nothing to lose by downloading a free EP…?
'Liposuction' by In Dynamics is available now as a free download on Bandcamp.
In Dynamics links: Website|Facebook|Twitter|Youtube
Words by Sean Reid.