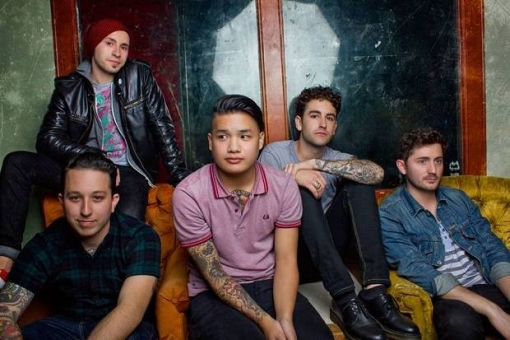 With their debut EP set to be released next month, San Diego's Idlehands are the latest indie rock hopefuls however the 'Common Soul' shows the quintet as a mature, sincere band that takes great care in their craft.
Tracks like 'The Venetian Hour' are subtly progressive and encompassed by the bands passionate approach. As we find out from this interview Idlehands are a genuine band who refuse to give in to trends and they play the music they want to play.
Already Heard recently caught up with guitarist Michael Brekka and vocalist Johnny O'Hagan who told us how the band came together, why they're described as a "modern indie" band and more.
Already Heard: Hi can I ask who I'm speaking to today and can you tell us your role in Idlehands?
Matthew: You'll be speaking to two of us. We're an equal opportunist type band, mostly. We like doing these things together. We do almost everything together. Even coloring books. With that said, Phil (Di Raffaele) plays drums, Michael plays guitar, Seancarlo (Ohlin) plays guitar, Johnny sings, and Matthew (Joaquin) plays bass.
AH: Your sound has been described as "modern indie." For new listeners how would you sum up Idlehands' sound?
Matthew: Mostly like the Accordian Worm from ChalkZone.
Johnny: That term was coined by the producer we worked with during our recording of the EP. It was at first said as a joke, but then taken seriously when it stuck. We function as an indie band on a higher budget scale. It's not because anyone backs us, it's because we put everything we have into Idlehands. That would be where the word "modern" is justified. Our sound falls under the giant category of progressive rock with an eclectic background. All of us are different people with our own specific tastes. The tension is what gives it a unique sound.
AH: Can tell us how the band came together?
Johnny: Matthew, Michael, Seancarlo, and I were all friends and acquaintances. The timing was so perfect. Matthew and I had left our previous band, while Seancarlo and Michael had first started writing early Idlehands songs. Those two had been in bands together for years and we came along right when they were ready to bring their new work to fruition. Phil found us through plain dumb luck and chance. He had moved to San Diego from New York after his band Looking Glass Wars broke up and found us through an artist friend of mine. 'Common Soul' is a personal record to all of us because of the ideal circumstances in our lives that brought it together. We are blessed.
AH: You've said your music is out to "resurrect the dying trade" and you don't want to limit yourself to one genre. Care to explain more?
Matthew: It's no secret that a massive amount of music existing today isn't "genuine." In recent history it has become a trend with no real heart behind it; we're pushing for an honest and believable approach towards music, rather than to cater to what is popular. We're playing what we want to play and not necessarily just what we like to hear, if that makes any sense.
AH: Next month your debut EP, 'Common Soul' is released on InVogue Records. Can you tell us how the band joined the label?
Johnny: We were on tour during December of last year and got a phone call one day from Nick Moore. He wanted to release our EP for us with bonus tracks, and we obliged. It was very simple.
AH: As for 'Common Soul' what is the EP about?
Johnny: As far as lyrics go, I tend to write in a somewhat ambiguous manner for our listeners. Everything is based off of one identical moment in my life or another. While the lyrics may not be sensible to any sort of standard, I would argue that they are as genuine as possible. 'Common Soul' speaks mostly on all of the failed relationships in my life. Be it family, follower, friend, or spousal equivalent. I was brought up with a set of values that a lot of people do not understand. With that being said, being raised in a fairly conservative and Christian family altered my perception of what is real. It takes a man to grow up and acknowledge that nearly everything he was taught is completely inaccurate. That is the deepest issue I was struggling with while writing this record with my best friends and band mates. Life is not what the general lyricist will try and push on you, and that is what I want to display through this EP. It's all bullshit and it's very bad for you.
AH: To launch the EP and joining InVogue Records you released a track called 'The Venetian Hour.' How has the feedback been from the song and video? Has the song raised any expectations for the EP?
Matthew: Even though this will be a re-release with a few new acoustic tracks, the reception has been incredibly positive from a lot of people who either had not heard of us prior to the announcement of signing to InVogue, or were just too fucking lazy to buy or download the EP for free when it was available through us. Individuals that caught on early enough to buy the EP at a show or online are excited to hear the acoustic renditions we wrote for this re-release. It works swimmingly for all parties included.
AH: Following the EP release what do Idlehands have planned? Can we expect a full-length record?
Johnny: There will be a West Coast tour in support of this re-release throughout the month of April. Expect the dates to be announced any day now. That is the only set tour that we have on the table at the moment, since we are focusing on tying up an LP for InVogue. Right now is a crucial writing time for us. You can expect Idlehands back in the studio with Kris this coming Fall for a full length.
AH: Do you have any final words to close the interview?
Johnny: That about sums it up. Thank you for your time.
'Common Soul' EP by Idlehands is released on 12th March on InVogue Records.
Idlehands links: Official Website|Facebook|Twitter
Words by Sean Reid