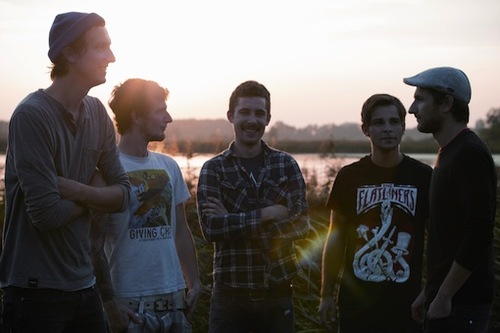 Later this month Munster, Germany punk rockers idle Class release their debut full-length, 'The Drama's Done' in the UK. With influences such as Hot Water Music, Polar Bear Club and The Flatliners, 'The Drama's Done' sees the five-piece provide a strong collection of melodic, anthemic punk rock that instantly leaves you upbeat and hooked from start to finish.
We've already premiered the UK exclusive stream of 'The Drama's Done', which has received praise all over Europe, and today we catch up with Tobi from the band to find out more about Idle Class, how 'The Drama's Done' came together, the Munster music scene and more.
Already Heard: To begin with can you introduce yourself and your role in Idle Class?
Tobi: I'm Tobi, the singer of the band, even if you cannot say THE singer, cause Benny sings as much as I do.
AH: You've only been together for 18 months, can you tell us how Idle Class started?
Tobi: In the beginning it just started as some kind of side project. Daniel, Josua, Stefan and me knew each other for a while at that point. Stefan and me were already playing together in another band and that's how we met Benny at a show. A few months later we decided to give it a try and the first practice did hit us immediately and somehow everyone noticed that we were functioning pretty well together. So one came to the other and four months after our first practice we recorded the first EP.
AH: Your sound is very punk rock with your influences ranging from Hot Water Music to Polar Bear Club to The Flatliners but for new listeners how would you sum up Idle Class' sound?
Tobi: We're flattered by this comparisons but somehow they fit, cause that seems to be the common ground of bands that everybody in idle class likes. I would just say it's some modernish version of 90ies punk or just name it "loads of vocals, with distorted guitars, bass and driving drums.
AH: Later this month your debut LP, 'The Drama's Done' gets its UK release. The record has received plenty of praise in Mainland Europe, do think the same will happen on these shores?
Tobi: I really cannot say, at least we hope so. we feel honored that so many people like what we do, but in the end we would not care if they don't as long as we believe in our songs and what we do! But it is always interesting to see what people have to criticise and what they may not like about our music. But until yet we have recieved a few reviews from the UK and they were mostly positive, so lets hope that it goes on that way.
AH: How does 'The Drama's Done' compare to your 'Stumbling Home' EP? Was there anything different you did when it came to writing these songs?
Tobi: For me 'TDD' is more mature than the EP. As i mentioned, we were just playing for four months when we recorded the EP and so it were our very first songs on that record. On 'TDD' I think we were more sure on what we wanted to do and how we wanted to sound like, even if the songs on 'TDD' still differ a lot from each other, but they feel more grown up, than the songs on the EP, even if we sing a lot about not wanting to grow up.
AH: What songs from the LP would you recommend to our readers as an introduction to Idle Class?
Tobi: I think I would name "Han Shot First" even if my personal favourites are other songs.
AH: I read that you all quit your jobs and other commitments to concentrate on the band. How important has this decision been towards the growing success of Idle Class?
Tobi: It always sounds a bit exaggerated to me when i read about that. Nobody actually quitted a job (except for Stefan) but we all rearranged our private lives to be able to put as much time as possible into the band. Of course that makes a lot of things easier for the band. When it comes to touring and all the stuff thats to do around the band. If somebody would ask me to do it again, i always would, the past year was way beyond awesome!
AH: I get the impression you are a band that strongly believe in the DIY ethic?
Tobi: You got the right impression we did not made the best experiences with labels in the past with other bands that we played in. There are a lot of people only talking, thats why we were pretty much anti label when we started, until we found an amazing partner in Emil at Blackstar. I think we share kind of the same ideals and opinions on how such a cooperation should work and it was enormous luck for us to find him. Right now we have the best partners we could wish for. Mirko and Alex at Uncle M, Lee at Saviour and of course our booking queen Katja at Muttis all do the greatest jobs! But we still do loads of stuff on our own. Stefan is still booking a great deal of our shows, Josua does our artworks and is printing all our shirts in his little company Homesick Design together with his girlfriend Jenny and Stefan and me organize a lot of shows in our hometown.
AH: Having spent the summer touring Europe, how was it getting out there and playing the new songs?
Tobi: It was pretty exciting, cause there were a few songs on the record, where we did not know how they would feel on stage. Its always difficult to say wether a song works out on stage as well as in the practice room. We experimented a lot on the set and switched a lot around. But in the end it was great to see that most of them felt right and even better as on the record.
AH: Can we expect to see you in the UK at some point?
Tobi: There are actually some vague plans to hit the UK in early 2014. we've already been to England and Wales with our old band and so we are pretty excited to see how the new band would do there. It would be also nice to see a lot of friends from the UK which we haven't seen for a while.
AH: Here at Already Heard we always like to hear about a bands local scene, so can you tell us about the music scene in Munster and in Germany as a whole?
Tobi: Right now I totally love the scene in our hometown. Two or three years ago the it was pretty much dead, but since then a lot of groups started organizing shows and the cooperation between everyone works really fine, so right now we have kind of a family like scene. Everyone knows everyone and if there are problems you'll always find a person to help you out. Also germany as a whole is really nice at the moment, there are a lot of really great promoters out there, who treat you really really good.
AH: Finally why should Already Heard readers check out Idle Class?
Tobi: Because they want to there is no special reason why you have to listen to our music, but if you like punk rock and want to give it a try, we would be honored!
'The Drama's Done' by Idle Class is released on 21st October through Blackstar Foundation.
Idle Class links: Facebook
Words by Sean Reid (@SeanReid86)