Having recently been crowned winners of this year's Red Bull Bedroom Jam, Exeter's I Divide are destined for bigger things, with a new EP and a UK tour alongside Funeral For A Friend in the works you'll be hearing a lot more of the quintet in the coming months.
They've been compared to the likes of Young Guns and Saosin and with thriving tracks like 'Never Be Stopped,' I Divide are on to a winner. With their brand of energetic rock, I Divide spent their summer playing numerous festivals including Download, Slam Dunk and Hevy and since forming in 2011 they've played alongside Senses Fail, Deaf Havana and Protest The Hero.
Already Heard spoke to drummer Dave Mooney who discussed the bands festival experiences, the video for 'Never Be Stopped,' why bands should enter the Red Bull Bedroom Jam and more.
Already Heard: To begin with can you introduce yourself and your role in I Divide?
Dave: Hello, I'm Dave and I play drums in I Divide.
AH: For new listeners can you describe your sound?
Dave: We are an energetic rock band with plenty of balls. 
AH: What bands would you compare yourselves to?
Dave: I think we all have different ideas on that, but bands we get told we sound like the most are Emarosa, Young Guns and Saosin.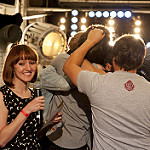 AH: Ok that's all the usual questions out the way. Let's talk about the Red Bull Bedroom. First of all what made you want to enter the contest?
Dave: I think the main prize on offer that we wanted was the chance to play at Download Festival. Aside from that, you've just got nothing to lose, each stage you go through, you get more and more promotion, the chance at other big festivals and then if you win, well you get free incredible recordings and a tour support with a massive band!
AH: What did you think your chance were when you entered the Red Bull Bedroom Jam?
Dave: We honestly never thought we'd get as far as we did, there's so many awesome bands that entered and to think we'd be crowned champions has still not really sunk in if I'm honest with you! 
AH: As one of the finalists of the Red Bull Bedroom Jam, you played several festivals over the summer; Slam Dunk, Download, Hevy Festival. How did these shows go and how has the experience playing these shows helped the band?
Dave: Each were incredible in their own right. Slam Dunk was back in May, we were the first band on, which actually went hugely in our favour as none of the other stages had started yet and meant we played to a packed out tent!
Download was literally a milestone in our lives, we turned up at the tent and it was absolutely packed full of people to see us, never buzzed after a show like that one before!
Finally there was Hevy Fest, we weren't sure that we were going to play to a massive amount of people as we aren't a typical band on the line-up but, surprisingly we still managed to get a decent turnout! All this has helped the band out tenfold, we've met so many people, learned how the press areas work and really felt like part of a much wider community within the industry.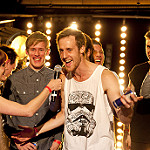 AH: You also recorded a new music video as part of the competition. What is 'Never Be Stopped' about and how did the video come together?
Dave: The main concept behind the song is the idea of running away from your problems and not facing the real task ahead. We wove this into a video idea by using 'putting on a mask' as a way of the character burying his head in the sand. Each time the mask gets worn, he jumps ten years into the future, it makes a lot more sense if you watch it! It was an exciting two days of filming and we can't thank Red Bull Bedroom Jam enough for making it for us!
AH: Now you've been crowned winners of the Red Bull Bedroom Jam, you're going to be recording a new EP. What can new and old fans expect to hear from the EP?
Dave: For the old fans, the new material is just as pumping as ever, no energy lost there! I would say that the new tunes have a much more matured, refined sound and we've got plenty of epic sing a long parts.
AH: You're also going to be touring with Funeral For A Friend in the new year. How would you describe your live show?
Dave: Our live show is very energetic and we really like to get the crowd involved. Trying to keep the others on stage can be a task, they just love the wireless! We honestly do give it 110% at every show, you'll have to come down and see us!
AH: Some people see the Red Bull Bedroom Jam as a popularity contest. What are your thoughts on this criticism?
Dave: In all honesty I'd have to agree for the first stage of getting through Red Bull Bedroom Jam, but surely to an extent, the better the band, the more fans they'll have to support them? Also, with the sheer volumes of bands that enter the competition every year, I think the first part is a great way to set apart the bands that really want it and the one's that don't.
AH: Do you think it's ideal to have a fan base when entering the RBBJ?
Dave: I would say you're always going to have a better chance with a fan base, but I wouldn't say it's an imperative. There are genuine people out there looking through the entries and will vote for you if they believe you are good enough.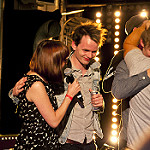 AH: What advice would you give to bands entering the contest next year?
Dave: Get on it as soon as the competition opens, this isn't a must, but the longer you're in it the more chance you've got of going through right?! Don't underestimate the buzzchart!!!  It is a very impressive tool and really does take data from a very, very large spectrum of social media, so think outside of the massive social networks. Get into your Facebook band stats, find out what works and what doesn't. 
AH: Any final words to close the interview?
Dave: We'd like to give a HUGE thank you to everybody that voted for us, the support we received has been totally mind blowing. Our parents, girlfriends, family, friends, friends of friends, work colleagues and most definitely, the fans. Without those votes we wouldn't be where we are today! We'd also like to give a massive thanks to the amazing teams at Red Bull, It's Pretty Green PR and Somethin Else. Those guys have shown us how the pros do it all!
I Divide links: Official Website|Facebook|Twitter
Further information on the Red Bull Bedroom Jam can be found at redbullbedroomjam.com.
Words by Sean Reid. Red Bull Bedroom Jam Final photos by Sarah Louise Bennett.