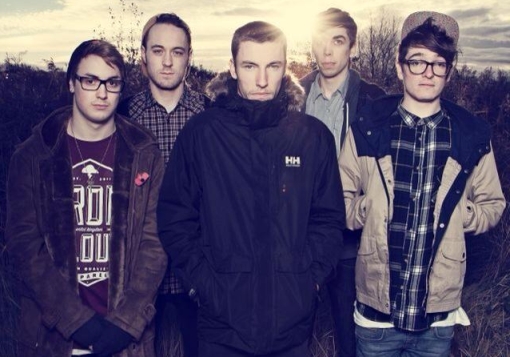 Hailing from the Welsh music hotbed that is Newport, South Wales Hot Damn are just one of the many up and coming pop punk bands who are gathering momentum both here in the UK and overseas. Later this month the quintet release a new mini-album entitled 'Sleep Alone' through Boston, Massachusetts label We Are Triumphant.
'Sleep Alone' shows the band in a sincere light and finally sees the band landing on their feet after experimenting with their sound at first. Now Hot Damn are a confident and honest pop punk band that echoes the style of Transit and Balance & Composure. 
With such a confident collection of songs in 'Sleep Alone' and shows alongside Man Overboard soon, expect to hear a lot about Hot Damn in the coming months.
Already Heard recently spoke to vocalist/guitarist Chris Evans to discuss those early "experimental" days, the emerging UK pop punk scene, joining We Are Triumphant, 'Sleep Alone,' why South Wales continues to produce quality bands and more.
Already Heard: Hi. Can you tell us who you are and what you do in Hot Damn?
Chris Evans: My name is Chris and I sing and play guitar in the band.
AH: Since you've formed in 2009, you've experimented with your sound. Can you tell us how the bands sound has developed from those early days until now?
Chris: Yeah when we first started out we had a different line up and didn't really know what sort of direction we wanted to take the band, I think musically our sound has grown along with us, back then everything was a lot more basic whereas if you listen to any of the tracks off 'This Weather…' and 'Sleep Alone' you can see first-hand there's a lot of thought going into the stuff we are putting out now
AH: Would you describe yourselves more than just a regular pop punk band?
Chris: As far as genres go I wouldn't fully put us as a pop punk band, I don't really like to put a label on it cause at the end of the day we write and put out music that we want to hear.
AH: Your sound has been compared to the likes of Transit and Man Overboard. Who would you consider as influences?
Chris: To be compared to bands like that we are really grateful for, we each listen to loads of different styles of music, but some of the bands that influence our sound are bands like The Story So Far, Balance and Composure, Such Gold and The Wonder Years.
AH: This month you release a mini-album called 'Sleep Alone.' It's being released through Boston, MA label We Are Triumphant. How did you join up with the label?
Chris: The deal with WAT came from the blue really, we are all a fan of the label so our guitarist Liam just thought it was worth giving it a shot with dropping them an email, not really expecting much of it, next thing I know we are getting together signing a contract
AH: Compared to previous release, I understand you spent more time writing 'Sleep Alone'. How important was it to be more patient when it came to writing the release?
Chris: Yeah the whole process from writing to recording right up to the release show we have really taken our time with, we just wanted to make sure everything was in place and properly organised so when its released it makes more of an impact, I see being really thorough with everything is crucial to making this release a success.
AH: What song from 'Sleep Alone' best represents what Hot Damn are about?
Chris: That's a tricky one, I'd say 'My Life In Your Eyes' or 'I'd Hate Me Too' but I'll leave that up to the listeners to decide!
AH: Within the pop punk scene, it seems UK more bands are starting to be noticed more and more. Why do you think that is?
Chris: The UK has a ton of great bands kicking about the place all the time, it was just a matter of time before these bands started getting noticed, with bands like Neck Deep, Save Your Breath and Continents really kicking off here and outside of the UK. It's shining a light on the UK as a whole and if there's a band that is willing to put in the hard work, then there's a good chance that they will be given a opportunity.
AH: Are there any bands you'd like to recommend to our readers?
Chris: Like I said there's loads of great bands knocking about right now so I know I'm gonna miss out some of our friends but yeah, I'd recommend Sell Your Sky, Concave, Carridale, Thieves, The Caulfield Cult, Cardinals Landmarks, Continents, When We Were Wolves, and Set Aside.
AH: In addition South Wales seems to be always producing bands. Why do think that is?
Chris: I don't know what it is with South Wales but we have always been pumping out loads of bands, It might be cause there's not a whole lot else to do here in the Valleys.
AH: How would you describe the local music scene in Newport?
Chris: The scene in Newport is really strong, we're always seeing top bands going through there. We have played with bands like The Wonder Years, Basement and Don Broco, and seen bands like Such Gold, Brutality Will Prevail, Save Your Breath and Expire just to name a few just to name a few. It's not only music though, there's often comedy nights and loads to do with fashion and that come summer time, I think that helps for any scene to have a lot of creativity going around from all areas.
AH: In May you're playing two shows with Transit and Man Overboard. For those who haven't seen you live before, what they can expect from a Hot Damn show?
Chris: We are so excited for those shows, those planning on coming to a show soon can expect a loud, fast, energetic, musical kick in the face We put everything into our live shows, when I'm playing a show I always think like 'do your best or don't bother doing it at all', someone has just paid £5 or however much to get in to see us, so I always try my best to be the best band of the night or that band that the people are talking about on their trip home.
AH: What are your plans for the rest of the year? I read there's a possible split with an American band?
Chris: There will be a split on the go later this year, when and who with is being kept under wraps for now but trust me when I say it's going to be a huge,
AH: Finally why should Already Heard readers check out Hot Damn?
Chris: Basically people should check us out if they are looking for catchy, slightly-aggressive (yet) honest music. I can almost guarantee they will have the tracks stuck in their head straight away
'Sleep Alone' by Hot Damn is released on 26th March through We Are Triumphant.
Hot Damn links: Facebook|Twitter|Bandcamp
Words by Sean Reid