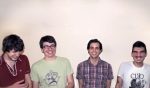 Horrible Things are a straight up punk band from Champaign, Illinois. With their latest musical offering, 'Dumb Days,' they are able to create a whole sense of emotion within 13 minutes and 9 tracks.  The record is full of fun little quips, anecdotes, and plenty of hooks. It genuinely just makes you feel pretty positive. Tracks like 'Before I Was American' really promote their influences, whilst 'A Friend Named Food' highlights how Horrible Things are able to take these influences and create something original and personal to themselves. "Steps" is my stand out track for the record, with the opening line of "Things are looking up finally" you can't help but want to shout along. 13 minutes and an absolute pleasure to listen to.
So, with all this in mind, Already Heard had a talk with Tim Reynolds about the Champaign music scene, UK tour swaps, suburbia and more.
Already Heard: Hey dudes! Awesome to be speaking to you, who do we actually have the pleasure of talking to today?
Tim Reynolds: Hey, this is Tim – I sing, play guitar, and write the songs.
AH: You guys are situated in Champaign, Illinois. I'll be completely honest, I've never heard of the place (well, not Champaign anyways.) Is there a music scene here? Any bands we should be checking out from your area?
TR: Yeah Champaign, IL, USA – a college town about 2 hours south of Chicago. Imagine a landlocked suburbia surrounded by cornfields. There is an annual flux of college kids every year so the punk scene seems to ebb and flow depending on interest. However, there is a cumulatively good spread of houses & DIY spots across central Illinois right now that make it worthwhile. I think of our "scene" more as being a 100-mile stretch westward across the state.
A ton of great stuff comes out of Champaign though. Currently, I'd recommend the Demonstration EP from Easter. Historically, I'd recommend American Football.
<a href="http://horriblethings.bandcamp.com/album/dumb-days-2" data-mce-href="http://horriblethings.bandcamp.com/album/dumb-days-2">Dumb Days by Horrible Things</a>
AH: 'Dumb Days'  is your latest offering, what was the writing / recording process like for this?
TR: I wrote the album during my senior year of college, so the songwriting process took longer than expected. I spent a lot of time experimenting but I think I found my "voice" in the process. This was the first time I wrote an extended amount of songs in a narrative sequence. All of our releases prior have been demos, really.
During January (2012), the four of us spent 4 days in Bloomington, Indiana recording 'Dumb Days.' We recorded everything in a friend's house. Drums in the basement, guitars in the bedroom and vocals in a closet. It wasn't a strict schedule, but we were surprisingly productive. In the end the overhead cost was essentially nothing, so we chose to put it out ourselves for free.
It's not perfect, but there is a certain "real" factor I'm happy with. Nowadays everything sounds so overdone anyway, I'd rather hear instruments with personality.
AH: I read somewhere that you write the kind of music people wish Weezer would've written after 'Pinkerton.' What are your thoughts on this and what would you actually say about the music you write?
TR: That's cool. I don't really think so, but that is the best Weezer albumin my opinion, so I'll take the comparison.
I'd like to think that the songs I write are well thought out. Short for a reason.
AH: Have you toured around the US much and have you played with any real standout bands?
TR: Unfortunately, Horrible Things was formed and has mainly existed while we were all full-time students, so touring has yet to happen. Mostly we have just played around the Midwest. 3 out of the 4 of us are now graduated, so we're not as tied down as before. You know how it goes though.
We've had the pleasure of playing with The Copyrights quite a few times by Illinois proximity. There's also a good amount of touring bands that come through, so we've played with Be My Doppelganger, The Dopamines and Off With Their Heads to name a few.
AH: Any plans to hop a plane and join us on UK soil? and on that note, do you have any UK bands you're fans of?
TR: We currently have no plans to visit the UK. Anybody want to do a tour trade?
Recently, I dug 'CRU 'by Gnarwolves and 'How To Ruin Your Life' by The Murderburgers.
AH: I know 'Dumb Days' was a pretty recent affair, but are you the kind of people who are constantly writing or are you happy to sail along on this for awhile?
TR: We put 'Dumb Days' out in April (2012), but the songs feel old to me already. I've started writing another album but we probably won't record it until the beginning of next year. We'll be playing regularly live though.
AH: 'Before I Was American' really makes me think of the kind of things The Max Levine Ensemble write, what are your influences?
TR: Thanks, Spoonboy is a great songwriter. I'm influenced by all sorts of strong songwriters, especially in punk rock. I felt really disenchanted with the higher education system at the time, so American education reform was definitely a topic of the album. 'Before I Was American' fit narratively, so it seemed logical. Political and social issues are slices of the pizza that is my inspiration.
AH: Do you have any links / any other things you'd like to say to our readers?
TR: We are putting out 'Dumb Days' on tape with our friend's label Rat King Records. It's a small run, 50 with handprinted boxes. If you're interested we will put whatever is left online for sale after it comes out.
We also did a This Bike is a Pipe Bomb cover for Skeletal Lightning this summer. Its apart of a free digital compilation.
Thanks for the interest!
'Dumb Days' by Horrible Things is available now on Bandcamp.
Horrible Things links: Facebook|Tumblr|Bandcamp
Words by Rosie Kerr