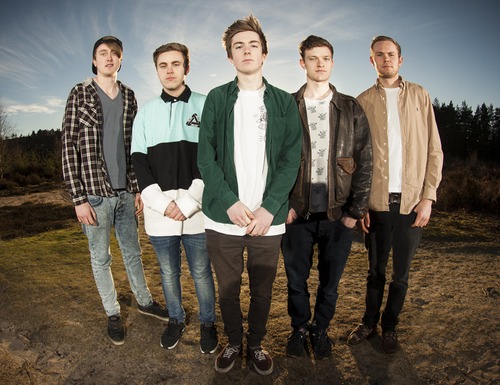 With their combination of refreshingly introspective lyrics, crisp riffs and bouncy choruses, Homebound tick all the right boxes when it comes to promising UK pop-punk bands. Their debut EP, 'Coming of Age' sees the young band make a confident first mark on the ladder to greater things. The six-song collection sees the Farnham five-piece mix elements of their influences (The Story So Far, New Found Glory, Neck Deep) with youthful exuberance and pride.
As they gear up for their first tour supporting "AH Recommends" alumni As It Is and Like Torches later this month, we spoke to Homebound. They discussed the importance of a debut release, the comeback of pop-punk.
Already Heard: Hello! Can you tell us who you are and what you do in Homebound?
Homebound: Hi our current line up stands as;
Charlie – Vocals
Tom – Guitar
Chris – Guitar
Joe – Bass
Sam – Drums
AH: Lets start with an easy one. What's the story so far with Homebound?
Homebound: Well we have always been interested in music and all of us played in local bands through our teens, with 4/5 of us being in a metal band previously, but we weren't very successful… or good to be fair.
Homebound started after an absence of us being in bands, on a night of drinking we developed the idea of starting something new. After getting hooked on 'Under Soil and Dirt' by The Story So Far, plus being pop-punk fans for many years, we decided that was the way to go. We have had a year of a lot of up and downs, changes of members, poor gigs and overall, it amounts to a lot of lessons that have positively moulded the band into what it is now.
AH: I understand you spent a year writing the EP. How vital is it for a band like Homebound to get their debut release right?
Homebound: Well a large part of our extensive writing was down to the fact we wanted to make the best first impression to everyone. We saw this EP as a way of introducing ourselves to the scene and we didn't want to leave people with a bad taste in their mouths. We had a lot of ups and downs along the way of writing this EP which all helped and hindered the process, but at the same time the EP would not be what it is without these situations occurring. It was a lot of hard work having to persevere with the wait, as we were so anxious and excited to get this EP out, but knew we had to spend the time that was required before we were happy to record it.
For us it was something that we were focused on getting right, I think as any band out there we just wanted to make sure we released something that made people wanna come back for more.
AH: With so many pop-punk bands emerging over the last couple of years, why should fans of the genre be listening to 'Coming Of Age'?
Homebound: It may not be for us to say ourselves, but I guess if we had to give anyone a reason, it is that with this EP we tried to combine the sounds of bands everyone knows and loves, but put our own vibe and style to them. We hope that as a result, this release will have at least a little something for everyone to enjoy.
AH: Why do you think pop-punk has made such a big comeback in recent years?
Homebound: This could be down to multiple reasons, but for us I feel it could be the overall amount of quality bands coming through the genre. Bands such as Neck Deep, The Story So Far, Real Friends and The Wonder Years have all had huge success over the last few years and that has been brilliant for reviving the genre. It could also be down to the ever growing British pop-punk scene, there are more and more bands appearing and hopefully we will be able to solidify ourselves as part of this scene with this release.
AH: Who do you consider as influences when it comes to Homebound and 'Coming Of Age'?
Homebound: When we first started this band it was the likes of The Story So Far, The Wonder Years and Neck Deep who encouraged us to re-follow the genre, they were ultimately the reason we decided to be pop-punk. We grew up listening to pop punk, so of course bands such as Blink-182 and New Found Glory played a huge influence on this release as well. Band favourite albums such as 'Enema of The State' and 'Sticks and Stones' were particular influences for a lot of the basic ideas for the EP.
AH: What track best defines what Homebound are about and why?
Homebound:This is hard as they all show different aspects of the band really, but a track with the best overall representation, showcasing our different aspects the most, are either 'Clutching Straws' or 'Coming of Age'. It combines those sounds of the 90's and 2000's bands, whilst allowing us to show our more modern British sound. The lyrics for these songs also speak a lot for the general message of the EP.
AH: I guessing from the it's title, the EP takes on a theme of growing up and introspection?
Homebound: Yeah spot on! We were all going through that jump of having to take a bit of independence in life. A lot of the EP's track names and lyrics are inspired from our own experiences, with the themes and content being so based around our own lives and the situations we find ourselves in, it has enabled us to be ultimately more inspired for the writing of the release.
AH: How has the response been to the EP so far?
Homebound: It's been amazing so far! We hope that everyone who has listened to it so far is enjoying it, and ideally that they will share it with a friend or two.
AH: Next up you're touring with As It Is and Like Torches in September. We know the entire tour is free, but what can fans expect when they come to a Homebound show?
Homebound: Well this is going to be the first tour we embark on and we couldn't be more excited! We promise a lot of energy and hopefully, some good old sing songs.
AH: Are you looking forward to the tour? Are there any dates you're especially excitied about?
Homebound: I think it's safe to say we are all so stoked for the tour and couldn't be more excited to be on the road with As it is and Like Torches. Touring and shows in general are a big part of the appeal, why we started band, so I think it's all a bit surreal that we actually are getting to do it.
AH: Do you have any final words to share with the Already Heard readers?
Homebound: Just to say that we hope people enjoy the release and to check it! Also if they are looking for any other bands in which to follow we suggest checking out the lights of Trash Boat, Boston Manor, Landmarks and Nathan Detroit, some serious talent that is coming through the UK scene! Get our release for free here.
'Coming of Age' by Homebound is out now.
Homebound links: Bandcamp|Facebook|Twitter
September (with As It Is and Like Torches)
8th Nottingham Rock City Basement
9th Manchester Academy 3
10th Newcastle O2 Academy 2
11th Birmingham O2 Academy 3
12th London O2 Academy2 Islington (SOLD OUT)
Words by Sean Reid (@SeanReid86)