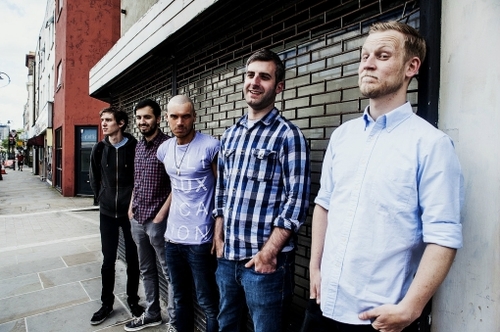 Inspired by the early 2000's heyday of Victory, Drive-Thru and Vagrant Records pop punk and hardcore, London's Home Advantage have been building a dedicated following since forming in early 2012. Since then they've gone to play shows with The Wonder Years, The Swellers and Living With Lions.
Later this month, the five piece release their debut EP, 'Cadet,' six songs of mature, hardcore-influenced pop punk that makes good use of the band members life experiences; they're are over 25 years old. Tracks like 'Short-Termism' and 'Youth Theatre' are full of raw adrenaline and emotion whilst 'Ropeswing' is introspective and 'Barriers' deals with topics such as racism and xenophobia. Certainly a departure from your typical pop punk clichés. 
Guitarist Alex Mills recently took tome time out to talk to Already Heard to discuss 'Cadet,' the usefulness of life experience in a band, their forthcoming shows with Greyscale and Nathan Detroit, and more.
Already Heard: Can you introduce yourself and tell us your role in Home Advantage?
Alex: My name is Alex Mills and I play guitar in Home Advantage. 
AH: We've known about Home Advantage for quite awhile now but for new listeners, what can they expect to hear when they listen to you guys?
Alex: My friend said that when he listens to us he imagines he's on the beach sipping a corona with lime, or in a park on a summer's day throwing a Frisbee or eating ice cream – something like that, and I like that description!
It's just somewhere between pop-punk and post-hardcore really. We have bits that are super catchy and pop and then pretty heavy moments, so if you're into both Funeral for a Friend and Saves The Day hopefully you'll dig!
AH: How did the band come together? I understand some of you have played in bands before.
Alex: We've all played in bands before but just local bands, except our drummer Alex's old skate-punk 32 Frames Per Second who did a few national tours.  But we began when my and Mike's (bass) old melodic hardcore band broke up.  We decided we wanted to try something less heavy and basically recruited everyone in from there.  It's not a particularly interesting story, just jammed in the practise studio harnessing our sound and then played our first show in March 2012.
AH: From hearing 'Cadet' your sound is reminiscent of early to mid-2000's Pop Punk. Was this something you had set out to do from the start?
Alex: The only initial intention really was to ensure we played in a much lower tuning than most pop punk bands. It gives our hardcore influences more prominence but you can also get a much bigger, more anthemic sound than standard tuning in my opinion … but everything else just happened naturally. I'd say we'd prefer to be compared to bands from that era than today, simply because we're actually from that generation.  When you get a 29 year old or whatever who has lost touch with pop-punk say he/she reminds you of bands they loved growing up, it's pretty rewarding – like you're re-introducing people to pop punk! So I think perhaps subconsciously we leaned towards that direction, but there was no agenda from the beginning as such.
AH: I know you're older than typical pop-punk bands. Does having that extra life experience influence the bands song writing in anyway?
Alex: I think it does, just because we can draw on a wider range or sources for inspiration.  I think also once you've been in a couple of bands before, even if they were just small ones, you learn a bit more about finding the best way to write songs as part of a collective and how to ensure different personalities shine through.  Lyrically it definitely has a massive influence, as a lot of the songs focus on yearning for that lack of responsibility that you lose once you hit your mid to late-20s.  It definitely allows you to touch on matters that you simply don't have as much knowledge about when you're only 22 or whatever.
AH: Since forming you've supported bands such as The Wonder Years, The Swellers, Living With Lions and MEST. Have these shows help shaped the bands sound?
Alex: To be honest, they haven't done much in terms of shaping how we sound.  We play with such a wide range of bands, and we're really lucky to be able to do so, but it doesn't affect the songs we write.  It's just about getting the opportunity to share a stage with bands we love, whose fans will hopefully enjoy us as well.  The biggest benefit they've given us if anything is experience in playing different types of venues – going from 50-80 capacity venues to 300 capacity venues where you have a bigger stage to fill and that sort of thing.
AH: What do you hope people take away from hearing 'Cadet'?
Alex: I just hope that people 'get' what we're trying to do, even if it isn't their cup of tea musically. We are a DIY punk rock band at heart, but one that wants to play massive sounding pop songs.   
AH: One song from the EP, 'Short-Termism' has already appeared online. How has the response been?
Alex: It's been so great, exactly what we hoped for.  It's got people really excited for the full record, and it's a great starting point for these people because it's probably the most straightforward pop-punk sounding song on the record rather than getting too heavy or poppy.
AH: I understand you've got shows lined up with Greyscale and Nathan Detroit. What can gig-goers expect from these shows?
Alex: At the time of this interview Grayscale have only played one show!  But it's a REALLY interesting thing they've got going on – a proper artistic concept with accompanying graphic novels and the songs following a storyline (like Coheed and Cambria…if they sounded like Tigers Jaw). I can't wait to see them develop.  Nathan Detroit will just bring their great skate-inspired pop punk to proceedings and ultimately gig-goers should expect friends handing out, having fun and a great showcase of another side to the British music scene that doesn't get quite as much exposure as other areas.  I'm hoping there'll be a few conga lines as well – conga lines are the new human pyramids.  
AH: Is there anything else you'd like the Already Heard readers to know about Home Advantage?
Alex: We're playing WTFest V on the 30th August down in Southampton with Off With Their Heads, Bangers and more, which will be amazing! 
AH: Finally why should Already Heard readers check out Home Advantage and 'Cadet'?
Alex: Because Jason Derulo's third album won't be out until September and you'll need something to listen to until then.
'Cadet' EP by Home Advantage is released on 15th July on Disconnect Disconnect Records.
Home Advantage links: Facebook|Twitter|Bandcamp
Words by Sean Reid (@SeanReid86)