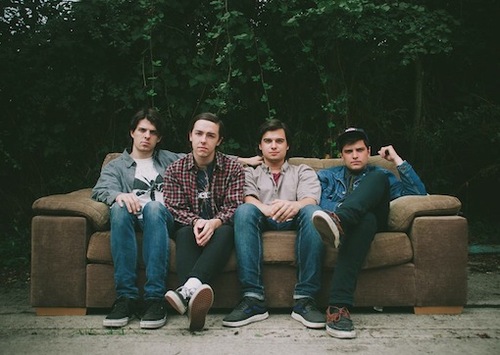 Having recently completed a tour with fellow "Recommends" band The Winter Passing, Berkshire melancholic punks Hindsights are gearing up for the release their new EP, 'The Thoughts That Weigh Me Down'.
Bounded by their influences ranging from Brand New, Title Fight and a crop of Run For Cover and No Sleep Records bands, Hindsights showcase a thoughtful and sensitive brand of emo punk that is on par with their influences.
The quartet have joined up with recently formed Oxford DIY label Beach Community, and with expectations 'The Thoughts That Weigh Me Down' rising, we're sure Hindsights will be a name you'll be hearing a lot more of in the coming months.
Back in early August, before heading out with The Winter Passing, Already Heard caught up with guitarist/vocalist Benio to discuss their sound, recording the EP, touring America and more.
Already Heard: First of all can you introduce yourself and your role in Hindsights?
Benio: Hi, I'm Benio, I play guitar and kind of sing.
AH: For new listeners how would describe Hindsights' style and who would you consider as comparisons?
Benio: It's always a hard one describing your own band. For me personally, I think we do a decent job of writing melancholic sounding punk music that lyrically touches on slightly more sensitive subjects than breaking up with your girlfriend (not that we have a problem with that, Miles likes All Time Low). As for comparisons, our past releases were all really influenced by pretty much all the bands on the Run For Cover and No Sleep rosters. This next record is very much a change from that, think Mineral, Brand New and Crime In Stereo.
AH: From listening to your Bandcamp page, I can hear a distinct Title Fight influence. Is that purely coincidence?
Benio: Not a coincidence at all! Title Fight were one of the reasons we started Hindsights. However, we like to think we've grown a little since then, wait for the new record and you can hear for yourself!
AH: It seems we're set to hear a lot more of Hindsights in the coming months. First of all you're touring with The Winter Passing this month. How did you hook up with the Irish band?
Benio: Miles (Bass) actually introduced me to The Winter Passing a couple of years ago, and we've been listening to them ever since! We started talking with Rob online and he pitched the idea of touring together. He recommended we listen to Driveway because they're from the same area, really liked their music, and thought they would be a good fit with the tour.
<a href="http://hindsights.bandcamp.com/album/the-thoughts-that-weigh-me-down" data-mce-href="http://hindsights.bandcamp.com/album/the-thoughts-that-weigh-me-down">The Thoughts That Weigh Me Down by Hindsights</a>
AH: Are you looking forward to the tour? Are there any venues or places you're especially looking forward to heading to?
Benio: Yeah, we've all had the tour blues since we've come back from America so we're really excited to get back into the swing of things. We're mostly excited about going to Scotland as we've never been there before.
AH: Why should people come out and see Hindsights and The Winter Passing?
Benio: The Winter Passing have a full length coming out on Fist in the Air Records, and judging by their past releases, it's going to blow everyone's minds! They'll be playing a few tracks from it on the tour so it will be a good way to have a sneak peak. Driveway have a really unique sound, so they'll give some variation with some sweet head bopping jams – coincidently are also releasing a full length soon. Aside from the three bands on the tour, if you come to a show make sure to check out all the bands playing, there are some cracking line-ups on these shows.
AH: You're also working on a new EP. What can you tell us about it and how far are you into the making of it?
Benio: When writing and recording our past releases we very much took our time with them, drums would get recorded then a couple of weeks later we would get around to recording bass etc. This time around, we booked ourselves in with Bob Cooper before the record had been written, took a week off work and drove up to Manchester, and lived and breathed the recording process. It's done now, and has been for a while, but because a really cool opportunity popped up for us we've had to put off releasing it for a bit.
AH: Can we expect to hear music from the EP in the near future?
Benio: You can expect a 5 track EP from us, and you can expect to hear a song from it very soon. For some reason people have thought we were recording a full length, even though we have said nothing of the sort on any of our social networks!
AH: In addition to the UK tour and new record, you've just returned from touring the US East Coast with Wester. How did the tour go?
Benio: It was probably one of the best experiences ever. Everything from the shows to the food, we really made the most of it as we don't know if anything like that will happen again. You wouldn't expect it, being an onlooker, 8 guys in a van, leather seats, drowning in our own sweat (oh yeah, it was really hot) but we really clicked with Wester, like no other band we've met. We're their evil clones (yes, they're much nicer than us).
AH: What were your stand out moments from the tour?
Benio: The Talent Farm, Pembroke Pines, Florida. Anyone who was at that show knows how much fun we had. Kevin (the venue owner) is the man, really accommodating, and it's evident he has done so much for the scene around the area – he's gone bankrupt twice from running the venue!
AH: With the tour and EP in the works, what else do you have lined up for the rest of 2013?
Benio: Expect another tour from us, in support of the new release!
AH: As this interview is part of our "Recommends" series, are there any bands you'd like to recommend to our readers?
Benio: Wester, The Winter Passing, Driveway, Godard, John X McClane, Sob Story, The Cold Harbour, Wayfare and Like Home.
Do you have any final words to close the interview?
This is our first interview, so thank you for having us and please do check out all the bands we've mentioned. They're all extremely hardworking and deserve a listen!
'The Thoughts That Weigh Me Down' by Hindsights is released on 7th October on Beach Community.
Hindsights links: Facebook|Twitter|Tumblr|Bandcamp
Words by Sean Reid (@SeanReid86)