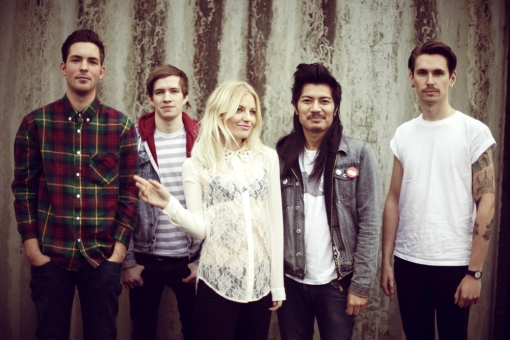 Formed from the ashes of three of Brighton's most beloved bands; Mimi Soya, The Auteur and The Ghost of a Thousand, Hero marks a new start for the five-piece. With their brand of soaring melodic rock, the bands debut single ('Raise It Up') is a preview of what's to come as lead vocalist Hero's confident vocals compliments the bands powerful pop-rock approach, whilst former Ghost of a Thousand drummer Memby Jago adds swagger and edge to the bands sound with the end result being a well-rounded rock band.
With an EP in the works, Already Heard caught up with vocalist Hero to discuss how the band came together, how Hero differs from previous bands, why releasing music for free is the best option for the band, future plans and more.
Already Heard: Can I ask who I'm speaking to today and you're role in Hero?
Hero: Hello my name is Hero and I write songs with the other lads and sing when necessary.
AH: As we already know, Hero is made up of members from former Brighton-based bands. How did you all come together?
Hero: Well, when I left my old band I started writing jams with Jules (Bowen – guitarist) in our living room. We thought they could potentially go somewhere so when The Auteur dissolved, I took the opportunity to ask Alex (Rumble – guitar) and Kerry (Williams – bass) to join. From there we wrote and played shows but an element was missing. I suppose it was a sublime bit of fate that upon meeting the Ghost (of a Thousand) on a train back in '09 and showing them my solo stuff then, Mem would end up playing with us. We are massive fans of Ghost and he dug what me and Jules were doing. It was a good day for music when he joined!
AH: In comparison to your previous bands, what makes Hero different?
Hero: It's different when you take all the bits that have worked in previous bands and leave the bullshit at the door. For me, my venture in to the music has been a real tough one, marred with a lot of heart ache. This project breathed fresh air into it all. This industry is still full of frightened time wasters, but it's a lot easier to deal with that prospect when you are in a band with not only the best musicians you know, but actually your best mates, your family. It's an amalgamation of all the creative efforts and visions we have come across in our lifetimes.
AH: I understand Memby was the last member to join. What does he bring to Hero's sound?
Hero: Jeez, what doesn't he bring!? Hair, vibe, and his missus makes the most sublime 'on the road' snacks. If I can get serious for one minute he's just got groove. The songs we do are taken to another level with innovative beats and I think over the next few releases that will become apparent.
AH: On 29th April you're releasing your debut single 'Raise It Up.' What can you tell us about the song?
Hero: The song was one of the first full demos me and Jules did together. It is one of those blessed moments for a song writer when it comes out straight away. We both knew what each section should do, and at the time I was really struggling with a friendship from back home. It all came together and it was the most therapeutic song I had ever written. Perhaps over ambitious with some of the melodies but it's settled into the set now. It's in a good place.
AH: Was there any reason why you've picked it as the first single?
Hero: Honestly… It's a timeline. There has to be a place to allow for growth. This was the first song we had done and I am not ashamed that this is how it turned out. It's the opposite. I want people to move with our progression as people and musicians.
AH: For the video you worked with Sitcom Soldiers. What was it like working with them?
Hero: Wow, these guys are amazing. We had such a small amount of time to plan and do the video and along with -4c temperatures, it was all hands on deck. Due to the weather we were a little limited with ideas but I think Ben and the team at Sitcom did an incredible job. Really proud to be honest!
AH: 'Raise It Up' is being offered as a free download. Do you think this is the best option for a new band like Hero?
Hero: Fuck it, yeah. Music has to be offered and shared. It's backwards to think we are in an era where it's a viable option to put a gun to someone's head and ask them to pay for something they might not like. Especially in the beginning, you have to let people get into it; putting up a charge for 'trying' something is idiocy. The creative process doesn't have a price on its head.
AH: From looking at your Facebook page, you've been writing other material. What can you tell us about it and when can we expect to hear more?
Hero: Yeah, always writing. Jules and I try to do a new demo a week. Some of them turn out amazing, some of them sound like a cat being abused… but that's the process of working it out. I think once the 'Raise It Up' single has been released we will show off the EP shortly afterwards.
AH: Along with writing new material, can we expect to see you out on the road this year?
Hero: Ha, I bloody hope so. We have a gig supporting Allister in Brighton in celebration of their 10 year anniversary of 'Last Stop Suburbia'. I'm not ashamed to say I am excited about this show. My 14 year old safe is giving me a thumbs up. After that who knows, book as many shows wherever possible. That will be the priority after recording is over next week.
AH: Finally why should the Already Heard readers check out Hero?
Hero: You can't make an informed decision without listening. Whether there's love or hate there it doesn't matter. Opinions are worth so much more than a retweet.
'Raise It Up' by Hero is released as a free download on 29th April.
Words by Sean Reid