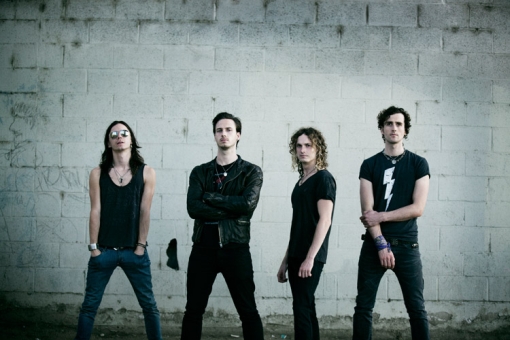 With their début album being self-described as "ambitious" hard rockers Heaven's Basement are setting big expectations for themselves but thankfully the quartet back it up. Their latest single 'Nothing Left To Lose' is a catchy slice of bold hard rock that sees them being compared to former tour mates Papa Roach and Shinedown. Aaron Buchanan provides confident soaring vocals whilst Sid Glover's riffs and Chris Rivers' drumming are brash and have swagger.
Having worked in Los Angeles with Goldfinger's John Feldmann, 'Filthy Empire' is set to be unleashed on February 4th through Red Bull Records and is tracks like 'Nothing Left To Lose,' 'Fire, Fire' and 'I Am Electric' are anything to go by then Heaven's Basement are certainly set to be Britain's next big hard rock hopefuls.
We caught up with drummer Chris Rivers to discuss 'Filthy Empire,' joining Red Bull Records, working with John Feldmann and more.
Already Heard: First of all who am I speaking to today and what do you in Heaven's Basement?
I'm Chris, I play drums for Heaven's Basement.
AH: It looks like 2013 is going to be a big year for you with the release of 'Filthy Empire'. You've described it as "ambitious" and "modern." What can we expect from the album?
Exactly those words above and more. We wanted to capture the energy of our live show as much as possible on the record. You'll hear 12 tracks that shows everything Heaven's Basement can offer, and gives you an insight to what the future holds for us in terms of the dynamic variety that's on the record.
AH: Recent single 'Nothing Left To Lose' is certainly a stomper. What is the track inspired by?
Chris: I know Aaron in particular has a specific subject he wrote about for that song, there's another overall theme of encouragement for people to get off their arses and make something happen throughout this record, that's the same for 'Nothing Left to Lose.'
AH: The video sees you being taken hostage and then rescued. How the concept video come about and does it have any meaning?
Chris: We're not really a concept band but that video was real good fun to make. I guess everyone can feel hostage to something or someone at some point in their life, but most people have the ability to change that, maybe with the help of some friends, just like us in the video.
AH: You worked with Goldfinger's John Feldmann on the record. Having worked with a wealth of credible bands, how valuable was his experience to the making of the record?
Chris: John's a great producer with a lot of energy which matches Heaven's Basement, although we didn't know much about his producing background before we met him to be honest. It just so happened that the energy between us and him was great so we decided to commit and make the album with him.
AH: With both 'Fire, Fire' and 'Nothing Left To Lose' already receiving a lot of praise, especially from major radio stations and publications, do it add pressure or encourage you to succeed further?
Chris: Only succeed, I don't know what it'd take for us to feel real pressure, we've been through enough up and downs to deal with all sorts of situations. Our general outlook is always with an eye to succeed, that's just the way we're built as people, it goes beyond just a band thing. We're so happy for how 'Fire, Fire' and 'Nothing Left to Lose' are being received but we always aim to go one step further.
AH: The album is being released on Red Bull Records, which is home to both Twin Atlantic and AWOLNATION. First of all how did you join up with the label?
Chris: We first had contact with Red Bull Records in October 2009 when the band had a slightly different line-up. They had stuck by us in times of line-up changes, always believing that we were the UK hard rock band they wanted on their roster.
We got the line-up finalised in 2011 and Red Bull came calling, it meant a lot to us that the guys at the label had been patient for us to get things right and had that much faith in us even when we were down to a 3 piece band. They have the same ambition as us guys and the whole mentality of the company matches ours. We couldn't think of a better team of people to work with in the world.
AH: With the Red Bull brand being so well known, is it advantage for you to get your music heard by more people?
Chris: Sure, we've already been lucky enough to be the official band for Red Bulls Crashed Ice event for 2012 and the upcoming one in 2013.
AH: Following the release of 'Filthy Empire' you're heading out on a UK tour. What can fans expect to see from a Heaven's Basement show?
Chris: More of everything everyone expects from us. The most high energy live performances we can give. We'll be spending the next year at least on tour so they'll be plenty of shows to see us at.
AH: Having played shows with bands such as Papa Roach, Shinedown, and Buckcherry, what have you learnt from these experiences and how have you applied them to your show?
Chris: You can always learn something from everyone, no matter who. Touring with those bands have been awesome experiences, each tour brings its own story.
AH: Do you any final words for the Already Heard readers?
Chris: Hello, nice to meet you. If you've not heard our music please go check out our new single Nothing Left to Lose which is from our forthcoming album 'FILTHY EMPIRE!' Maybe see you at a show too!
'Filthy Empire' by Heaven's Basement is released on 4th February through Red Bull Records.
Heaven's Basement links: Official Website|Facebook|Twitter
Words by Sean Reid (@SReidPortfolio)