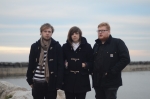 Here at Already Heard, we have high hopes for Leeds trio Hearts & Souls. Having been included in our list of 50 bands to watch in 2013 and their forthcoming début EP being warmly received late last month, then they are the perfect fit for our "Recommends" feature series.
Since their formation as a quartet in early 2011, Hearts & Souls have released a handful of singles, become a three-piece and are now set to unleash 'The Use of Living' later this month. With a atmospheric pop-rock approach, Hearts & Souls provide a compelling, uplifting and confident sound as seen by tracks like 'England's Coldest Waves' and 'Airwaves' which saw the band collaborate with The Dangerous Summer's AJ Perdomo.
Without a doubt Hearts & Souls are a self-assured group with grand ideas that come off brilliantly well.
We caught up with vocalist and bassist Lucinda Livingston to discuss the bands influences, becoming a three-piece, 'The Use of Living', being a band in the Leeds music scene and more.
Already Heard: First of all who am I speaking today and what's your role in Hearts & Souls?
Lucinda Livingston: You're speaking to Lucinda. I sing and play bass in Hearts & Souls.
AH: For new listeners you've been compared to the likes of The Cure, Seahaven, and Now, Now. How would you summarise your sound?
LL: Being compared to those artists was a huge compliment for us. All three of us listen to a variety of music. We take a lot of influence from The Cure, Sigur Ros and Explosions In The Sky. Summarising our sound is hard because we experiment a lot, but overall we like to combine our more ambient influences, with a bigger rock sound, and that's what you hear on the EP. Rock tracks with intricate guitar work, ambience in places, and very down to earth vocals.
AH: In January you're releasing a début record titled 'The Use Of Living'. I believe this is your first release since becoming a three-piece. How has the line-up change affected the band?
LL: Becoming a 3 piece from a 4 was such a hard decision for us to make, and it took a lot of consideration. When we started writing our next release (which became 'TUOL,') we realised that our songs worked a lot better without an extra rhythm guitar. When we started H&S we felt another guitar was needed to create the big sound we wanted, but we started to use a lot of keys and synths in our newer material, and as soon as we went down to just the three of us we gelled a lot better, and re-wrote most of the songs on the EP again. We worked better together, and as a result our sound is a lot more crafted.
AH: Compared to previous releases, how has your sound developed on 'The Use Of Living'?
LL: Our sound has developed hugely, and anyone that listens to our previous released in comparison to what you hear on 'TUOL' will notice a huge contrast. I guess moving down to a 3 piece really did make a difference, but also our last releases were just singles and b-sides, so it was nice to actually create a finished piece of work, there's a concept throughout and the songs work together.
AH: Who did you record the EP with or is it entirely a solo effort?
LL: We recorded the EP at The Vault Studios in Sheffield with Graeme Atkinson who engineered the tracks for us. We were also lucky enough to have AJ Perdomo of The Dangerous Summer feature on one of the tracks 'Airwaves' while TDS were in the UK touring, which was a great moment as they're one of my favourite bands around at the minute.
AH: From hearing the record, it seems the record is quite intimate in places yet tracks like 'Liquidlung' and 'Pulling Teeth' are more approachable. What was your mindset going into the making the record?
LL: When we started writing the record, we changed things around a lot. In terms of my lyrics I think this was the first time I've completely written something that's true to myself and really captures what I was feeling at the time when I was writing it. There are bigger choruses on the tracks you mentioned which makes them more accessible maybe, but we wanted to get a good mix of everything on the record. We wanted someone to be able to take it home and enjoy listening to it as a whole, as well as being able to get involved at shows.
AH: The opening song, 'England's Coldest Waves' is rather grand and cinematic in sound. You've also released a video for the song. How did the video come together?
LL: The video was shot in Staithes up North in the UK. There's completely nothing in that town, and by nothing we met a lady and her dog Al, and a couple of fisherman in a whole day of shooting. 'England's Coldest Waves' is the intro track to the EP, and we felt it was a great track to release in December as an introduction to what we're doing. The video was shot by one of my best friends Chuck Frakes, and we had plans to shoot the video there before we had even recorded the track. Staithes is our drummer Conor (Dawson)'s favourite place in the world, and he'd always wanted to shoot a video there.
AH: 'The Use Of Living' is being offered as a free download. What was the decision behind this move? Is it more ideal for a band in your position to offer your music for free?
LL: Even though we've been around just over a year this is our first full release. The way the industry is now people might not want to spent £5 at a show buying a record by a band they've never heard of when they have a train home to pay for. What better way to introduce our band to someone by giving them 7 new tracks for free? A hard copy will be released on vinyl limited to 250 copies, so physical copies will exist.
AH: You're also playing a EP launch show in your hometown of Leeds. Do you have anything special planned for the show?
LL: We're most likely going to play the EP from front to back as a whole, so people can hear it how it was meant to be listened to. There's been talk of filming the show, and we're doing our best to make sure we get great supports on board to give people some new music.
AH: In the past you've played alongside bands like Listener and Lemuria. For those who haven't seen you live before, how would you describe your live show?
LL: Our live shows can be quite intense, but at the same time we like to keep them fun. We change things around a lot to keep things fresh and we all have such a good time playing live, because that was the environment we wrote most of the EP's tracks in.
AH: Leeds is a city that has plenty of venues although The Well is set to close soon. Would you say the Leeds music scene is in a healthy state?
LL: I actually played the last show at The Well playing bass for my friend Jimmy Holland last week. It's such as shame that venue has closed because we played some of our favourite shows there, it's a massive loss to the music scene. I think the music scene at the minute is healthier then it has been for the last couple of years, but it's got a long way to go before local shows were as full as they used to be. A lot of big local bands have stopped, and it would be great to see a few more starting up.
AH: For a band like Hearts & Souls, is it an advantage having several venues in the city?
LL: It's great that we have a selection of venues to choose from when we're thinking about putting on a show. It also means we don't play the same venue time after time. For our EP launch we chose Cockpit because we've played shows for them in the past, and the venue is one of our favourite places to play in Leeds.
AH: Following the EP release and the release show, what else can we expect from Hearts & Souls in 2013?
LL: After the release we will be playing as many places as possible. We've already started writing new material but 2013's focus is solely just touring for us
AH: Do you have any final words for the Already Heard readers to close this interview?
LL: If you've got to the bottom of this, then thank you for taking the time to read about us. Our début EP will be released on the 21st January for free online, grab a copy and listen to it!
'The Use of Living' by Hearts & Souls is released on January 21st.
Hearts & Souls links: Official Website|Facebook|Twitter|Tumblr
Words by Sean Reid (@seanreid86)