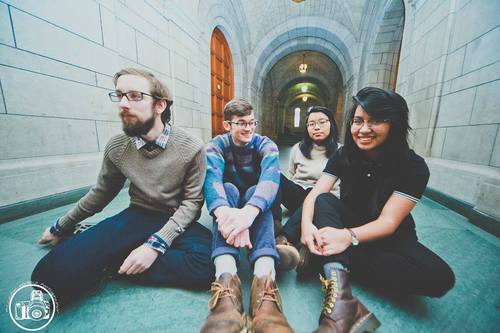 Having started out as a folk duo, twin sister songwriters Sara and Rose Savage has evolved Fun Home to become a dynamic indie/emo quartet (Dan Hagendorf on drums and Ben Gardner on bass) with a charming EP in their arsenal.
'Knit Into Place' is reminiscent of acts such as Tigers Jaw and Now, Now as tracks like 'Felt So Tired' and 'Bad Weather' are harmonious, organic yet have an understated pop sentimental quality that resonates throughout the EP. Whilst lyrically the quartet talk about isolation and disparity however hailing from the close-knit DIY Pennsylvania scene, Fun Home have gained a small yet appreciative following in their short time together.
A short time ago, we spoke with Fun Home to find out more about their beginnings, the Pennsylvania scene and they also shared their thoughts of being linked with the so called "emo revival".
Already Heard: Can you introduce yourself and your role in Fun Home?
Sara: I'm Sara and I play lead guitar and sing harmonies.
Rose: I'm Rose and I also play guitar and sing.
Ben: I'm Ben, I play bass, a little bit of glockenspiel, and whatever wind instruments I can squeeze into a song.
Dan: I'm Dan and I do the drums.
AH: We know the band started with just Sara and Rose Savage. Can you talk us through how you became a four-piece?
Rose: We started out playing as an acoustic duo while we were still in high school because that's really what we were into at the time. As time progressed, we wanted to shift towards more of a fuller and louder sound so we sought out a drummer and a bassist.
Sara: We met Dan at Pitt and automatically became friends through our mutual affinity for music. And a few months later, we met Ben through playing shows at DIY spaces around Pittsburgh. I think we played our first show together as a full band at The Shop in Pittsburgh with Modern Baseball last summer.
Ben: I saw Rose, Sara, and Dan play as a three-piece with The Island of Misfit Toys last summer, and they sounded great, but the sound wasn't filled out – which I told them, to which the sisters said "Wanna play bass?" I'm a guitar player, but I've played bass in bands before, and I love their songs, so I said yes, and it's been so much fun ever since.
AH: I read that the change in lineup resulted in a change of style too?
Rose: Yeah, our style changed from a folky-indie to more of an emo-indie sound because our tastes had changed and we were starting to listen to a lot of different kinds of music and through that we were inspired by a lot of new and different bands that we hadn't listened to in highschool.
AH: So your new EP is called 'Knit Into Place'. For new listeners what should they expect from the EP?
Sara: There definitely are a lot of aspects of our first EP, 'Wasting Time,' in this new one. We still incorporate harmonies into almost every song. I think what this EP brings that the prior one didn't is a fuller, more concrete sound that really accents the harmonies in an interesting way. We are taking songwriting in a different direction because we are considering how these songs will sound on electric with a bass and drums.
AH: Because you've been tagged as a female-fronted emo / indie band, you've been likened to acts such as Tigers Jaw and Hop Along. Do you think that description helps or hinders the band when it comes to people hearing you for the first time?
Sara: Those are both huge compliments first off! I don't know, I think it's interesting that we get paired to a lot of bands based on the fact that we are female, and not necessarily that our sound emulates theirs but, I think it helps in terms of that those are bands that a ton of people listen to and like, so I think in that way, it draws people towards our music.
AH: Who do you consider as influences?
Rose: Going back to the previous question, I think that a lot of my favorite bands are female fronted bands. However, a lot of my influences also come from male fronted bands too. I think I'm more inspired by chord progression than vocal delivery. So for example, I find that I am more inspired by Tigers Jaw for their songwriting/chord progression rather than Hop Along for their female vocalist.
Sara: I would say that one of my biggest influences is a band called Now, Now, but also Simon and Garfunkel has always played a big role in my songwriting and especially our harmonies.
Ben: We toured a little in December and listened almost exclusively to the new Beyoncé album. As far as Fun Home songs go, I try to write my parts to be as complimentary to the vocals as possible.
AH: Having read a few reviews of the EP online, it seems the response has been overall positive so far?
Rose: Yeah, it's really awesome and encouraging to be seeing such positive feedback!
AH: Lyrically what is 'Knit Into Place' about?
Rose: A lot of the songs are about being in a weird place emotionally where you feel really separated from the people around you and essentially just trying to get through it.
Sara: Yeah, I find that when we wrote a lot of these songs, they served as ways of coping with this sense of dissonance. I guess these songs are kind of placeholders for those feelings.
AH: Can you tell us how the EP came together? I understand you recorded it with Pat Loundas from your recent tour buddies from The Hundred Acre Woods.
Sara: Summer of 2013 we toured with The Hundred Acre Woods as an acoustic three piece. We would talk about getting a full band together and recording these songs we were playing as a four piece. I guess at some point Pat said he'd record us at Drexel, and that August we spent a week in Philly recording.
Rose: In August, we really reworked a lot of our songs in Drexel's studio with Pat. He was the perfect person to work with because he really understood the sound we were going for and made a lot of important suggestions that helped us develop the songs into what they are now. At the time we were still looking for a bassist, so Pat kindly wrote and recorded all the bass tracks for the EP.
Dan: We arranged the songs pretty quick; we even wrote a lot of 'Felt So Tired' and 'I'm Not There' on the first day and then recorded them, going off blueprints Rose and Sara had made beforehand.
AH: Speaking of touring, you recently finished a run of shows with Steady Hands. How did those shows go?
Sara: They were a ton of fun. Those guys were a pleasure to be on the road with, they are so amazing. My favorite part of that tour was when Sean took us to his family's Italian restaurant in New Jersey and it had to be some of the best food I've ever had!
Rose: That was actually our first tour as a full band. It was such a fun experience, especially touring with Steady Hands. It was really amazing to be able to see them play every night.
Ben: We also got to see tons of close friends. We played with The Hundred Acre Woods at Winthrop's house, in Harrisburg with a great band called Wish List, and we stayed at Michael Jordan in Philadelphia with our good friends Bren, Ally, and of course Sean. The guys in Steady Hands became really great friends too.
AH: You're from the State of Pennsylvania. It seems it is a State that is producing a lot of great bands in recent years. How would describe the music scene in the area?
Rose: There is a definite appreciation for DIY venues and shows here in Pittsburgh and also from what we've experienced in Philly. We have shows at our house, which has been appointed as The Fun Home. We really like playing house shows because it feels more intimate and we enjoy giving touring bands that opportunity as well.
Sara: I think that the music scene in Pittsburgh is really inclusive to both people who want to play music and for people who go to shows just to listen to the bands. There are a lot of incredible Pittsburgh local bands, from the well-known bands like Adventures and Run, Forever, to a lot of fantastic emerging bands like Driver.
AH: Going back to being an "emo" band, what do you make of the so called "emo revival" that many outlets have been talking about in recent months?
Ben: I could say a lot about this but I'll try to keep it brief. There are a lot of bands coming to the forefront of music right now that are the product of the explosion of pseudo-'emo' in the mid-2000s. Like, I'm 21, so I can remember being in middle school and Fall Out Boy being the biggest band in the world. The way a lot of people listen to music is really passive, so 'Sugar, We're Going Down' would come on the radio and they'd be satisfied, but then there's people like us who would go out and buy the Warped Tour compilations every year, or go see these bands and then buy the opener's albums too. Next thing you know, bands like Brand New and Bright Eyes become the most important thing in the world to a kid going through some weird personal stuff, and these bands kind of define who you are.
Fast forward five years, and these same kids are starting bands and meeting people who went through the same things they were going through at that time. And now we wind up with 50 bands in every city who are writing incredible songs, PLUS reasonably priced technology to record those songs themselves, AND the internet as a simple means of distributing those songs internationally, and the audience expands so rapidly. It's hard to pin it down, but I don't think "emo" ever needed to be revived. If anything, I think it's bigger than it's ever been. Realistically, Owen sells way more records than American Football did in their prime. News resources like Vice and Pitchfork see this huge subculture as an untapped market though, and then you see bands like The World Is… getting posted on these huge websites, or You Blew It! cracking the Billboard Top 200. It seems crazy but there are kids all over the world listening to and identifying with this stuff, who would have two decades ago had they the means to hear it – but that just wasn't plausible.
What does it mean to Fun Home? It's great, because we can go to cities that none of us have ever even been to and people know our music and such. I'm especially stoked to be on Broken World's roster, because I think Derrick is constantly putting out such great records. He really cares about the quality of the records he releases. I can remember being in high school and buying every record that Equal Vision Records put out – hunting down Bear vs. Shark and Fear Before the March of Flames records in FYE at the mall. Now, you can just open up your laptop and download every BWM release for free. My other band played with Animal Logic this summer, and that was super cool because they're probably on BWM. I Kill Giants have also been close friends of mine for a very long time, so as much as it bums me out to see them break up, I'm really excited to see my band and those guys side by side. Old Gray are also wild dudes and good friends, so again – really cool seeing all our names up on the same websites.
AH: Finally why should Already Heard readers listen to Fun Home and 'Knit Into Place'?
Ben: As a person who was a fan of the band before I ever joined, I just want to say that Rose and Sara really do write incredible songs. When I show up to practice and they're like, "hey we finished that new song," I get so excited, because I know it's going to be great. Working with them, they really do pour themselves into these songs, and so do Dan and I, and I think a lot of people connect with these songs if nothing else just because they're so sincere.
'Knit Into Place' by Fun Home is available now on Broken World Media.
Fun Home links: Facebook|Bandcamp|Tumblr|Twitter
Words by Sean Reid (@SeanReid86)