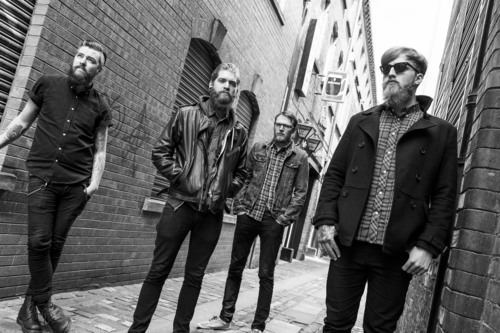 Formed just 12 months ago, F.O.E.S. (Fall Of Every Sparrows) have spent the past year perfecting their sound and are now set to unleash their debut EP.
'Ophir' takes elements from their influences such as Deftones, Karnivool and Circa Survive to create a solid debut release that has a character. With ambient and brash guitar work and melodic, cleverly intricate drums, hands the Liverpool quartet plenty of potential with future releases, which as we find out, is already in the works.
Having played shows with 36 Crazyfists, Hactivist, and Oceansize in the last year, F.O.E.S. will be heading out on their first tour in support of 'Ophir'.
With their first EP and tour coming up, and their second EP in the works, Already Heard caught up with guitarist Joe Danher from F.O.E.S. to find out how the band came together, the making of 'Ophir', their forthcoming tour and more.
Already Heard: Can you tell us your name and what you do in F.O.E.S.:
Joe: I'm Joe Danher, one of the guitarists in F.O.E.S.
AH: Having only just formed last January, you've already played shows alongside some impressive names and now you're set to release your debut EP. How would you sum up the past 12 months?
Joe: Regarding those live shows, it's been really rewarding. Before we'd even released anything, we got chatting with a couple of our promoter friends and laid out the basic plan for our first 6 months. They were really supportive of what we were doing and were able to throw us those great supports. The response when we played alongside Hacktivist was brilliant, considering how removed in genre we are from those guys. Always good to win over a new crowd!
AH: For those who are unfamiliar with your sound, how would you describe your style and who would you compare it to?
Joe:
We have a lot of influences. Oceansize, Karnivool, Manchester Orchestra, Circa Survive to name but a few. Very flatteringly we've been compared to them a number of times, along with the likes of Deftones, Cave In, At The Drive In, etc.
AH: I understand the band is formed out of two previous bands. Can you tell us how F.O.E.S. came to be?
Joe: Jay (Lorenzo) and I have been in bands together for many years, as have Chris (Mackrill) and Josh (Catchpole). We'd already gotten to know each other a year prior to forming F.O.E.S. Feelings were admittedly pretty mixed before that first rehearsal. Even though we all have similar influences, our previous bands were very different from one another. "This could be great, or it could be really shit" definitely sums it up. Luckily that first rehearsal ended up being a belter – we managed to throw together the bones of "Four Of Oxblood" in just a couple of hours.
AH: How has your previous bands influenced your cinematic post-hardcore sound?
Joe: I'd say we've met a comfortable middle ground between the two. If you strip it all down, everyone in the band certainly has a recognisable writing style…you can hear aspects of that both in our old bands' and F.O.E.S material. 
AH: As we mentioned earlier you're releasing your debut EP soon. How did 'Ophir' come together?
Joe: We spent about 5 months writing and perfecting our sound. We wanted everything to be really polished before we went public with it all. And most importantly, we wanted to be proud of what we put out. When we were perfectly happy with everything, we went out to Belfast and tracked 6 of the songs we'd written. 5 of those became the Ophir EP. I believe getting away from home and familiar ground really helped us focus solely on the record and what we wanted to get out of it. Even the name of the EP came from the name of the particular place we were staying in.
AH: You've released a couple of songs from the EP so far and the EP has received several reviews. How has the response been?
Joe: We couldn't be happier with the responses we've had. We put a free track out back in August called "Ruin Lies In The Bow & The Sword" and it got a great write up on This Is Fake DIY within a week. A number of similarly great blogs have also gotten behind us from the off. We really value that and the role they're playing in making more people aware of our music.
AH: Unlike some bands, you've taken some time making your debut release. What was the motive for this? How important is it for a band like F.O.E.S. to take that extra bit of care when you're releasing your debut EP?
Joe: For us, it's about momentum. It would have been a waste of our efforts to put out a whole EP when we first announced ourselves. Putting out a track at a time let us test the waters a little more…see if people were into it and slowly get the right listeners on our side before a full release…
AH: You're also set for your first UK tour next month. What are your expectations from the tour?
Joe:
Its our first UK tour, and we booked it entirely off our own backs. We're obviously still fairly unheard of for the most part, but that certainly hasn't dulled the anticipation on our end. Quite simply, we want everyone who's catching the live shows to enjoy them as much we will be. 
AH: How would you sum up a live F.O.E.S. set?
Joe:
Hopefully the sets come across as a whole. We think a lot about the ordering and flow of them. There's a Mew album (And The Glass Handed Kites) that really influenced that for us. There's barely a gap on that entire album. Its biggest impact is that it's totally seamless…
AH: Despite only just releasing your first EP, I hear a second EP is set to be released later this year. How are the new songs coming along?
Joe: They're still works in progress but everything's coming together nicely. I think now that we've found "our sound" there's a lot more cohesiveness in the writing process.
AH: How has the band's sound evolved with the new songs?
Joe: The core sound is very much intact on the new tracks but there's a newfound maturity to the songs. Both structurally and from a production standpoint, the studio was a real learning curve. We've figured out what works and what doesn't. It's looking like the next EP will be shorter at four tracks, so we're very mindful of what ends up on there. 
AH: When do you aim to release the second EP?
Joe: Provisionally, we'd like to have it out by September. That's about all we can give away!
AH: Besides the two EP's and UK tour, what else do you have planned for the coming months?
Joe: We're planning on a few live sessions and a cover of Banks' "Before I Ever Met You" at some point. Our first line of merch is out soon also. Vinyls, tees, screen prints etc. We're pretty excited about that.
AH: 'Ophir' is set to be streamed exclusively on Already Heard later this week. Why should our readers check out the EP?
Joe: In short, we all strive to make honest music with lasting impact. And if there's room for a big riff…we'll obviously throw in a big riff. We believe this EP's a testament to all the hard work we've put in so far.
AH: Do you have any final words to round off this interview?
Joe: With great power comes a massive charger.
'Ophir E.P.' by F.O.E.S. is released on 10th February.
F.O.E.S. links: Facebook|Twitter
Words by Sean Reid (@SeanReid86)