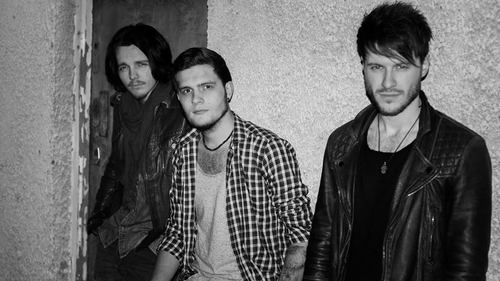 Hailing from Newcastle, and with their musical roots firmly in the same vein of Nirvana and Reuben, EnterTheLexicon demonstrate a mix of adrenaline-filled riffs and soaring choruses on their forthcoming self-titled EP.
Songs like 'Do You Feel The Same' are raw yet thrive off the bands youthful energy giving them an anthemic edge. Now having recently signed with LA-based label Kill/Hurt Recordings, this is just the beginning for ETL.
We recently spoke to Mykl Barton from the band to find out more about their new EP, joining Kill/Hurt Recordings, the Newcastle music scene and more.
Already Heard: Can you introduce yourself and your role in EnterTheLexicon?
Mykl: I'm Mykl and I play guitar and sing.
AH: For new listeners, can you tell us what EnterTheLexicon are all about?
Mykl: I guess just honest, raw music. No bullshit.
So the release of your debut EP is fast approaching. How is morale in the EnterTheLexicon camp right now?
Mykl: We're three excited puppies pissing up the walls. We can't wait to get it out and spread it about to as many people as we can. We're all really proud of it and cant wait for people to hear it.
AH: Who would you consider as your musical influences and how does this show on the new EP?
Mykl: As a band we have a pretty wide influence range, to name a few I'd say Reuben, Nirvana, Queens of the Stone Age, that sort of vibe. I'm not sure how it shows, I guess that's for you to tell us. I'm sure they bleed through at different points, as much as we love them and a ton of others, we wouldn't want to sound like their spawn. We've got our own thing to say.
AH: What track from the EP best represents EnterTheLexicon?
Mykl: I think the opener and single 'Do You Feel The Same' is a pretty good one. It get's straight down to it with no fucking about. It was the quickest to write as well, it literally fell out of my guitar one day, melody too, I took it to the guys that night and it was pretty much done in that session.
AH: What impression do you people leave after hearing the EP?
Mykl: Hopefully a fucking good one. Na, it's a really good representation of the band I think and a pretty mixed bag. It'll give you a good idea of what we're about and hopefully leave you wanting more and to come and see it for real.
AH: You recently joined Kill/Hurt Recordings. How you two team up together?
Mykl:
AH: We had a gig in Newcastle and Shade, the guy from Kill/Hurt got an invite thrown his way by a friend, he came thankfully and really got into it, even bought a t-shirt and cd! A couple weeks later he sent me a message and said he'd shown the guys at the label the cd and they really loved it, so we arranged to meet up and it went from there. It was pretty organic and old school which was cool.
AH: From hearing the 4 songs on 'EnterTheLexicon'. We can imagine your live show being just as energetic with more riffs?
Mykl: Nailed it! Every night is different, you play off the crowd and they play off you. Those are the best kind when everyone is into this one thing at the same time, awesome.
AH: Let's talk about the Newcastle music scene. Is it a healthy scene? Are there any local bands we should be checking out?
Mykl: There's a bunch of really cool bands playing in Newcastle and surrounding areas at the moment. Boy Jumps Ship are doing well at the moment and are a great bunch of lads with some killer songs. We Are Knuckle Dragger too, they are just…sex, man. You go and see them you leave a different person. Properly amazing shit just tearing the place up. It would be great to get Newcastle noticed on the map again, I think all we have is Sting… which is a bit fucking depressing. Or PJ and Duncan? Christ.
AH: Now the EP is nearly released, what else does EnterTheLexicon have planned in the coming months?
Mykl: We've got a load lined up, we're playing Evolution Emerging Festival at The Tyne on Saturday 24th May and the an in store gig at HMV the following Saturday 31st to celebrate the release of the EP a few days later. A couple of UK tours over the summer, then maybe a few dates out in Europe and across the pond to play LA where the label is based, that should be pretty sweet. It's all systems go, we're fucking itching to get going.
AH: Do you have any final words to share with the Already Heard readers?
Mykl: Make mistakes
'EnterTheLexicon' by EnterTheLexicon is released on June 3rd.
EnterTheLexicon links: Website|
Facebook|Twitter|Soundcloud
Words by Sean Reid