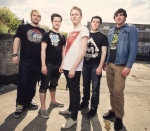 Since their inception in 2009, Aberdeen Atmospheric Post-Hardcore band ElevenEleven have grown in reputation by playing throughout Scotland, including shows with Lower Than Atlantis, Flood of Red, Heights, The Elijah and Don Broco. However despite the release of their latest EP ('Life') last year, it hasn't been an easy ride for the quintet.
In 2011 they first lost their drummer, then guitarist Eliot Leonard nearly emigrated to Australia and worst of all vocalist Chris Spencer was hospitalised by a debilitating illness. This left the band on the brink of dissolving but in 2012, things picked up with a new drummer (Ross Senkbeil), and Chris Spencer fully recovered the band went to work on a new EP – 'Life'. 
With an ambitious, atmospheric sound that echoes bands like The Devil Sold His Soul and The Elijah, ElevenEleven combine heavy riffs with a strong underlying dark ambient that gives them added substance. Tracks like 'The Ocean' and 'Iscariot' prove to be deeply compelling with a passionate lyrical yearning.
Already Heard caught up with Eliot Leonard to discuss the making of 'Life,' the bands turbulent history, releasing the EP for free, Aberdeen's music scene and more.
Already Heard: Hello. Can I ask who I'm speaking with today and what is your role in ElevenEleven?
ElevenEleven: Hi, I'm Eliot, I play guitar, write music and provide the sex appeal in ElevenEleven.
AH: Can you tell us a little bit about the bands history? I understand you've had a few hiccups along the way?
ElevenEleven: The band was initially formed by Chris, Stuart, Euan and our former drummer Gavin as a four piece in 2009. They went on to play a number of gigs and produce the first band's EP 'Memoirs (Part One)'; I joined shortly after this was released at the end of 2010. We then went on to write and release 'The Light/Dark Sessions', embark on our first tour and release our début music video in the summer of 2011, which turned out to be quite a turbulent year due to serious illness in the band. Ross joined at the beginning of this year after the departure of our previous drummer and we've never looked back since.
AH: For readers who are unfamiliar with you guys, can you define your sound?
ElevenEleven: We like to think of it as atmospheric, cinematic and ultimately uplifting, although that may be a little ambitious. I guess it's difficult to define our sound as each member draws influence from such a variety of different types of music, we have however recently been compared to Devil Sold His Soul and Deftones, which is a staggering compliment in itself and something I hope we can continue to live up to.
<a href="http://officialeleveneleven.bandcamp.com/album/life-ep" data-mce-href="http://officialeleveneleven.bandcamp.com/album/life-ep">Life EP by ElevenEleven</a>
AH: It seems 2012 was a year of stability for the band with yourself staying in the UK and Ross joining on drums?
ElevenEleven: 2012 was a major turning point; we've matured a lot as a band since the beginning of this year and our live performance has benefited greatly from the addition of the percussive genius that is Ross on drums, which in turn makes the whole writing process much easier and far more enjoyable.
AH: How close was the splitting before?
ElevenEleven: We actually never discussed the possibility of splitting as a band, but due to Chris's illness and departures of multiple members, the band became inactive and seemed to be on the brink of dissolving, sadly.
AH: I guess 2012 was topped off by the release of your second EP – 'Life.' Did the events previously influence the EP in any way?
ElevenEleven: 'Life' touches on topics such as loss, death and love, all of which have been prevalent in more than one member of the bands lives recently, so the message the EP conveys very much relates to our personal lives as of late, which is why the 'Memoirs' series wasn't continued. We didn't feel it suited the lyrical content or music we'd written for 'Life'.
AH: How has the band's sound developed on 'Life' compared to 'Memoirs (Part One)'?
ElevenEleven: 'Life' is an extreme departure from 'Memoirs' and even 'The Light/Dark Sessions'. We've changed the tuning we play in for starters, we're writing much more technical music and the general direction we seem to have taken is a completely different, more exciting and more challenging one.
AH: You worked with producer Nick Scholey on the EP. What input did he have into it?
ElevenEleven: Nick was great in the studio. He was extremely patient with our unprepared, borderline alcoholic antics and contributed a lot of awesome ideas which we never would have considered. I think he provided the perfect outside perspective we needed.
AH: The EP is available as a free download. What was the reason behind this decision? Are free downloads more beneficial for a band in your position?
ElevenEleven: We felt that releasing the EP for free would be the best way to spread our music as far as possible, which we felt was extremely important due to the prospect of our upcoming tour.
AH: The Aberdeen rock scene has been described as "vibrant." How would describe the local music scene and are there any bands you'd like to recommend?
ElevenEleven: The local scene seems to have taken off in 2012 after a few bleak years. There are a number of absolutely awesome bands who have emerged recently: BRACE, Forest Fires, Prelude To The Hunt and Almost Honest are definitely worth checking out.
AH: Following on from the EP, what is next for ElevenEleven?
ElevenEleven: We begin our first full UK tour on the 30th of December, kicking off with a home-town show in Aberdeen, Scotland. After that, 2013 will be a year based mainly on writing and recording for ElevenEleven. The plan is to release our debut album and hopefully go out on a European tour at the end of the year.
AH: Do you have any final words for the Already Heard readers?
ElevenEleven: Support your local scene and appreciate your local promoters!
'Life' EP by ElevenEleven is available now for free download on Bandcamp.
ElevenEleven links: Facebook|Twitter|Bandcamp
Words by Sean Reid