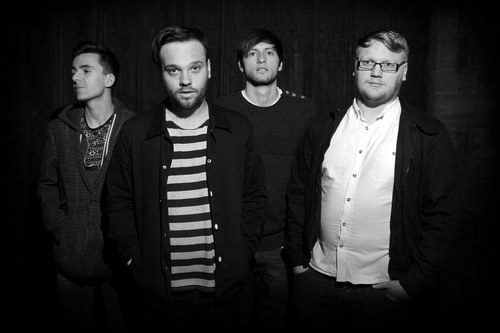 Following their 5 out of 5 EP review last week, Dundee's Copper Lungs are the perfect choice for our "Recommends" series. Their new self-titled EP is six tracks of carefully crafted indie pop-rock that hits all the right marks.
Tracks like lead single 'Lost Without You' are anthemic whilst
'How Long' is a brilliant melodic slice of vocally-driven pop-rock with lead singer Darren Lindsday taking centre stage.
With an arsenal of bold choruses ready to be heard, sometime ago we spoke to Darren Lindsday about the bands background, the new EP and crossing the Scottish border for their first English shows.
Already Heard: To begin with can you introduce yourself and tell us what you do in Copper Lungs?
Darren: Of course! I'm Darren. I sing and play guitar in Copper Lungs. Short and sweet…
AH: We know the band has been together since 2011. Whats the story so far with Copper Lungs?
Darren: All of the guys in the band were playing the local scene in our "angry teen school" years. After that, I had the idea of what I wanted Copper Lungs to be about and sound like. From then then on I sourced out the guys, locked us in a room with our instruments, supplied plenty of Irn Bru and we just wrote music! We finally settled into a sound and created our debut album 'Louder' last year. From then on we have toured and gigged, and now we are now awaiting the release of our EP in April and then readying ourselves for another tour!
AH: This is going to be your first release since last years 'Louder' LP. How has the bands sound evolved on the new EP?
Darren: A lot of people have been asking this question after hearing a few songs from the EP. I think overall we have just taken all the parts we really loved from the last album and kept the foundations of what is Copper Lungs and, after that we have just tried to better ourselves as a band and as musicians. Using new instruments and trying things we maybe wouldn't have the last time allowed us to fine tune the sound we already had. Now we have ended up with a 6 track EP that we really love.
AH: What bands would you compare your sound too?
Darren:
Always a tough one! I'd say we combine a lot of influences into our sound. We are massive on our harmonies which I get a lot from Folk music and even Pop music. Boy bands know their harmonies! Overall we like to keep that rocking dance-y guitar sound from the likes of Two Door Cinema Club.
AH: Before the EP you're releasing a new single. What can you tell us about 'Lost Without You'?
Darren: 'Lost Without You' is a funny one. We had so many versions of the song that didn't sit well. Then we had that moment one day that every band loves. When you come up with a riff/chord progression and it just clicks. Then you get that look from everyone playing it and it just says "YES!". "Lost Without You" was definitely our favourite song at the time we decided to record it and overall I think personally it's still up there, but it's hard after writing and recording the other songs not to love them equally. Also, if you have ever watched Breaking Bad, I wrote the lyrics when I was in the middle of watching that entire series in about a week. So that was fun to do something a bit different with the writing of the lyrics.
AH: What was the decision behind releasing 'Lost Without You' as a single?
Darren: I think this track was a great middle ground between the rest of the tracks. We like to keep that upbeat feel but at the same time we love stripping things back and letting the vocals shine. So this track had it all for us and we just loved that.
AH: Does the track represent the overall tone of the EP?
Darren: The track definitely gives a good idea of the EP but there is so much more to look forward to with some of the other tracks as well. Each track is different and unique in its own way!
AH: Has your experiences from touring 'Louder' influenced the writing of the new EP in anyway?
Darren: I think that was one of the main things that influenced the writing of this EP. It's great to just release a set of songs, tour them and basically live and breathe them. Then when the time comes to start writing, you've got all the experiences of being on the road that you can use to write about. Even other bands you hear while touring influence you, and it's always good new music all the time. We definitely took influence from a lot of new music we had heard – even trying out new instruments on this EP that was inspired from some of the music we'd heard over the last year.
AH: We also hear you're going to be touring soon in support of the EP. Why should fans come out and see Copper Lungs?
Darren:
Yes we are heading out all over the UK this time. Gigging is our favourite thing to do in the world. Its what you write songs for. It's why you are in a band. If you come down to a show you'll get to join in and be a part of something that we have put our lives into. I think that's something special to share with folk who really enjoy music. I can promise if you come down to a gig with these songs it'll be hard not to smile, dance and have a great time.
AH: These are going to be your first English dates too. Are you looking forward to crossing the border?
Darren: YES! We have been wanting to do this since last year and, after a lot of planning, we figured this was the right time to do it. With these songs and everyone we are working with, the time is definitely right. We have had some buzz from many people asking us to get down and see them, so thats pushed into doing this and I honestly think it'll be one of the best times we have ever had!
AH: Finally why should Already Heard readers check out Copper Lungs and the new EP?
Darren: If you liked either of the 2 songs that are out now then you will love the rest of this EP. If you like fun/happy feel good music then get on over to one of our sites on the 25th and expand your music collection. We will be putting our all in to it from this end and it'd be great to see some new people get involved with us on our journey!
'Copper Lungs' by Copper Lungs is out now on Thin Hippo Records.
Copper Lungs links: Website|Facebook|Twitter
Words by Sean Reid (@SeanReid86)