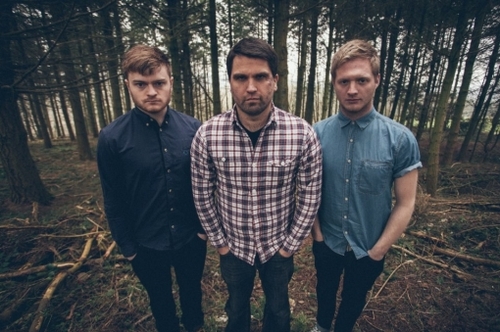 With comparisons to Death Cab For Cutie, Weezer and The Get Up Kids and being named after a Jimmy Eat World song (we presume!) some of us here at Already Heard got a little bit giddy when we were introduced to Cautioners. Thankfully the Bristol trio didn't disappoint as their debut EP, 'Conditional Identity' is a charming, smooth collection of atmospheric rock that is surely to get more attention in the coming months.
Thriving with intricate instrumentation and tight musicianship, the trio made up of Alan Tansley, Henry Montague Lambourne and Josh Duddridge, have produced a confident and harmonious release in 'Conditional Identity.' Tracks like 'Staging Area' and 'The Build Up' are thoroughly compelling and pouring with emotion. And to top it all off, up until recently, the band had yet to play a single show.
We caught up with Cautioners to find out more about their beginnings, their influences, how 'Conditional Identity' came together and more.
Already Heard: First of all can you introduce yourself and your role in Cautioners?
Alan: Hi I'm Alan, I sing, play guitar and continue my quest to find the elusive H minor.
Henry: I'm Henry, I hit things on a regular bases and occasionally whale in the background.
JD: Hi I'm JD, I add funk and impersonate Arnold Schwarzenegger.
AH: This interview is part of our "Recommends" feature which highlights exciting new bands. For new listeners, how would you summarise the bands sound?
Cautioners: We haven't really pinned it down but if Jimmy Eat World and Death Cab for Cutie had a baby with Radiohead, in a weird three way gay adoption type thing, you might be there.
AH: We've heard you've been compared to bands like Death Cab For Cutie and Weezer. Who do you consider influences?
Cautioners: We like that Death Cab is referenced a few times in reviews and one of Alan's favourite albums is 'Pinkerton' by Weezer so that's cool! But to be honest we are influenced by stuff way out of style, like Metallica and Motown (Mostly Metallica.) Also Jimmy Eat World of whom we take our name Cautioners from help define us.
AH: I understand the bands roots are in Bristol. How did you all come together?
Henry: I heard a cover of a Hello Lazarus song by Alan and demanded he come jam with me (literally, I wouldn't shut up)! We went down to jam and things went well. We then went on search for a bassist and on the second attempt I found a perfect fit in JD.
AH: Your début EP, 'Conditional Identity' was recently released on Scylla Records. How did you join up with the label?
Cautioners: Henry already knew Rich through another bands success (Hello Lazarus) and asked the question and that's about it.
AH: From hearing the EP, your sound comes off as harmonious and ambient. What was the initial aim when it came to writing 'Conditional Identity'?
Cautioners: There wasn't one. It actually was 2 separate EP's that took over the course of 6 months that then sat well together as a collection. We didn't have a specific artistic vision but it seems to have worked.
AH: I hear you hadn't played a single show before releasing the EP. Did that effect any expectations in anyway?
Cautioners: I think expectations were high because its unusual to see a band with a record before seeing them live on the local scene. It put a lot of extra pressure on all of us, but it has also added to the excitement of playing a live show as people had something to base us on.
AH: How has the reaction been to the EP since?
Cautioners: Critically acclaimed…. Looking forward over the next 200-300 years we think we can go platinum. The ten people that have heard and watched us are looking forward to more.
AH: You've since played your first show in your hometown. How did it go?
Cautioners: We sold out our first show which we were super stoked on and it definitely added some confidence to our performances. A big night out after was a welcome break, after practicing solidly for 6 months. We are not sure when the next show is going to be, because we want to make it feel special each time we play.
AH: Now the EP and first show is out of the way, what is next for Cautioners?
Cautioners: We want to play a few more shows in selected area, London being one. Also we have already laid plans to write another record, we not sure on its length but we have the foundations.
AH: Finally why should Already Heard readers check out Cautioners?
Cautioners: We don't know how to answer that but we think we are worth a listen.
'Conditional Identity' by Cautioners is out now on Scylla Records.
Cautioners links: Facebook
Words by Sean Reid.