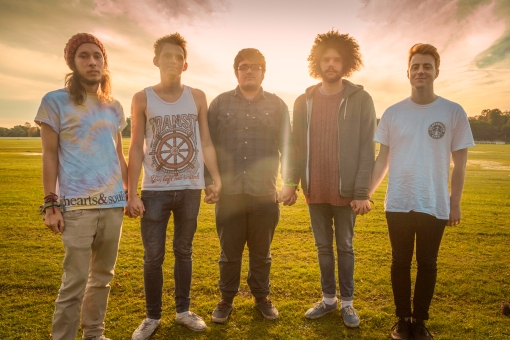 Since forming in 2011, Leeds pop punk/emo band Calls Landing have a handful of releases under their belt and have shared the stage with Man Overboard, The Story So Far, Such Gold and Into It. Over It.
The quinetet's sound is reminiscent of their US compatriots Transit and The Wonder Years; sincere yet lively and as the band tell us in this interview, their new material promises to be "deeper and darker."
Later this month they'll be heading out on the road with fellow Leeds band Make Your Mark for a run of UK shows – sponsored by Already Heard. In the process they'll be previewing new songs and from the sounds of it, getting very sweaty.
To find out more about Calls Landing, Already Heard caught up with the band to find more about their history, the tour with Make Your Mark, new material, future plans and more.
Already Heard: This interview is part of our "Recommends" series which highlights exciting new bands. For our readers can you give us a brief history about the band?
Joe (Armitage – vocals): Its a strange one really. I knew Cam (Hurley – Bassist) and Jonny (Straughan – guitarist) from our previous bands. We played together a couple of times in Newcastle. When those guys moved down to Leeds I went to hang out at their student Halls. After that I wound up pretty much living on Jonny's floor in flat 1104. Me, Jonny and Cam had talked about forming a band. Jonny knew Charlie from the 6th floor and Cam was in a Uni group with Jordan. We asked those guys if they wanted to jam and we got together in a practise room and that's where it all started really. The funny thing was at first it was just a side project as we all had other musical commitments. At first Charlie was reluctant to even Jam with us! But after that first practise it became clear very quickly that there was a strong musical bond. As people we barely knew each other but the music sort of spoke for its self.
AH: Despite hailing from the city of Leeds you have quite a US-friendly sound. What bands would you say have influenced Calls Landing and who would you compare yourselves too?
Charlie: I dig The American Scene and The Smiths, Morrissey's haircut influences my drumming a lot.
Joe: My influence is Hydrogen. Given enough time and the precise fundamental forces, hydrogen will eventually clump to form matter. Calls Landing is made from that matter. Also, I love Brand New.
Jonny (Straughan – Guitar, B/Vocals): My influence is Hanson.
Jordan (Rio Hill – Guitar): As I like to think of myself as a chef outside of this troupe, I'd say a big influence on me is Saturday Kitchen, it manages to combine different elements of cooking. I like to translate that into my guitar playing as I pull influences from as many places as I can, be it heavy metal, blues or pop. I seem to be the bands' resident mosher, so I'll keep to my moniker and say my main influences are probably guitarists such as Kerry King and Tony Iommi.
Cam (Bass, B/Vocals): Johnny Bravo, he has been a role model for my generation, he has taught us how to properly behave around a woman. One day I will make sure we have a song called 'Hey pretty lady' dedicated to him. He will influence our music as much as he has shaped me. Cartoon Networking.
<a href="http://callslanding.bandcamp.com/album/we-wont-sleep-til-it-happens-volume-1" data-mce-href="http://callslanding.bandcamp.com/album/we-wont-sleep-til-it-happens-volume-1">We Won't Sleep 'Til It Happens Volume 1 by Calls Landing</a>
AH: Since forming you've released one full EP and an acoustic EP. I understand you're planning new material for this year. What can we expect from these new songs?
Joe: We sort of bit off more than we could chew writing wise at first. We enjoyed writing new music so much that we kind of put being a band in the back ground and just kept writing. So some of the new material was in its infancy more than a year ago and whilst we have been riding off our first EP and making a name for ourselves, behind close doors these songs have had time to nurture and develop.
We are very excited to put out some new music. We have been working on it slowly but surely for so long and I cant wait for people to hear what we have been doing since the first EP. In my opinion the new stuff goes deeper and darker than our first EP and they reach out musically to who we are as people. The old songs were written when we barely knew each other and didnt really question each other. The new stuff however has gone through much scrutiny by us all. I guess you could say the old stuff was the product of our idea. But the new stuff is the product of what Calls Landing actually is.
AH: How has the bands sound developed on the new material?
Jonny: As a band we've changed a lot in the last year and this is only starting to be seen within our new music. The new tracks are quite varied, but in general I would say that they are more complex. They've had a lot of time and effort put into them in terms of everything from drum fills to guitar hooks to killer vocal melodies and I think that the overall results from this are noticeable. We've been sitting on some of these tracks for a while now, patiently waiting to blow your minds and the time has almost arrived. We just need to decide if the world is ready yet.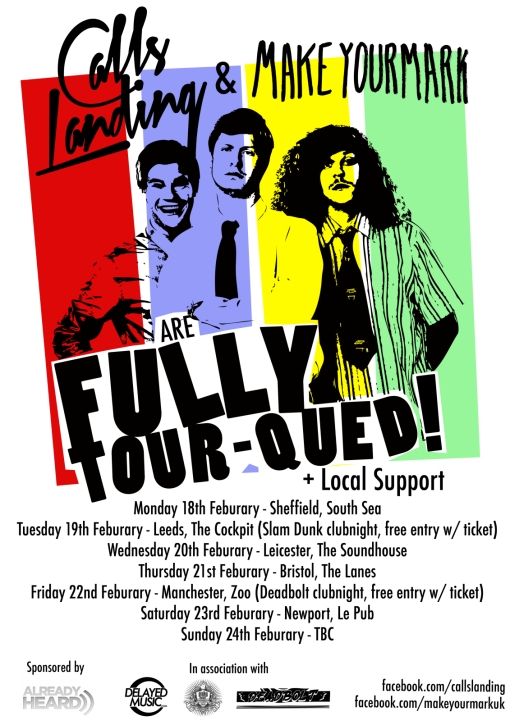 AH: Later this month you're heading out on tour with Make Your Mark. For people who haven't seen you before what they expect to see from a Calls Landing show?
Jordan: Lots and lots of sweat, our friends have labelled us "Shorts Landing". This isn't just some sort of height joke but the fact we all normally wear shorts on stage just for the fact we get so sweaty haha. I can safely speak for us all on this one and say when we play we give it our everything, we put our souls into playing live and I'd like to think that comes across when we are on stage together. There's something that just clicks, be it the odd looks we give each other as a sign of 'this is where we're meant to be'.
I know this is definitely the case for me, I feel being on stage and performing is the only thing I want to do for the rest of my life, and to do that with four of my best friends is a privilege that I'm lucky enough to have. To expect would be lots of smiles and 5 ugly dudes jumping around getting sweaty on each other. I know I wouldn't wanna miss that. I wanna see more push moshing though please readers 2k11…
AH: Can we expect to hear new material on the tour?
Charlie: Indeed you can, we're playing 2 songs off our upcoming split EP with Make Your Mark, and we're also debuting another brand new jam that's going to be released on our next full EP which is currently being tracked! We're really excited to play new material, like Joe and Jonny said before we've been sitting on these tracks for a while and it's refreshing to unleash them.
AH: In the past you've played shows with Man Overboard, The Story So Far, Such Gold and Into It. Over It. Have these shows helped or influenced your sound and live performance in anyway?
Jonny: Playing shows with bands that you love is always an inspiring thing. We've been blessed with the opportunity to play with some great bands in the past, which really pushes us to play and perform well.
When you're playing alongside bands like The Story So Far you really need to pull out all the stops if you want anyone to notice what you're doing. That being said, we've never really followed any conventions with our live sound and performance, we just do what we love and have a good time doing it, and hope that our fans and friends dig it.
AH: Make Your Mark are also from Leeds. Do you think by having 2 Leeds touring shows the city's music scene is pretty strong at the moment?
Charlie: For sure, being in Leeds is a great spot for bands similar us to be based. (I'm not too sure in relation to other genre scenes.) There's a great network of friends that's building up from bands to promoters to photographers and other creative avenues, all with a like-minded goal and attitude to their craft. It's great to be a part of the scene in Leeds, it's a very welcoming place, which is sometimes a distant element in the music industry. It's certainly given us a great platform and network to be within.
AH: I'm guessing the hometown show at The Cockpit is going to be a highlight for both bands?
Cam: Fingers crossed!! We have not played Leeds as much as we would have liked in the past few months other than on our last tour, so were very excited to play! Will be great to see a lot of old faces and hopefully some new ones too. Its always great to play a hometown show, and hopefully our first headline at The Cockpit will be one to remember.
AH: Why should people come out to see you and Make Your Mark?
Jonny: People should come to the shows because we may or may not be giving away free Gameboy Colours. That's a risk I would take.
AH: Besides the tour and new material, what else can we expect from Calls Landing in the coming months?
Charlie: Alongside our split EP with Make Your Mark and our new release, we're re-releasing our début and unplugged EP in the form of a tape and t-shirt bundle. It's going to be really limited release too. Our friends at So Foreign Records approached us with the idea of releasing something and this came about. It's gonna be DIY as per and should be a cool little closing chapter to 'We Won't Sleep 'Til It Happens Volume 1.' We're also booking some more tours too, UK for sure and hopefully we can venture off onto a little Euro jaunt.
AH: Do you have any final words for the Already Heard readers?
Calls Landing: In the words of Adam Dywane DeMamp, 'Take it sleazy.'
Calls Landing links: Official Website|Facebook|Twitter|Bandcamp
Words by Sean Reid (@SReidPortfolio)