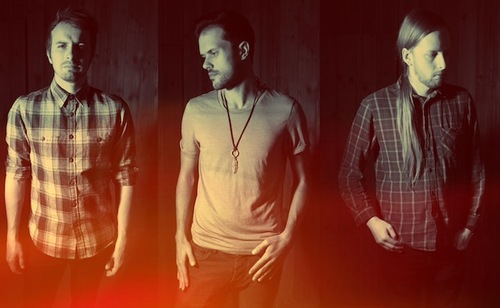 The origins of emerging UK indie pop trio Calgary lie with singer-songwriter Jakob Deist and his refusal to appear on Britian's Got Talent after he was approached by their producers. Deist decided to make good use of his talents and form Calgary with bassist Kirill Teslia and guitarist Pete Wicker, both of whom had played in bands prior to Calgary. Kirill was part of a female-fronted pop punk band whilst Wicker played numerous major UK festivals with Starseed.
Now together as Calgary, Deist, Teslia and Wicker have combined to create a bright, warming collection of songs that make up their debut EP 'Fight Fire With Fire'. With comparisons to Hellogoodbye and John Mayer, the four tracks showcase a band with pop sensibilities and plenty of potential to breakthrough – without the exposure from an overrated TV talent show.
We caught up with Jakob and Kirill to find out more.
Already Heard: Can you introduce yourself and your role in Calgary?
Deist: I'm Deist (Jakob) & i sing and play rhythm guitar, Kirill is here as well and he is on the bass!
AH: Let's start from the beginning. I hear Jakob started the band after rejecting an approach from Britian's Got Talent. Care to expand?

Deist: I turned down the opportunity purely because I didn't believe that this is meant to be my musical path. I can see a lot more enjoyment and fun in what we have planned for Calgary, IF BGT took off for me firstly I'd be that guy from BGT which I think has hindered a lot of people that try and go on from initial success. Secondly didn't a dog win a little while ago……that says it all i guess.
AH: So how did Kirill and Pete become involved?

Deist: We started working on some songs before there was any talks of a band. We ended up writing songs for a band, it was clear though that we needed another member to complete the sound. We started looking for a guitarist, we saw Pete play some pretty big shows including Download Festival and have always been impressed with his playing. Luckily we were looking for a guitarist and he wanted to get involved!
AH: I understand you've played in previous bands. What were those bands and how do they differ?

Kirill: I played in a Pop/Punk band which was a side project of The Holloways drummer. It was a female fronted 5 piece band drawing a lot of inspiration from the Pop/Punk scene.
Pete was the lead guitarist in a heavy rock band called Starseed, they were a predominantly South African band. They performed at some of the the biggest UK festivals, had live sessions on national radio station and toured the UK.
AH: You've played with bands like Don Broco and Bowling For Soup yet your new EP hints at a more soulful pop-rock sound. How would sum up your style to new listeners?

Deist: The music takes aspects from each of our musical journey and has created something full of energy and expression. When writing the music we didn't try to sound like other bands, we took elements of what we like and thats resulted in the new EP.
AH: According to your Facebook page, you've only been together yet you're already releasing your debut EP. How did the 4 songs come together so quickly?

Most of the ideas were already formed before we started to write together. The EP existed in an acoustic state, meaning the basic chords, lyrics and melodies were pretty much in place. Each member of the band added their own touch, with all the core elements there at the beginning the whole process was completed very quickly!
AH: How has Jakob found the transition from being solo to being part of a band?

Deist: I found it awesome to be honest, its amazing to share the moments with a few close friends rather than sharing it just on Facebook!
AH: You recently premiered your first single, 'Fight Fire With Fire'. First off can you tell us what its about and what inspired it?

Deist: 'Fight Fire With Fire' is about not being a slave to a system, following your dreams and doing what brings you happiness.
Alan Watts once said "its better to live a short happy life than a long miserable one" this idea and many other aspects created the lyrics to the single.
AH: How has the response been to the song so far?

Deist: Its been amazing so far, we were lucky enough to have an exclusive with one of the biggest online magazines! Now we are seeing a lot of people sharing the music and also enjoy reading the comments and the feedback!
AH: What can we expect from the other three songs on the 'Fight Fire With Fire' EP?

Deist: We are really proud of every single song, it was actually quiet hard to choose a single! At the end of the day we thought 'Fight Fire With Fire' was the best introduction to Calgary.
AH: What mindset do you hope people have after listening to the EP?

Self Empowerment!
AH: Even though its still early days for you, what are your plans for the coming months?

Deist: We have a lot in the pipeline, we have some limited edition singles and merch coming out very soon which people can win. All details will be on our Facebook page. The EP you can pre-order from the 4th of Nov. We have a live session coming soon so we can't wait to show you all!!
AH: Finally why should Already Heard readers check out Calgary?

Deist: We are giving free Hi Fives to everyone that checks it out! receive yours at the next show!!
'Fight Fire with Fire' by Calgary is released on 2nd December.
Calgary links: Facebook|Twitter|Tumblr
Words by Sean Reid (@SeanReid86)