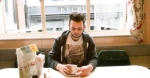 For James Pepper, his solo project entitled Burn Daylightwas born out of a university project that has since gone on to produce two EP's with a third in the works. 
With influences ranging from mid-90's emo to Bruce Springsteen and The Gaslight Anthem, Burn Daylight comes off as a sensible blend of acoustic emo with a subtle punk approach but remains deeply personal throughout. As his second EP, 'Winter Coats and Songs I Wrote' shows Pepper's ability to delicately draw the listener in with his introspective tales of personal heartbreak. Whilst as James explians, his forthcoming third release ('Young Lions') sees him taking on the topic of moving back home, but with a more upbeat approach.
James recently spoke to Already Heard to talk about his approach to songwriting, how 'Winter Coats…' and 'Young Lions' differ, how Burn Daylight started, releasing material on cassette, his influences and more.
Already Heard: How did you start Burn Daylight?
Burn Daylight: It was a university project originally, I've always been more of a producer/engineer but decided to give the writing side more of a go as my degree went on. My first EP ('Its Alright, Its Just Blues') came as a result to some good reviews, and it progressed from there!
AH: Had you played in bands prior to starting the solo project?
Burn Daylight: I've been in and out of bands since I was 13, I actually joined my first band (which was an all-girl indie-punk band) because I had a crush on the drummer, they needed a bassist and I said I could play, I then went home and picked up a rusty bass for the first time. After two weeks I had done enough to convince them and they let me in! As I got older I progressed to piano and then guitar and started singing. I love to session with other artists which I do when I can, but I've always tended to work on my own.
AH: How would you describe your sound and what are your influences?
Burn Daylight: If my "sound" was a cake, then Springsteen and The Gaslight Anthem would be the flour, Bright Eyes can be the sugar, mushed together with some east-coast pop-punk and 90's emo, iced with some blunt lyrics about facing the world.
My influences are a tough one! my Dad's record collection consisted of lots of U2, Neil Young and musical theatre (I know!), but then it was The Clash and 00's Post-hardcore and punk-rock that turned my head when I was younger, Now, In my less vulnerable years, I'm taken lots of influence from literature (beer-drunk american words from the 40's).
AH: I understand you're releasing two EP's soon; 'Young Lions' and 'Winter Coats, and Some Songs I Wrote.' What is the difference between them?
Burn Daylight: They are very different in style and concept, Young Lions is about moving back to your hometown, which happened when I finished university while all my friends moved to London, its quite a new thing for ex-students to do, but when a degree doesn't always equal the job you want then there's not much choice! Young Lions is also more of an upbeat folk-punk record with more open strummed country and blues-influenced chords and progressions etc.
Unlike "Winter Coats…", which uses open tuned guitars, and is much more along the lines of a 90's American emo/indie sound (American Football, Owen, IIOI) . In terms of the concept of the EP, I found myself a month or so down the river from an un-amicable split from a long-distance relationship where I wasn't left with many answers, so I found myself excavating a little and I wrote some songs!
AH: Did you take a different approach when writing each EP?
Burn Daylight: Very similar, they all came out of just an acoustic guitar in my room. I have ¾ different lyrics books which I work through over several months, with certain lyrics always sticking out in your head, then the music comes and it all tends to flow together. Although the parts of the songs that people love are always the parts that I cant remember where they came from.
AH: You're releasing 'Winter Coats, and Some Songs I Wrote' first. What can we expect from it?
Burn Daylight: Night time music and hopefully, a chance to look at life a little better than I did.
AH: When can we expect to hear 'Young Lions'?
Burn Daylight: Young Lions was planned to be a quick release at the end of last year, but I got picky about the right producer (as well as picking the right songs), so I shelved it and wrote "Winter Coats.." in about a month while I decided what to do with it. I should be recording Young Lions in February and I'm crossing all fingers and toes that it will be out in March.
AH: It's being released on cassette through Pornography of Cowards. What is your take on a recent resurgence in the cassette format?
Burn Daylight: I wouldn't say there's been a resurgence in cassettes as much as maybe older formats becoming a more important part of indie culture. Obviously you can get any album as data for free now, so its up to artists to be artistic again. This comes from making it more about just music because people need to have a reason to buy records that goes beyond the songs, and it was a either a kooky cassette release or a well thought out marketing campaign.
AH: On your Soundcloud/Tumblr you've posted covers from the likes of Brand New, Taking Back Sunday and The Gaslight Anthem. What has been your favorite cover to do?
Burn Daylight: The Smiths – "Please Please Please Let Me Get What I Want", when I first started writing and recording at about 15, I used that cover to see how I sounded, and now every so often, when I think I've progressed as a player and singer, I record a cover of that song to see where I am.
AH: Have their been any songs you'd like to cover but have been unable to do?
Burn Daylight: Its not so much about being able to, but what you outright shouldn't do! Singer-Songwriter Rule 1: "don't cover The Beatles", and then of course there's certain songs that you are afraid of ruining for yourself.
AH: Are there any covers in particular that have received a positive response?
Burn Daylight: I don't know man, I don't keep track, I like throwing in a cover live because I'm sure people get bored with watching one guy moaning for 30 minutes with his own songs!
AH: Besides the 2 EP releases, what else can we expect from Burn Daylight in the coming months?
Burn Daylight: I want to make use of the fact that I don't have a band and play as many shows as I can…With that said I'd also like to get a band, but its not something I'm pushing for until I think its needed. I'd like to see just how much stuff I can release before the end of the year, the goal is 4 EP's!
'Winter Coats, and Some Songs I Wrote' by Burn Daylight is available now on Bandcamp.
Burn Daylight links: Facebook|Twitter|Tumblr|Soundcloud|Bandcamp
Words by Sean Reid (@SeanReid86).
____________________________________________________________
ABOUT 'ALREADY HEARD RECOMMENDS'
'Already Heard Recommends' is our regular new bands/artists feature which sees us giving exposure to need-to-know, up and coming acts.
If you have a band or artists that would like to be featured on 'Already Heard Recommends' please contact Sean Reid.