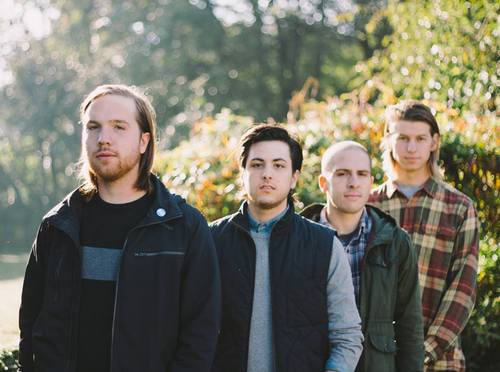 Hailing from the city known as "Music City", Nashville, Tennessee's rock quartet Better Off have produced a stirring collection of songs with their debut record '(I Think) I'm Leaving'. With a sound that blends pop sensibilities with emo-rock tone, '…Leaving' has seen the band been likened to Brand New, Balance & Composure and Jimmy Eat World.
It's certain to say that if you're a fan of the aforementioned bands, you will instantly find a connection in Better Off's introspective lyrics as tracks like 'Sick, Sad, Sons', 'A Fool Walks Into a Bar and Cries Wolf' and 'Keeping Watch show. With energy and passion, Better Off are one of the brightest Stateside hopefuls we've come across in quite some time.
Already Heard recently grabbed a quick word with vocalist and guitarist Luke Granered to discuss the bands sound, '(I Think) I'm Leaving', the Nashville scene, future plans and more.
Already Heard: Hi. Can you tell us who you are and what your role in Better Off is?
Luke:
Hi. My name is Luke Granered and I sing/play guitar for Better Off.
AH: To begin with you've been described as a throwback to the late '90s-early 2000s indie/emo scene. What are your thoughts on this?
Luke:
I take it as a compliment. We all listen to that, so it makes sense!
AH: For new listeners, would you say that the late '90s-early 2000s indie/emo description is accurate in terms of your sound?
Luke:
I'd say so. We lean more towards pop /rock than most of those bands. But that sound is there.
AH: Three bands I see you've been compared to are Jimmy Eat World, Balance & Composure and Brand New. How does it feel to have that comparison? Do you consider them as influences?
Luke:
It feels great!!! Jimmy Eat World and Brand New are two of my favorite bands. I like Balance a lot too, but I haven't grown up with them like the other two. Those bands mean a lot to me.
AH: '(I Think) I'm Leaving' was released earlier this year and is your debut record. When you were writing and recording the album, what was your initial aim?
Luke:
Our initial aim was to track a record we enjoyed and get it out as soon as we could. We had been touring on a 4 song EP with the intention of changing our name once a full length was ready, and that had drawn out for quite a while. We were ready to play something a little more serious.
AH: Do you think succeeded in achieveing that aim?
Luke:
Definitely! I have a strong emotional connection with the record, so I love playing those songs.
AH: From having the record on repeat for several weeks, it comes across a deeply personal record. Can you tell about what influenced the writing on this record?
Luke: Absolutely. Without getting into too many personal details, I'll say that it is mostly about addiction, and the effects of a parents relationship on their child.
AH: The record has been out for a few months now, what has been the response been like?
Luke:
Its been great! Our friends have been incredibly supportive and we've made new friends along the way. I hope we keep that up!
AH: Can you tell us about the artwork and how it relates to the record?
Luke: The artwork is a picture taken by a childhood friend of mine named Hayden Myrick. In middle school and high school, my friends and I would all hang out at our friend Murphy's house on the weekends. I have a lot of memories there, and the cover is from a room in that house. The record is about the truth of my childhood coming to light, and that picture is a beautiful symbol of my younger self.
(I Think) I'm Leaving by Better Off
AH: You're from Nashville which is known as "Music City". Does the nickname back up the current music scene in Nashville?
Luke: Heck yeah it does. Nashville has so many great bands.
AH: What local bands would you recommend?
Luke: Courtesy Drop, Nest, Cove, Yautja, Free Throw, Daisyhead, Diarrhea Planet, Feather Oars, Sonsett. The list could go on forever.
AH: Last month you headed out on a short US tour and you're in the middle of a Canadian run. How have the shows been like especially since the release of '(I Think) I'm Leaving'?

Luke: So cool. Its been unreal seeing people knowing the words here and there. Thats the most notable change, to me. I love that.
AH: Is just touring continulously on the agenda right now or is there a follow up to '…Leaving' in the works?
Luke: I've been writing songs a little bit, but we haven't gotten together as a band to work on them yet. The record was written close to 2 years ago, so I'm excited to start a new record. But for now, tour tour tour.
AH: Any closing words for this interview?
Luke:
Get a dog. Ride your bike. Watch It's Always Sunny In Philadelphia. Thanks for the questions!
'(I Think) I'm Leaving' by Better Off is available now on 6131 Records and Blood & Ink Records.
Purchase '(I Think) I'm Leaving' from Monkey Boy Records.
Better Off links: Website|Facebook|Twitter
Words by Sean Reid (@SeanReid86)