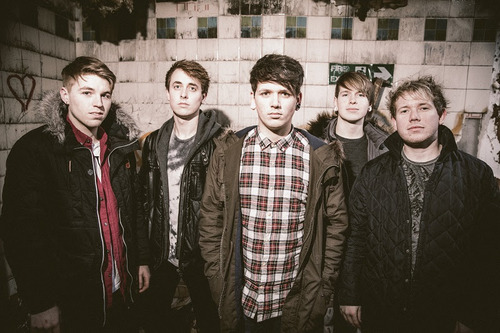 For Northern quintet Bentley Park it has been a long two years. Since forming 2011, the post-hardcore have been refining their sound and preparing for the release of their debut EP, 'Innocence', which finally sees the light of day this week.
Tracks like 'All The Fists In The World Won't Save You Now' takes the pop-punk sensibilities of their former band, and combining them with an edgy rock sound that has been likened to emerging US heavyweights Pierce The Veil and Sleeping With Sirens. The end result is a well-balanced mix of hooks and riffs that overall is a promising debut.
Shortly before the bands recent tour with As It Is, we spoke to vocalist James Shaw to discuss the bands transition from pop-punk to post-hardcore, why it has taken so long to release 'Innocence', the importance of receiving airplay on TV music channels and more.
Already Heard: For the record can you introduce yourself and tell us your role in Bentley Park?
James: I'm James and I sing and scream.
AH: Let's begin with how you came together. You formed from the ashes of a former pop-punk band right?
James: Yeah that's right. There wasn't much of a scene for pop punk in York at that time, mainly heavy metal, folk or indie, so we thought we'd do something a little different. As we grew up, playing it became a little stale and we wanted to flex our musical creativity. After multiple name and genre changes, including acoustic and elcetro-rock, we finally settled on something a little heavier, but still tried to retain the catchiness of pop punk when writing melodies.
AH: From hearing 'Innocence', it definitely seems like you've moved from being a pop-punk band to a more post-hardcore/alt-rock band. What was the motive behind the change?
James:
We all enjoy listening to heavy music. I for one listen to a lot of stuff that is much heavier than what we're playing. I think that's why we find it more natural to write the songs we're writing at the moment.
I also think, as I have grown up, the content of my writing has become more aggressive and cynical. If we were still playing happy pop punk songs these themes would sound ridiculous!
AH: To give our readers a better understand of the bands sound, who would you compare it too?
James: We love the sound of Stateside bands such as Pierce The Veil and Sleeping with Sirens. We wanted to take a mix of their catchy choruses and intense screaming, and give it a Britisth overtone.
There are not many bands in the UK doing this at the moment, so we thought it would be pretty fresh to give it a go. Nobody wants another wannabe Asking Alexandria or You Me At Six.
AH: So with 'Innocence' set to be released in April, what can we expect to hear from the EP?
James: We tried to experiment a little when writing, making each track as unique as we could, but at the same time keeping it true to Bentley Park, if you get what I mean? You can almost put the songs across a spectrum. We've got the heavier songs, 'Blood Ties', 'Sly//ther' and 'Nil to the Fools', 'One to the Thieves', featuring our boy, Sam Graves from With One Last Breath. Then we have our anthem, 'No Hope for The Hopeless', something to get you off your feet, 'All The Fists' and something slightly more poppy, 'Dear Luscious'.
AH: How come it has taken the band over 2 years to get this debut EP out there?
James: We discussed in length with our management when would be best to release 'Innocence'. We decided to wait this long to make sure everything was in place and ready to go once the EP dropped, in order to create the biggest impact. Although it was incredibly frustrating for us, as well as the fans, to sit on it for so long, this was by far the best option.
AH: Lyrically what is the EP about and where do you draw inspiration from?
James:
The EP was written whilst I was going through my teenage years so, as a result, the themes explored reflect problems that adolescences encounter, such as peer pressure, depression, the feeling of being used, losing friends etc. Like most artist, I use music as an outlet to portray how I feel. I'm not very good at expressing my feelings and emotions so I guess it's a way of self-psychiatry, getting my thoughts out of my head and on to paper.
I don't really like going into too much detail when talking about what individual songs mean to me. I would prefer the listener to interoperate a song in a way that means something to them, rather than plant my own ideology or image into their head. That way the song becomes unique to them and, although some of the topics seem somewhat depressing, I would hope my lyrics inspire and empower people to overcome any issues they may face.
AH: You've already previewed two tracks from the EP ('All The Fists In The World Won't Save You Now' and 'Sly//ther'). How has the feedback been so far?
James: The feedbacks been really positive so far. Before this EP we were unknown and unheard. During the two years since it was recorded, the EP has been passed around the industry, gaining us management and (hopefully) a more promising future! Fans have been really receptive of our new sound too which is awesome!
AH: On top of that the video for 'All The Fists In The World Won't Save You Now' has been getting plenty of airplay on a couple music TV stations. How have you found that? Is it something that still matters in an age where YouTube etc are seen as more influential?
James: It's pretty mad actually. We all grew up watching the likes of Kerrang and Scuzz dreaming of being "rock stars" and now we're featuring on them it's just bizarre! We got voted number #3 in Scuzz's Most Wanted chart last week, which was pretty sick!
Although YouTube does somewhat dominate the audio/visual side of the musical market, I don't think you can dismiss or label musical channels as outdated. They are two different platforms. YouTube allows the user to chose what they listen to where as music channels have call ins and 'vote for your favorite' etc. They still choose the majority of the music that is played. It's also good to get your music out through as many mediums as possible, that way you are able to reach a much wider audience.
AH: You're also set to head out on tour with Brighton pop punks As It Is soon. Why should folk come out these shows?
James: This tour is going to be insane! I really like what the As It Is boys are bringing to the UK pop punk scene at the moment. These shows are going to be full of energy and are already looking pretty rammed, so if you're thinking of coming get your tickets now!!!
AH: After the EP release and tour, what can we expect to see from Bentley Park in the coming months?
James: We hope to get out on the road a bit more, play some cities we haven't visited yet and start recording our second EP. We've already been playing round with some ideas and can't wait to get back in the studio!
AH: Finally why should Already Heard check out Bentley Park?
James: Because otherwise baby Jesus will cry.
'Innocence' by Bentley Park is out now.
Bentley Park links: Facebook|Twitter|Tumblr
Words by Sean Reid (@SeanReid86)