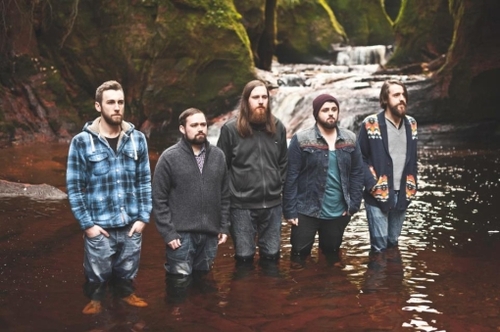 With elements of prog, alt rock and metal, Scottish quintet Atlas : Empire have producing a mesmerizing and expansive collection with their latest release – 'Somnus'.
Having played in bands together before, vocalist/guitarist Steven Gillies, multi-instrumentalist Jamie Sturt and bassist Dave Stephen started Atlas : Empire in 2011 with the aim of producing something more experimental. Following the release of the bands first EP in early 2012, ex-Sucioperro guitarist Dave Aird and drummer Jonny Gormley came on board. Fast forward to 2013 and 'Somnus'marks the bands first collective release with the end result being a compelling mix of genres and comparisons (Deftones, Oceansize, and At The Drive-In).
Already Heard recently caught up with Atlas : Empire to talk about their beginnings, recording 'Somnus' in one night, their sound and more.
Already Heard: Hi Can you introduce yourself and your role in Atlas : Empire?
Steven: Hi, I'm Steven, I sing and play guitar.
Dave Stephen: Hi, I'm Dave, I Play Bass and Sing.
Dave Aird: Hi, I'm also Dave and I play guitar.
Jonny: Hi, I'm Jonny and I hit the drums.
Jamie: I'm Jamie, I play guitar, sing, play synths, keys and program electronics.
AH: With comparisons being made to Deftones, Oceansize, and At The Drive-In. For new listeners, how would you describe your overall sound?
Steven: Those comparisons are fine by us! I think we'd all agree we're a progressive rock band. There's elements of alt. rock, math, post-rock, electronica and post-hardcore…in simple terms, expansive, epic songs with plenty of twists and turns.
AH:Can you tell us how you got together? I hear it was Steven, Jamie and Dave originally?
Steven: Jamie and I had played in a couple of bands together previously and wanted to start a more experimental project together. Initially it was just going to be the two of us, with programmed drums. Jamie and Dave are housemates, and they'd also played in bands together previously – so within a week or so Dave joined on bass and we drafted in a friend to play drums on a temporary basis. 6 weeks later we played our first gig.
AH: You're gearing up for the release of your new EP, 'Somnus,' which was recorded in one night. How did you find the recording process?
Jamie: We tracked all the instruments live in one night and the vocals the following night. The benefit of the process was the sheer speed with which everything was done. Once everything was in place we just went for it. And playing together took a lot of the pressure of 'performing' off. It was also fantastic to work with Neil Martin who is such an excellent engineer. It was my first time working with him despite the fact that I've known him and his family for about 20 years.
Steven: 'Somnus' was my first experience of tracking a full EP live and I loved it! I didn't feel that "studio pressure", the whole process was really organic. It honestly just felt like we were in the rehearsal room.
AH: Compared to your first EP ('To the Astronaut') how has the bands sound developed on 'Somnus'?
Jamie: By the time we were writing 'Somnus' we had settled into a rehearsal space that allowed for much longer sessions (lasting up to 12 hours at a time). When you play together that much you start to get a better feel for what everyone does and where they will take a song, a luxury we didn't really have when we were writing the first batch of songs.
Steve: 'Somnus' is a very different beast…its essentially the first EP by A:E v2.0. Neither Jonny (Gormley, drums) or Dave (Aird, guitar) played on "…Astronaut" , those were some of the first songs that Jamie, Dave and I wrote in the first few months we were together. 'Somnus' was written as a collective, with every one contributing ideas and working on the arrangements.
AH: You recently previewed the EP with a song called 'Mitchy Valentino Sleeps with the Fishes'. What can you tell us about the track?
Steven: What became "Mitchy" was actually written by Dave (Aird) a few years ago. Shortly after he joined the band ( in March 2012) he said he might have a few songs that would suit us. He'd recorded all the guitars and bass, then programmed drums. We all loved the song as soon as we heard it, so from there it was just a case of the rest of us writing our own parts and adding vocals.
AH: Your sound has been described as loud, atmospheric and abrasive. What was the initial aim in the bands sound when it came to writing 'Somnus'?
Steven: There wasn't a conscious "aim" when we first wrote the songs themselves – we'd actually written the majority of a full length album before any of the 'Somnus' material, but these 5 songs felt like they would be better as a separate body of work. I feel although the 5 songs incorporate a lot of different moods and shades, there's a natural progression from start to end.
AH: What do you hope new and old listeners take away from hearing 'Somnus'?
Steve: I hope that both new and old listeners will hear something unique in Somnus. We're incredibly proud of what we've created and feel its a great representation of our band. Id imagine that people who've heard the first EP but never seen us live will probably be quite surprised at the heavier aspects and lack of electronics, whereas people who are introduced to us by "Mitchy" will be taken aback by the mellower, more ambient tracks from "Astronaut". The album ties everything together, but you'll need to take my word for that just now.
AH: In addition to the EP release, you're playing some shows in Scotland and then touring the rest of the UK later in the year. How would you sum up a typical Atlas : Empire show?
Steven: Loud. Sweaty. Hairy.
Jamie: Intense, manic, full of beard.
AH: Do you have any final words to close this interview?
Steven: We'd like to thank Already Heard for taking the time to chat to us and to anyone who's checked us out online, we appreciate it massively!
'Somnus' by Atlas : Empire is out now on Cold War Legacy Records.
Atlas : Empire links: Facebook|Twitter|Bandcamp
Words by Sean Reid (@SeanReid86)