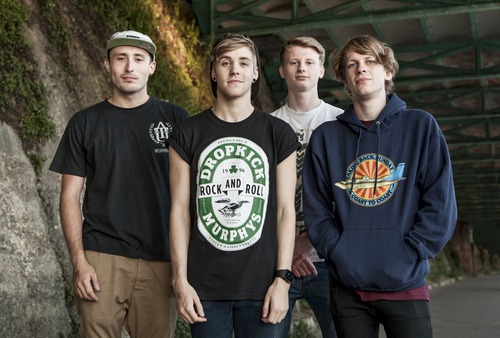 Combined by an admiration for early 2000's emo bands, Brighton's As It Is are the latest emerging pop-punk band to be making waves in the UK. Next week sees the release of the bands second EP, 'This Mind Of Mine' which sees them grow as a cohesive unit to produce four songs of honest pop-punk that should strike a chord with fans of bands such as The Wonder Years and The Story So Far.
With their heart-on-sleeves approach and raw pop sensibility, the now quintet (Alistair Testo recently joined on bass) took to Kickstarter to fund the EP and received an overwhelming response. Helped along with vocalist Patty Walters' dedicated YouTube following, As It Is' honesty and passion shines throughout 'This Mind Of Mine' and it will certainly raise the bands profile.
We caught up with guitarist Ben Bliss to discuss how the EP came together, Patty's YouTube career, standing out in the pop-punk genre and much more.
Already Heard: Can you introduce yourself and your role in As Is It?
Ben:
Hi I'm Ben and I play guitar and sing in AS IT IS. My other role is being victimised.
AH: To begin with you've been described as a "Transatlantic Pop-Punk" band as vocalist Patty Walters was born Minneapolis. Can you tell us how As Is It came together?
Ben:
Well Patty has actually lived in the UK since he was 5 but still has that accent. Patty and Andy (guitar) had played together for a previous project that never materialised and we were on the same course at uni so he roped me in. We actually auditioned Foley (drums). He was one of two auditions and remember Patty saying "unless the next person is Travis Barker he has the role". Travis never showed.
AH: For new listeners, how would you sum up the sound of As It Is?
Ben: We have a few; energy drink fuelled emo, or what it would sound like if The Wonder Years and Taking Back Sunday were getting intimate. We take a lot of influence from early 2000 era emo these days.
AH: You're gearing up for the release of your new EP, 'This Mind Of Mine', I hear you took a slightly different approach when you were writing this EP, care to explain?
Ben: Before, Patty used to write songs and bring them to practice and we'd learn them and tweak them, this EP was different as we all wrote together. We spent weekends in Patty's attic writing songs just the four of us. We would swap instruments and all get involved on different parts. We're just glad we found a writing style that works for us.
AH: How was it to write in a more natural manner rather than having a specific purpose?
Ben: It was great. Too many bands write songs with parts because they feel they need to put a part like that in. We just wanted to write an EP that represented us honestly. If one person wasn't happy with a part we changed it. I guess before we didn't know each other as well but now we're all best friends and that helps.
AH: As a pop-punk band, how difficult is it to stand out in the genre which is so popular?
Ben: It can be hard but I think what's important is not to follow a trend. We started writing and what came out was slightly different to the current trend of pop punk that's popular right now. Bands that seem honest creatively have always stood out and made an impact on me more.
AH: With these new songs, do you hope to shake off the pop-punk tag?
Ben: I wouldn't say we want to shake it off completely. We are still essentially a pop punk band but with emo elements. I remember showing a new song to a friend and him saying "that's a big change in direction". To us it didn't seem that big but either way it didn't matter. Who's to say what the next songs we write will sound like; we just write honestly and don't worry about the tag.
AH: It has to be noted that the EP was funded through Kickstarter. Why did you turn to this service for this EP?
Ben: We wanted to reach that next level of recording quality after recording a DIY EP in Patty's parents attic, but we realised we'd need a little help funding it. We really liked what other bands had done in providing fans a chance to be more involved with the recording process and us as a band.
AH: Did you expect such a strong response as you did?
Ben: Not at all! We thought we'd just about hit the target but we never expected to raise almost double that! It was mental and really made us realise what a dedicated fan base we have.
AH: Patty is also a well-known "YouTuber" for his pop-punk covers of recent pop hits. How has his activity on the site helped As Is It build a fanbase?
Ben: It's helped us massively. As his YouTube fan base grows so does ours. It acts as a great promotional tool. It's crazy to think so many people on all other sides of the world listen to us; that's really what any band at this stage wants, to have people listening and caring and we're lucky to have that.
AH: You're also set to tour with Miss Vincent and Nightlife in the near future. For those who haven't seen As It Is live before, what can they expect from these shows?
Ben: Four grown men with a lot of feelings.
AH: Why should fans come out to these shows?
Ben:
This is our first real tour and we'll just be like children who've had too much sugar.
AH: After the EP and tour, what are your plans for the remainder of 2014?
Ben: We have plans to tour Europe. Lots of plans in the work but nothing we can talk about yet. Let's all just say we're excited about things at the moment.
AH: Do you have any final words to share with the Already Heard readers?
Ben: Thanks for checking us out and go check out ROAM, Home Advantage and Nathan Detroit as well because we like them a lot and you should too. Oh and make sure to pick up 'This Mind Of Mine', out March 17th. That's what I'm supposed to say right?
'This Mind Of Mine' by As It Is is released on 17th March.
As It Is links: Facebook|Twitter|Bandcamp|Tumblr
Words by Sean Reid (@SeanReid86)