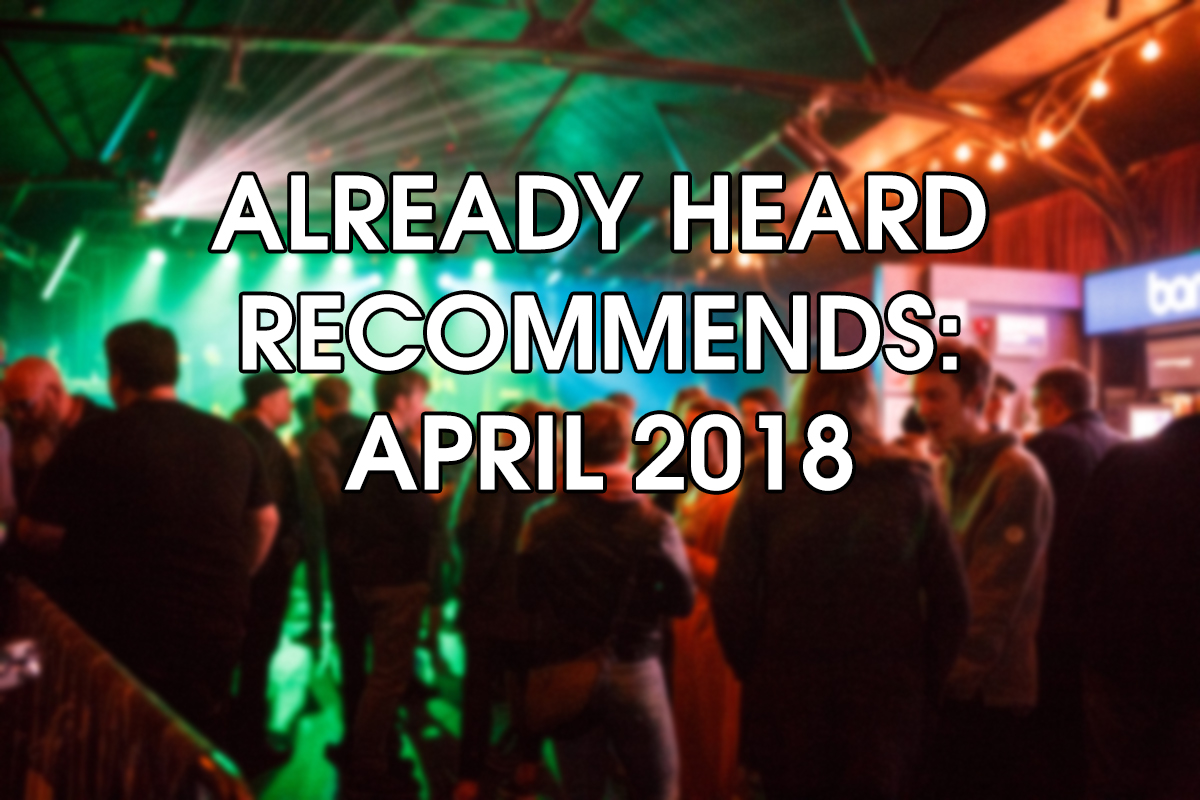 With April being overloaded with new music, you could consider our monthly roundup of essential emerging bands being more than important than ever. We'll let you decide as "Recommends" is on hand to highlight five up-and-coming bands that aren't to be ignored.
This month's we introduce you to Manchester expansive post-hardcore mob Parting Gift, hooky prog-rockers Temples on Mars, LA's pop-rock trio Silent Rival, Antwerp emotive rockers Mountains to Move and Cheltenham newbies Midweek.


Parting Gift
Based out of Manchester, there is an element of mystery to Parting Gift. Recent AA single, 'Vein' / 'Rensing', highlights their atmospheric and emotive brand of post-hardcore. However, as the band told us, their sound and influences go beyond the post-hardcore tag they've been accidentally linked with.
Along with their monochrome imagery, Parting Gift aim to let their music speak do most of the talking.
To get a better idea of who Parting Gift are, we spoke to vocalist Zac Vernon and guitarist Petr Vybiral.
For Fans Of: Holding Absence, Being As An Ocean
AH: For some people, 'Vein' / 'Rensing' will be the first time hearing Parting Gift. However, it's the latest in a series of singles. Can you bring us up to speed on the history of the band so far?
Zac: We have been a band for just over a year now and have released five singles altogether. In this time, we have played a lot of shows and have made continuous effort to spread awareness about the foundation of what Parting Gift will become.
AH: Speaking of 'Vein' / 'Rensing', although they're standalone songs, the video sees them put together. What was the idea behind this?
Petr: The songs share a concept and the inspiration behind them so it only made sense to connect them in as many ways as possible. We hope the video made it clear these songs are to be listened to together, although they can exist on their own just as well.
AH: You're set to join Cove on tour in the coming weeks. For those who have yet to see a Parting Gift show, what can they expect?
Zac: Expect a blizzard of emotion and atmosphere.
Petr: We're ready to show our darker side and we don't necessarily have to go to the extremes to do that.
AH: From looking at the band's social media, a lot, if not all, of the band's imagery is monochromatic. Is there a reason for this?
Petr: We're drawn to simplicity in all forms of art, it can speak to an emotion in a very focused way. To us, social media are creative tools just as much as our music and consistency in anything we create is very important to us. We'll see where we end up as the visual aspect of Parting Gift is ever-evolving, just as much as everything else.
AH: From hearing the double single and past tracks such as 'Asleep', we get the impression your influences go beyond post-hardcore?
Zac: They span way past post-hardcore for sure. We have a lot of different influences in the band. The real influences are just starting to come to light now I believe.
Petr: I can honestly say I'm so happy to be in a band with people with such eclectic music taste. As far as post-hardcore goes, I think we fall under that genre entirely by accident. We don't concern ourselves with genres at all anyway. I also believe the most profound inspiration won't come from other music but what you consume will always impact what you create regardless. Our biggest influences and what we stand for will definitely become clearer as we move forward.
AH: Although you've released a few singles so far, can we expect to hear an EP or album in the coming months?
Petr: It'll soon be out with the old and in with the new when it comes to how music gets released by artists. We don't know just yet how we're going to go about it but rest assured you'll hear more from us soon.
AH: Aside from future material and the Cove tour, what else do Parting Gift have lined up?
Petr: We'll be supporting As It Is alongside Roam in Cardiff on the 20th May. It's a sold-out show so that'll be a great one. More appearances are to be announced and further plans for the rest of the year are quickly developing now.
'Vein' / 'Rensing' by Parting Gift is out now.
Parting Gift links: Website | Facebook | Instagram
---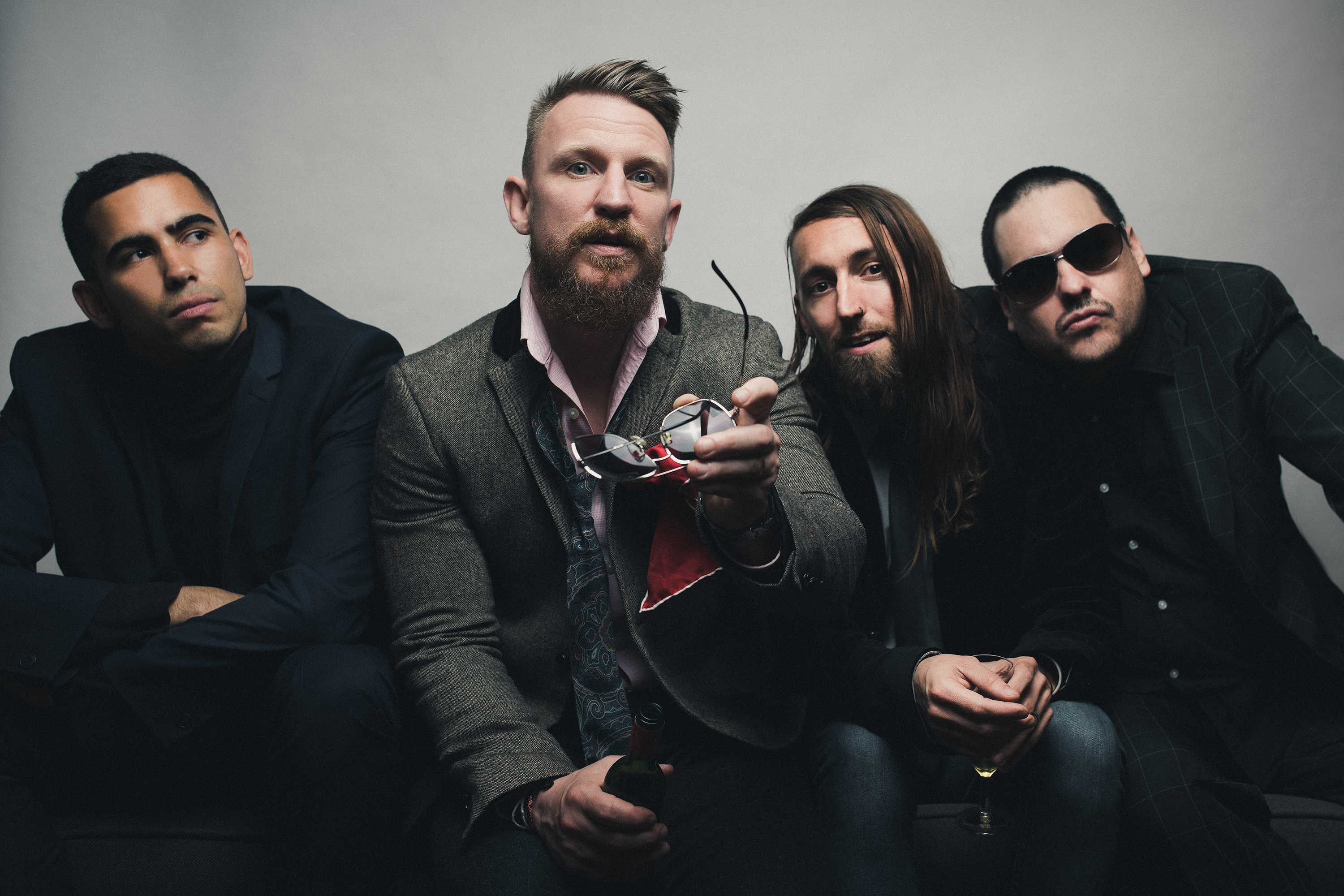 Temples on Mars
On their self-titled debut album, Temples on Mars produce a soaring musical cocktail of infectious hooks, groove-filled prog-rock, and impassioned vocals with a slight metallic edge.
Having individually toured throughout the UK and Europe in previous bands, Temples on Mars came together through London's gig circuit. While they initially performed under the moniker of Agent, the quartet marked their name change with a new sound. 'Afraid of Living' and 'Death in the Afternoon' capture the band's versatility. The former is a smooth, light rock sound that radiates in its chorus. Whereas the latter is an edgy, textured slice of heavy rock.
Lyrically they both highlight the "circle of life" spine that 'Temples on Mars' centres around. It is one of several elements that make Temples on Mars, both on record and as a band, intriguing. Thankfully, vocalist/guitarist James Donaldson offered to give us some clarity on the band's background, their album and the inspiration behind their name.
For Fans Of: Karnivool, Tool, Muse
AH: For newcomers, can you bring us up to speed on the history of the band?
James: Temples on Mars is a very new band formed by ex-members of Agent, Starseed, and The Spindle Sect. We all knew each other from the London gig circuit and played for a while under the name Agent but we just weren't standing out online which is where it really counts these days. We decided we needed a more distinctive moniker for ourselves hence Temples on Mars was born. We had a whole new album of songs, a new sound, and a new name so it was time to be rebrand as a completely new band!
AH: You've just released your debut album but we hear you've all played in various bands. How have those past experiences influenced Temples on Mars?
James: Playing in bands teaches you lessons in every aspect of life not just musically but also when dealing with other people in terms of relationships, finances, shared joy and pain. You need to have had good and bad experiences in all these areas to learn and grow. We have all had these experiences and know what we want and where we stand with each other and where we are going together as a band. Communication is key, there are no egos or bullshit, just four guys that love creating music and enjoy each other's company.
AH: We understand the band's name is inspired by advanced ancient hieroglyphs. Care to explain?
James: This is a reference to the conspiracy theory that the pyramids on Earth where constructed by aliens and there are corresponding structures on Mars. But we have also expanded on this theme. Humans are looking at Mars as a potential second home. Will we build our own temples there? What are we doing with our own planet?
AH: It seems the album has had a positive response so far. For new listeners, how would you describe the record?
James: Start to finish it is a life journey, the first sound on the album is the heartbeat of my son whilst he was in the womb. The last tracks which are Dining with the Devil followed by Chief Seattle are very much focused on death but then the whole thing subtly comes full circle referencing the first track. It's not positive or negative, it just is. Sound wise Temples on Mars is a modern heavy rock record with prog and pop sensibilities intertwined with a sprinkling of metal.
We also see you shot a video for 'Gods & Kings'. What can we expect from that?
James: Yes! That was a fun shoot. It was one of the days in London this winter that everyone got snowed in and we weren't even sure the shoot would happen but luckily it did. It involves the band and a dancer and we hope to have it out very soon.
AH: So with the album out and a video on the way, what else do Temples on Mars have in the works?
James: Shows! We are booking as many as possible to get these new songs out there and starting demos for our next record!
'Temples on Mars' by Temples on Mars is out now.
Temples on Mars links: Website | Facebook | Twitter | Instagram
---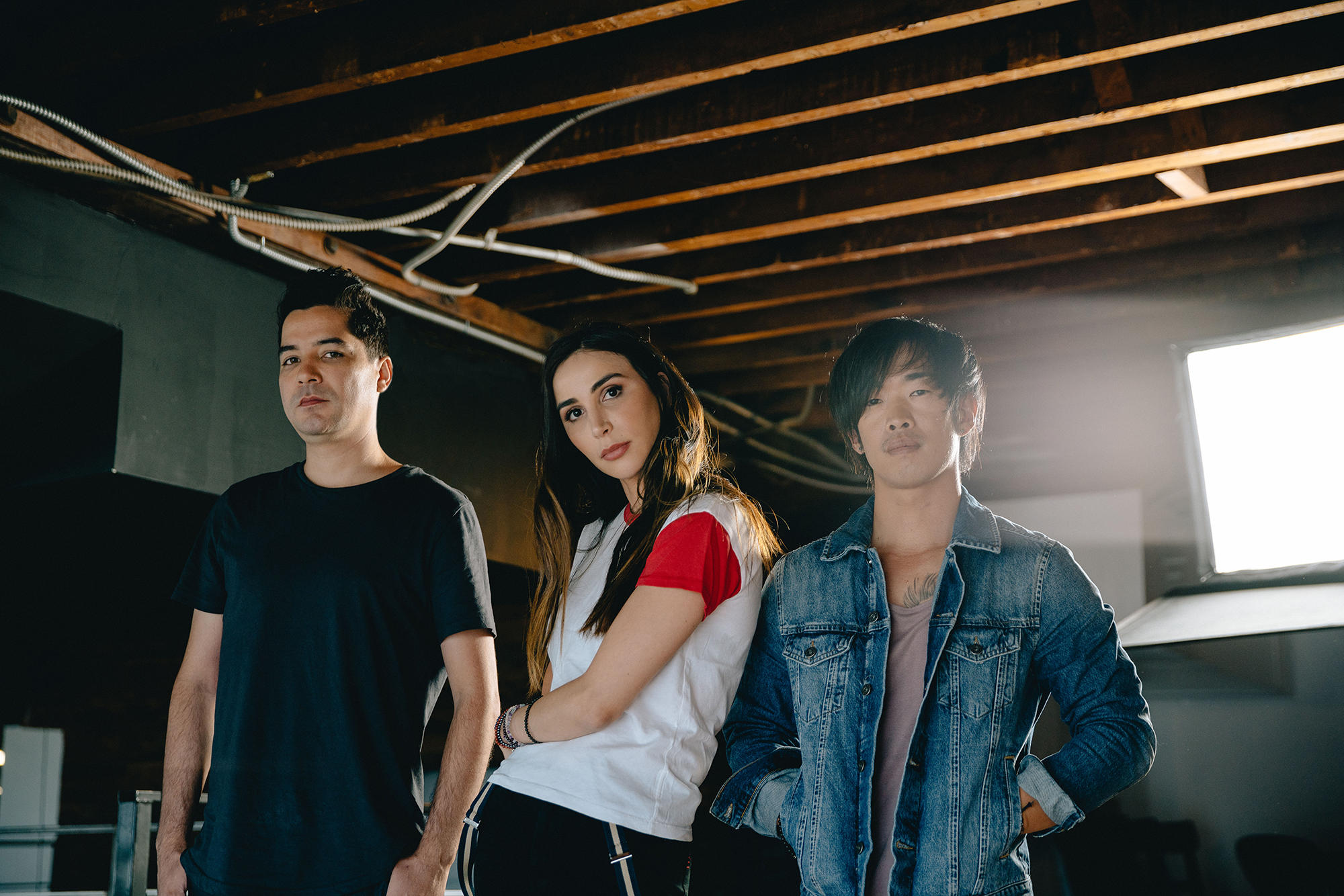 Silent Rival
Meet multi-national trio Silent Rival. Based out of Los Angeles, Orange County native Sara Coda, Mexican guitarist Joe "Joz" Ramirez and Japanese bassist Yutaka Sao each have their individual musical tastes yet on debut album, 'The Kindness of Strangers', the trio provide a blend of accessible pop-rock and electro-pop.
Songs such as 'Die a Little', 'Find Them Beautiful', and 'Burn' are energetic and play to their collective strengths. While 'Paradise' and 'Paranoid' lean towards the electro-pop spectrum, as we learn, Silent Rival are gradually embracing their guitar-driven sound. Having recently made their UK debut alongside Night Riots and a second album already in the works, we thought it'd be a good time to speak vocalist Sara Coda to find out more about Silent Rival.
For Fans Of: No Doubt, Against The Current and Imagine Dragons
AH: You all come from different parts of the world. How did the band form?
Sara: LA is full of musicians and people from all over that are drawn there to pursue music. Joz and I were in a band prior to Silent Rival and Yutaka and Joz were in one before that. Joz and I finished 'The Kindness of Strangers' and started looking for a bass player. In the back of our minds, of course, we were thinking of Yutaka. I remember going to Joz and Yutaka's shows when they were in a band together and thinking 'Damn that bass player is so cool.' We put an ad up anyway before we approached him and he ended up replying to the ad. He could tell from the music that it was us.
AH: 'The Kindness of Strangers' is a mix of melodic rock and electro-pop. How much of an impact has your diverse backgrounds and influences had on the album?
Sara: We're a widely influenced band. Although Joz and I overlap in a lot of ways, we have some influences that we don't share. That always makes things interesting, although sometimes challenging. The tension is what makes the music "us." When a few people are working on a song that they're all equally passionate about, the possibilities are endless. And total implosion is also a possibility. We try to stay away from that one.
AH: The leadoff single from the album is 'Die A Little'. It's one of the more guitar-driven tracks on the album. Would you consider as the ideal introduction to what Silent Rival are about?
Sara: Yes. The sound is definitely the most "us" and the message is something we've always lived by. Throwing caution to the wind and following your heart. It's the only way for us. And as we've written more and as the songs have evolved after being performed live, the music has naturally become even more guitar driven naturally. And that is such a good thing.
AH: Beyond the diverse sound, what is 'The Kindness of Strangers' lyrically about and inspired from?
Sara: This is a really tough question to answer in one breath. I guess the simplest answer is that life was seldom easy for Joz and I and we had to overcome a lot to be able to release this album. This album is about walking through the fire, hoping to come out on the other side. And now that we're working on the new album, we'll find out if we've made it to the other side or not!
AH: It looks like we'll be hearing plenty from you in the coming months. First up, is a UK tour next month with Night Riots. We're guessing this is your first time over here (as a band). What are you looking forward to about your visit?
Sara: Yes, our first time in the UK as a band! Definitely looking forward to the shows. We love hanging with Night Riots, we adore their fans, and we get to sit back after our jobs are done and watch them kill it! Hopefully, we'll have a little time to explore. I can tell you I'm not looking forward to sharing a van with 8 boys for 10 days. Please keep me in your prayers.
AH: How would you sum up a typical Silent Rival show?
Sara: Well, the best ones are when Yutaka falls off the stage. I would say we're pretty good at getting everyone pumped for Night Riots. We're high energy and fun. And afterwards, we like to hang out and meet everyone. We're pretty friendly, so come say hello!
AH: We also hear a second album is in the works. What can you tell us about that? Will be honing in on a particular sound or continue to expand?
Sara: We're really excited about the new songs! We'll be playing one of them live. I'd say this new album is going to be just as true to who we are as 'The Kindness of Strangers', but a lot more in your face and extreme. That's the goal!
'The Kindness of Strangers' by Silent Rival is out now.
Silent Rival links: Website | Facebook | Twitter | Instagram |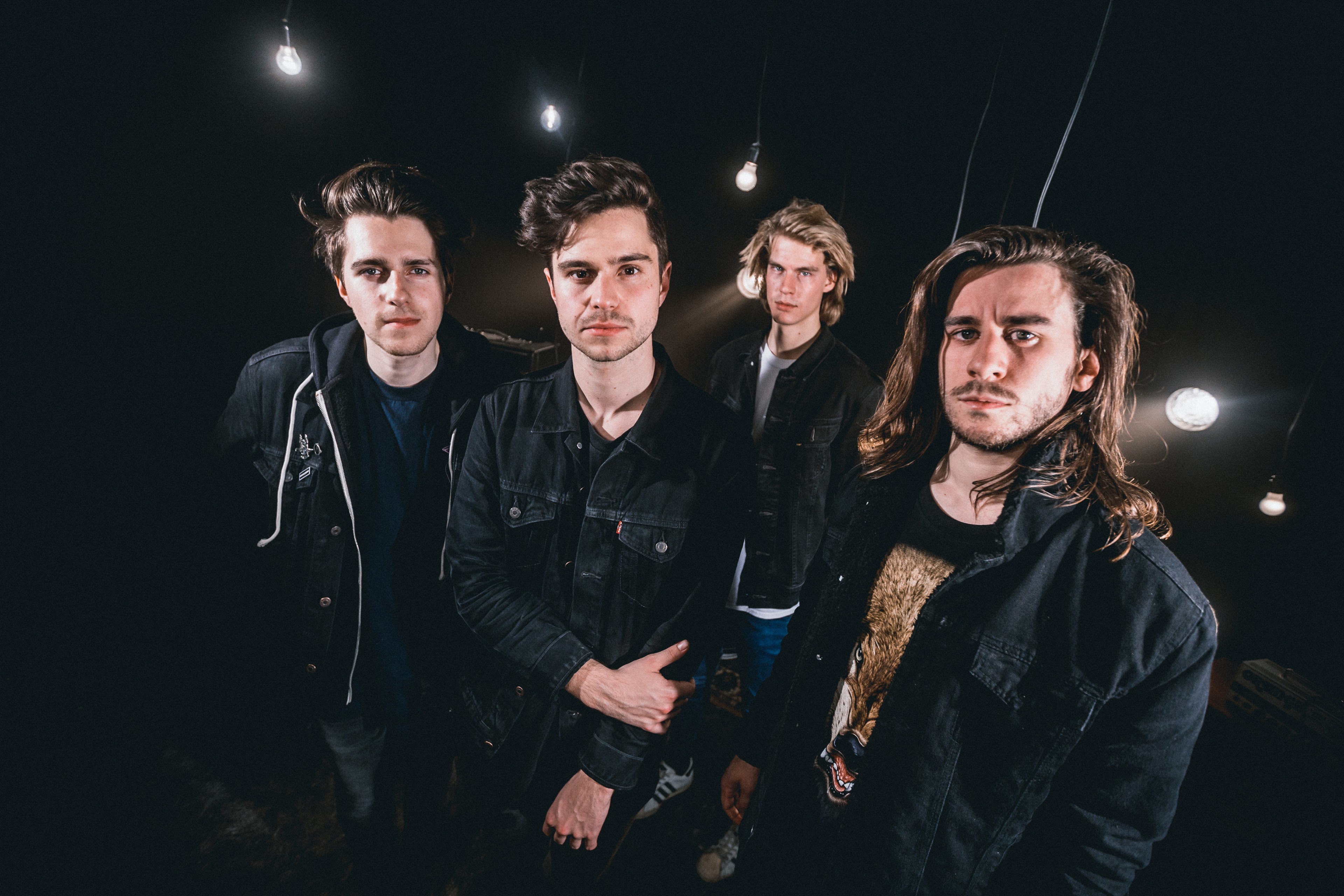 Mountains to Move
Even though they call Antwerp in Belgium their home, Mountains to Move's sound and influence heavily lean on the emotive rock/punk bands that have emerged from the UK and the US in recent years. Latest single, 'Left or Right' is a steady and haunting slice of emo rock that wouldn't sound out of place alongside a host of UK names.
Since forming four years ago, Mountains to Move have played alongside influential names such as Deaf Havana, Lower Than Atlantis, Young Guns and many more in their native Belgium. Nevertheless, they're now looking to make strides towards the UK with 'Left or Right' being the beginning of that.
To find out more, we spoke vocalist/guitarist Quinten Pas about the band's history, their UK influence and more.
For Fans Of: Citizen, Pentimento, Wallflower
AH: We hear the band formed just over four years ago. For those who are just discovering Mountains to Move, can you give us a brief overhaul of the band's history?
Quinten: We started out as just four friends who met up every weekend at the same bar, listened to the same bands and had common interests. One drunken night one of us simply proposed to start a band and do the same things all those bands were doing that we looked up to. None of us was any good at their instrument at first, but we just pushed through, kept on writing, finding our own sound, which was initially more pop-punk, but gradually evolved into something more emo-ish with punk elements. We released a demo, an EP and this last year we've been dropping singles with music videos. Along the way, we got the chance to tour mainland Europe several times and played some cool supporting slots for bands such as Tigers Jaw, Trophy Eyes, The Front Bottoms, Lower Than Atlantis…
AH: And now you're making steps towards the UK. What's the attraction about the UK scene for a band from Antwerp?
Quinten: To be honest, we love the UK scene and the bands it brought forth, such as Apologies, I Have None, The XCERTS, Enter Shikari, Landscapes, Lower Than Atlantis. I mean the list goes on and on. The thing is we just want people to hear our music and the things we've been doing these past years. On the one hand, it's hard as a non-native English speaking band to get your name out there and have the same opportunities as US or UK bands. On the other, it gives us more reason to work harder and appreciate the cool shows and opportunities that we've given even more.
AH: In terms of the band's sound, you've been compared to Citizen, Pentimento and Turnover. Do you think your new single, 'Left Or Right', fits that description?
Quinten: With 'Left or Right' we decided to go a bit out of our comfort zone in terms of sound. The song feels very poppy and catchy, especially the riff that it kicks off with and the powerful chorus. However, it still has that good old MTM sound and that emo influence with fragile vocals and honest lyrics that we're known for. The song itself is pretty bipolar, meaning it sounds pretty upbeat and happy, but thematically and lyrically it has a dark and depressing undertone, which is what we've always loved to play with. Aren't we all sometimes pretending to seem happier than we actually are on the inside?
AH: We noticed you've played shows with several UK bands. Have those experiences influenced the new material?
Quinten: Definitely! We've had the wonderful opportunity to tour across mainland Europe with Wallflower and Prey Drive from the UK. This experience has definitely matured us in a great way both as musicians and as performers.
We also played support slots for some bigger UK bands such as Lower Than Atlantis, Boston Manor, Crooks, Apologies, I Have None and Deaf Havana. These shows were absolutely insane and even more a driving force to strive for bigger things. LTA are one of my all-time favourite bands and sharing the stage with them felt indescribably satisfying as a musician.
AH: Besides 'Left Or Right' and another single to follow, what other plans to MtM have in the coming months?
Quinten: These next three months we're planning on playing lots of shows in Belgium with some pretty cool bands. One of them, another one of my personal favourite bands, is Movements. We're also playing some shows in The Netherlands and in Germany, giving us the possibility to yet again cross the border and meet new people. Besides that, just like you said, dropping another single, for which we also recorded a music video of us basically road tripping to Switzerland to play a one-off show with Daisyhead and Sibling.
Mountains To Move links: Facebook | Twitter | Instagram
---
Midweek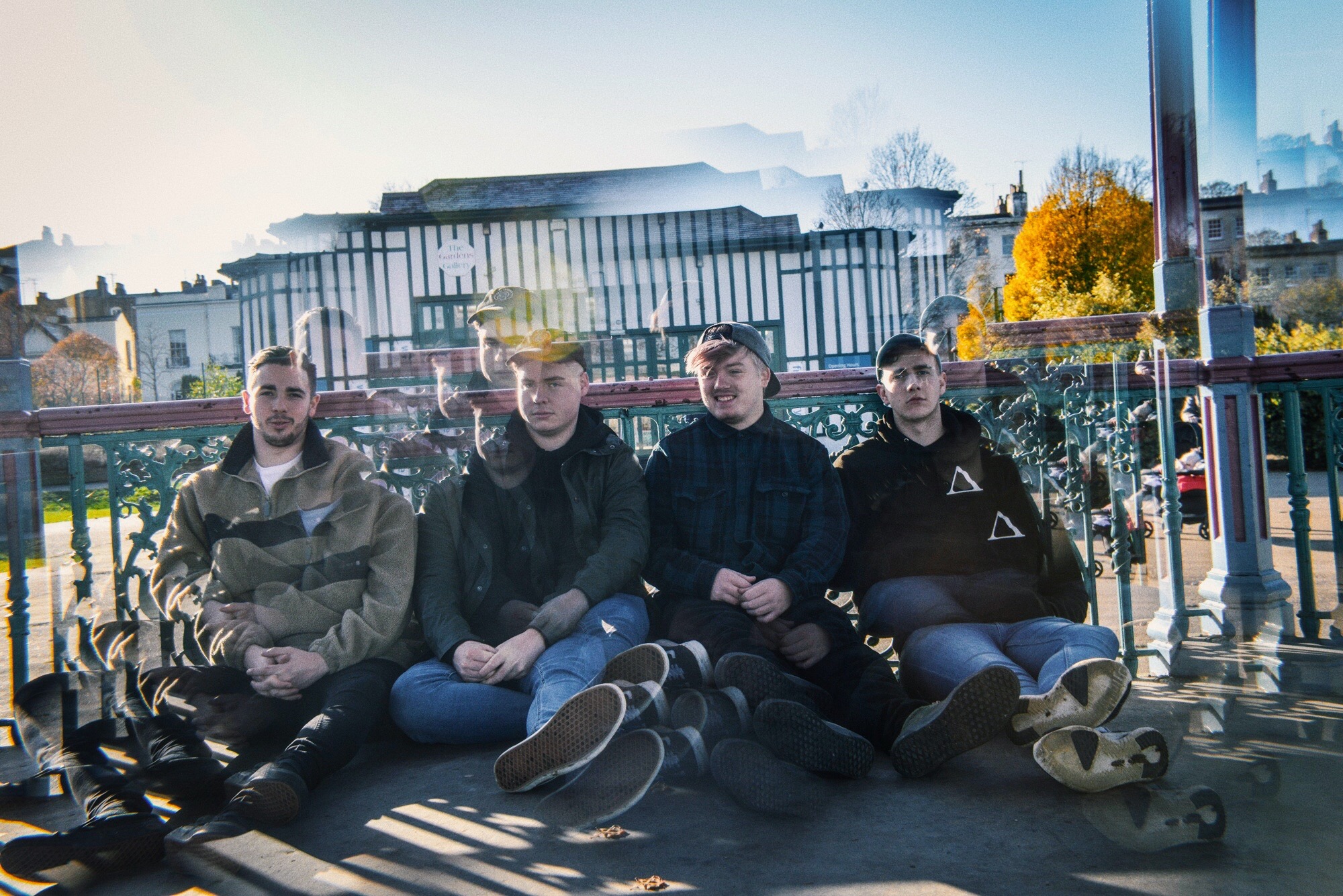 Combining the impassioned urgency of Jimmy Eat World and the emotive punk rock grit of bands such as Basement, Midweek certainly deserve to be painting with the brush of "ones to watch".
Formed last May at University, the Gloucestershire quartet are gradually making waves within the UK's alternative/punk scene. Debut single, 'Honey, Darling', is an infectious first outing with addictive guitar melodies and a catchy chorus complimenting its overall energetic tone.
Although it's early days for Midweek (no pun intended), working alongside producers Neil Kennedy and Daly George (Milk Teeth, Creeper, Boston Manor) puts them on the right track.
While we look forward to more new material, frontman Joseph Holmes was on hand to tell us about Midweek's influences and future plans.
For Fans Of: Jimmy Eat World, Basement & Lower Than Atlantis

AH: Your debut single, 'Honey, Darling', comes less than a year after you formed. Can you tell us how Midweek came together? We hear it involves studying Popular Music at University?
Joseph: So I'd wanted to start a band in this type of genre of music for ages, but hadn't met the right people who I thought grasped what I wanted to do. Then after studying Popular Music in uni, I met Chris (Lead Guitar), Ross (Bass) and Kyle (Drums) who liked all the same music as I did. Over the space of about three months and asked them one by one to join the band. We became what we are today in May 2017.
AH: You've been working with producers Neil Kennedy and Daly George on series of singles. What can you tell us about these?
Joseph: Yes we recorded a couple of songs with Neil and Daly! We had a great experience. Well 'Honey, Darling' came out last month, and we're really overwhelmed with the response we have had from it so far. We will hopefully be releasing our 2nd single later in the year, which may or not be about some sort of flower…
AH: As a new band, do you think it's more beneficial to release singles rather than EP straight away?
Joseph: It definitely is because having your music recorded professionally isn't cheap, and there's no money in music anymore thanks to streaming and all that. It makes more sense to space them out. We do wish to record an EP in the near future though, we just need to stop spending our money on takeaway.
AH: We'll admit when we saw comparisons to Jimmy Eat World and Basement, we wanted to hear more. Besides these, who else do you consider your musical and lyrical influences?
Joseph: Lower Than Atlantis' earlier work have certainly inspired us a lot, me and Chris especially. We've always been a big fan of Mike Duce's lyrics. I've always found Parker Cannon's (The Story So Far) aggressive and honest lyrics hugely relatable and inspiring. I grew up listening to Biffy Clyro as well, they initially taught me to use different tunings on my guitar and Simon Neil's lyrics were always so cool.
AH: Along with more singles, what else can we expect to see from Midweek over the coming months?
Joseph: We've got a few shows lined up (Gloucester, Swindon) which people can come watch us! We're also hoping to play a few festivals over the summer. Maybe we'll get back in the studio…
Midweek links: Facebook | Twitter | Instagram
---
Words by Sêan Reid (@SeanReid86). Main photo by Helen Messenger.