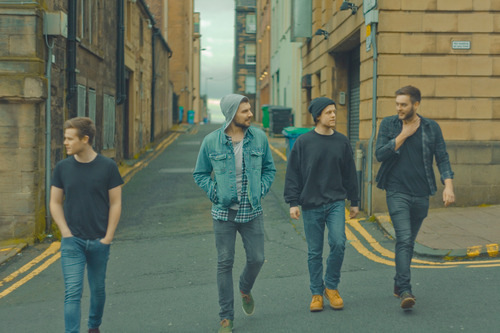 For Scottish quartet Alburn, their latest EP ('Mouthful of Glass') has been a longtime coming. Having undergone a slight line-up since their formation in 2007, 'Mouthful of Glass' marks the bands first release since 2012's 'Engines'. The four-track release showcases a significant amount of growth and maturity with tracks such as 'The Nurses Can't Help Me' and the title track displaying the bands versatility.
The band, made up of original members Pete Duthie and Gee MacPhee and recent recruits Danny Kelly and Christopher Hunter, are certainly fans of American emo-infused alt rock bands like Brand New, Balance and Composure, and Thrice yet 'Mouthful of Glass' also displays the bands passion with the end result being a captivating release that leaves a strong impression and plenty of promise for the future.
We spoke to Pete Duthie to query him about the bands background, that inevitable Brand New comparison, working with Neil Kennedy at The Ranch in Southampton, the burgeoning Scottish music scene and more.
Already Heard: For starters can I get your name and role in Alburn?
Pete: My name is Pete and I play guitar and share vocals with Gee.
AH: I know the band has been together for a number of years. Can you bring up to date with the history of Alburn?
Pete: Alburn started off as a name I'd use to post up tunes on Punkdisasters.com (RIP) that I'd recorded in my flat in Edinburgh. That was around 2007 and just after myself and Gee's childhood band had ceased. We started playing shows on and off for a few years with our old drummer and got to experience some pretty awesome things. In 2012 Gee and I got a bit restless, so we recorded and released the 'Engines EP' with our friend Tom Mitchell, in our hometown of Perth. Sean Campbell (Thin Privilege, In Wrecks) was kind enough to fill in on drums. After recruiting Danny and Chris on Drums and Bass at the start of 2013 we then started taking things a bit more seriously – we played a fair number of shows in 2013 including a couple of local festivals, then began writing for the new EP. We researched a few different studios but after hearing the Departures record and some other stuff he'd done, we settled on Neil Kennedy at The Ranch. It also happened to be the other side of the country… so we did our thing there and that pretty much brings us up to where we are now! Released 'Mouthful Of Glass' at the end of August, played a sell out show at King Tut's with our pals wecamefromwolves and then embarked on a Scottish tour!
AH: You've recently released your second EP ('Mouthful of Glass') From reading the track-by-track it seems you pushed yourself this time round?
Pete: We definitely pushed ourselves this time. Our older stuff was quite progressive and built up from a quiet intro into a heavy ending – we still love that kind of thing, but felt like we needed to refine our sound a bit on this EP and I'm sure we'll continue to work on creating our own unique sound. We experimented more with timings and dynamics in Golden. Different drumming and vocal styles in MOG and less complicated stuff on Nurses.
AH: This is the first time you've wrote together with this line-up. How did you adapt to this change compared to previous writing sessions?
Pete: The writing of this EP all happened in our rehearsal room. It brings up it's challenges when you're set on an idea for a song but then the other guys have something different in mind, but in the end it makes for a better song when it's more than just one person involved. Danny, our drummer, actually wrote a guitar part for Nurses! We'd all come to rehearsal with the bare bones of a song and we'd work on it relentlessly. If someone didn't like a part, they'd speak up. It makes it more enjoyable to play the songs live as well, knowing that everyone had a part in it and they aren't just playing someone else's songs.
AH: There is an obvious Brand New influence on the EP but what other bands do collectively consider as influences?
Pete: I'd say a lot of our influences come from the same 'clique' of bands – Sainthood Reps, Balance and Composure, O'Brother, Thrice and of course, Brand New. As well as bands like Moving Mountains, All Get Out, TBS, The Xcerts etc.
AH: Apologies for bringing up the Brand New tag again but what do you make of people using that comparison?
Pete:
I'll never take that as an insult and we do get that comparison quite often at shows – never in a bad way though! I don't personally think we sound exactly like Brand New, if anything I'd say we sound more like Sainthood Reps! We don't go out of our way to sound like them, but I guess that's what influences are all about… your favourite bands influence the way you write. It's flattering though, because they are an incredible band and it's even more incredible that they've developed such a loyal following world wide without any sort of press/videos or anything like that.
AH: Nevertheless the EP has been out for a few weeks now and it seems the feedback has been strong so far right?
Pete:
Yeah! All reviews have been very kind so far and what I love even more is that the reviews of us playing these songs live are just as good! We made a point of trying to record a sound that represented the way we play live, 'cause that's what it's all about really isn't it? This EP so far has helped us gain some decent opportunities and it seems to be opening more doors for us now to do what we love, more often.
AH: You recorded at The Ranch in Southampton with Neil Kennedy. How did you find that experience and what did he bring to the EP?
Pete: The week we spent on that converted farm was honestly one of the best times of my life, and I'm sure the other guys would agree. Gee and I have always dreamt about recording at a live-in studio after watching videos of Blink recording their untitled album at a house they rented. It was great being able to just wake up, grab a shower in the outhouse and get stuck in to recording across the courtyard. There were a lot of great things that the studio and Neil brought to the recording process. First of all, the array of great gear, guitars and pedals was awesome to play about with and the fact that Neil has a vast knowledge on the desks/systems he uses puts a lot of confidence in you. He was able to get some great drum, bass and guitar sounds. Secondly, he brought a lot of tweaking ideas to the songs as he has a musical background. He helped us refine our songs and also add in little things that we'd never think of, but really help build up the track. Aside from the recording experience, the four of us had an awesome time hanging out, as Gee and I had only really known Chris and Danny for about a year! Good bonding session.
AH: You've recently been playing some shows in Scotland. How have they been going?
Pete: Our shows are just getting better and better. It's often the smaller towns that give you the best reception and show genuine interest but Glasgow was obviously a highlight. Playing a sold out show at King Tut's was fantastic and we literally had to turn people down at the door.
AH: Can we expect to see crossing the border anytime soon and see some shows in England?
Pete: Yes! I'd say probably at the start of next year. We have a lot of things going on in Scotland in the next few months but we definitely want to get down South. So we'd best get our passports ready…
AH: It seems Scotland is producing an array of brilliant, emerging Scottish bands at the moment (Fatherson, Bear Arms, Algernon Doll, So Many Animal Calls). How would you sum up the Scottish scene right now and are there any bands we should be listening to?
Pete: There are so many great Scottish bands right now and the scene seems to be thriving. We always seem to be playing shows with friends or bands we admire these days. Other than the ones you've mentioned, there's obviously the big hitters like The Xcerts, We Were Promised Jetpacks and Frightened Rabbit. Bands you should check out are – Frown, United Fruit, wecamefromwolves and Bad Luck. Those are the ones at the top of my head right now.
AH: Any final words you'd like to share with the Already Heard readers?
Pete: Thank you for reading! It's the whole reason we do this – to engage with people who like the stuff we write and it genuinely means a lot to us when strangers show and interest in what we do.
'Mouthful of Glass' by Alburn is out now on Spilt Lies Records.
Read our Already Heard Track Guide feature on 'Mouthful of Glass' here.
Alburn links: Website|Twitter|Facebook|YouTube
Words by Sean Reid (@SeanReid86)