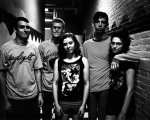 Adventures are a new band formed from 3 members of the hardcore band, Code Orange Kids. They reside in Pittsburgh, PA and their latest offering is an emotional journey which takes you through personal experience, released on No Sleep Records.
'Adventures 7"' is 4 tracks of pure 90's emo. Showcasing the friends punk and hardcore roots in an outlet not as heavy as their other band, Code Orange Kids, whose records have been released on Deathwish Records. An amalgamation of all their cathartic offerings, in a raw and emotional state, this EP is something I feel could be enjoyed by people into all genres of music. If you like your music passionate and intense, please take note of this band.
With that we spoke with Reba about the recording process, influences, and the way Adventures differ from their other offering.
Already Heard: Who do we have the pleasure of speaking to today?
Adventures: I'm Reba and I play guitar and sing in Adventures.
AH: Adventures are being described as a side project to the other band members are involved in Code Orange Kids. How do you, as a band, feel about this? I feel personally that the label of "side project" sometimes deflects the attention that band deserve. It can be both a positive and negative.
Adventures: Honestly I don't think any of us mind the label. If it can help at all to get our music out there, then we're all for it. Plus I feel like the two projects are connected in a lot of ways, and having them grouped next to each other is a cool way to see our bands as more than just individual entities and instead sort of as layers of a musical project.
<a href="http://adventurespgh.bandcamp.com/album/adventures-7" data-mce-href="http://adventurespgh.bandcamp.com/album/adventures-7">Adventures 7" by Adventures</a>
AH: What would you describe are your main influences?
Adventures: In general I'd say that our influences really come from all over the map and make their way into the band in all different aspects. Adventures is of course less aggressive than Code Orange Kids, but I'd still say that some of the more aggressive bands that we listen to influence our style overall. More specifically though for Adventures, we listen to a lot of 90's emo and indie rock type bands. We all jam stuff like Texas is the Reason, Knapsack, Samiam, Seaweed, Quicksand, Sunny Day Real Estate, stuff like that. Then we each have our own individual influences that make their way in there as well but the list is real long.
AH: Your first 7" has been released with No Sleep. How did that come about?
Adventures: We actually met Chris (Hansen) from No Sleep through Code Orange Kids. We had talked to him about maybe putting out a record, and then we all ended up staying at the same house for a week at SxSW and became good friends. Later on we recorded the Adventures 7" and Jami (drummer) hit up Chris and asked if he'd maybe want to put it out. He seemed to really like the songs and said that he'd be down for sure and it just went on from there.
AH: How does it feel to be on a label with some very influential bands. The Casket Lottery, for example?
Adventures: No Sleep is an awesome label. All of us had been following it for a while and it's definitely and honor to be a part of it.
AH: Are you currently writing new music, perhaps a full length?
Adventures: Yeah we are actually in the process of writing an LP now. During some time we had between COK tours, we wrote like 12 songs or so and demoed 9 of them. We still have to re-work some of the music and lyrics and finish up everything, but hopefully we'll be able to record it in the winter. It's tough sometimes doing it all around COK fitting it in with work schedules and regular errands that go along with getting ready for tours, but since it's almost all of the same people involved we are usually able to plan it all out together. Plus we all really just love writing music and touring and there is no discrepancy about being dedicated to going for it, as long as it doesn't take away from COK. We have to work with Dom and Kimi's school schedules too, but we all enjoy it so it's definitely being worked out.
AH: Who recorded and produced your 7"? I feel the production really brings out the kind of emotional rawness within the record.
Adventures: Our really close friend Dave Rosenstraus recorded is from his home studio/basement called the Braddock Hit Factory right outside of Pittsburgh. He's an amazing musician and just really has a good ear for getting natural and raw sounding tones that especially work for a band like ours. We all pretty much mixed and produced it together as a band, but he really got a great foundation for the tones and blend of the instruments and vocals that definitely benefited the songs.
AH: Continuing on with the emotional factor of the record, do you write about personal experiences?
Adventures: Both Jami and I write the Adventures lyrics, and yeah I would say that we write a whole lot about personal experiences. I can't speak for Jami, although he probably feels similarly, but Adventures for me is very important as another emotional outlet. Being in a band isn't just about writing fun music and performing on stage, and although those things are important as well, the reason I care about it so much is because I need it to let out some of the pressure and stress. There are so many things that happen on a day to day basis and I sometimes have to overlook a lot of them to be able to move on. Being able to sing about what I am often forced to push to the back of my mind is a very relieving feeling, and it helps to not just get totally overwhelmed with things.
AH: What bands have you played with recently that maybe our readers haven't heard of and should check out?
Adventures: There's a lot of great bands out there and it'd be impossible to name them all, but for now I'd say to check out bands from Pittsburgh that are doing some really cool things. Our friends in Heartless, Run Forever, and Hounds of Hate all have awesome records out that people should check out if they get the chance. Also Ages from Cleveland and Discourse from South Carolina both are on Mayfly Records and are awesome.
AH: I am always intrigued to know about any UK bands that perhaps you've become fans of. It's usually a mixed bag response!
Adventures: I honestly don't know of too many current bands from the UK but all of us love the band Sharks whose from there, all of the stuff they've put out is amazing.
AH: Please feel free to give us important links for yourselves, and anything else you'd like to say and end with!
Adventures: If you want to check out our music it's all up on Bandcamp. Thanks to anyone who has checked us out or came to any of our shows it really means the world to us that people care about it.
'Adventures 7"' by Adventures is available now on No Sleep Records.
Adventures links: Facebook|Bandcamp
Words by Rosie Kerr