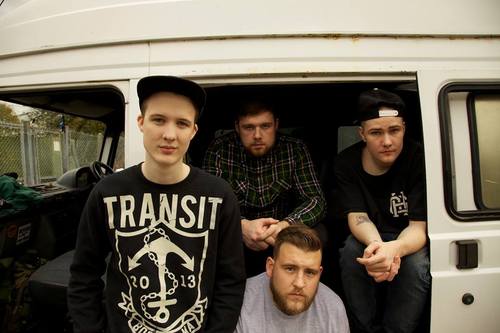 With a strong sense of nostalgia, Chester quartet Above The Underground have produced a stelllar album in 'Sonder'. Having released a small number of EP's since forming in 2009, the pop-punk band release their debut full-length this week and sees ATU grow as a band by taking a more honest and focused approach with outstanding results.
Tracks like 'Lavender Town Syndrome', 'I Was Never Lost' and 'Not Home' nicely showcases the bands pulsating, energetic style with big choruses leading to a more cohesive album that will surely raise the bands profile both at home and abroad.
Before Above The Underground headed out on their recent European tour with Me Vs Hero, Already Heard caught up vocalist Will Kirkman. Will discussed the bands history, the organic writing approach towards 'Sonder', the current state of the UK pop-punk scene and more.
Read Above The Underground's "Tour Tales" feature here.
Already Heard: Can you introduce yourself and your role in Above The Underground?
Will: I'm Will and I play guitar and sing in Above The Underground.
AH: I know ATU have been going for a few years now with a couple of EPs released. Can you give us a brief history on the bands background?
Will: We started back in 2009 with the intent to play as many shows as we could. That's what we did for a while. We played a few UK tours with some local bands and put out a few songs, but progress was slow. In 2012 we put out our first proper EP 'Autumns' and things started taking off from there. Since then we've toured the US and Europe and recorded our debut album 'Sonder' which will be out on February 17th.
AH: Now you're set to release your debut album 'Sonder'. How has the bands sound grown on this release?
Will:
I think touring as much as we have and just growing up as people has affected our sound in ways we couldn't predict. I can't remember a point where we ever sat down and said, "Okay, let's change our music to sound like this", but listening back to early stuff sometimes sounds like a completely different band to me. I feel like we've grown a lot as songwriters just through travelling so much and meeting new people. I think that better rounded people produce better music and we were very young when we started out. Listening back, sometimes I think "what the hell was I thinking?" but those songs represented us at that point in time and it's all a learning curve so it's cool in that way.
Sonder by Above The Underground
AH: Was the writing more organic this time round?
Will: Way more. In the past for us song-writing involved a lot of tracking and demoing, re-demoing and editing etc. We started writing this album on tour so that wasn't an option this time. I just sat down with a pad and an acoustic and tried to see where I could take it. It felt a lot more natural and when we got home and started jamming out some of the ideas as a band, it dawned on us that this was a better way to write. I think the songs have a better flow and a more coherent narrative as a result. It feels like it has more energy than previous releases.
AH: From reading your bio, I hear the album is reminiscent of early releases from bands like Taking Back Sunday and Thrice?
Will:
That isn't something that was intentional, but it's awesome that people are drawing those parallels. We grew up on bands like that so they have definitely influenced our songwriting.
AH: Lyrically, how important is the theme of "honesty" on 'Sonder'?
Will: I always try and be honest whilst writing lyrics. I can't seem to write anything good if I don't to be honest. I think if I tried to write a song about an issue I'd just made up, I wouldn't be able to make a very good job of it. All the lyrics are very personal to me, though I try to avoid making them too in your face or obvious. I feel like it's easier for people to draw their own meaning out of something if it's slightly more ambiguous.
AH: Because you're classed as a pop-punk band, how hard is it to make people look pass the typical preconception of being a band in that genre? Does it make it even more difficult when writing new material?
Will: We never think about it to be honest. We call ourselves a pop punk band because I guess that's what we're closest to, but there are definitely bands out there that make us sound nothing like pop punk. That being said it's an easy way to categorise us when talking to people who haven't heard us yet. It's definitely not something that affects the writing process though.
AH: For new listeners, what track from 'Sonder' best represents ATU and why?
Will: I'd say 'I Was Never Lost'. I think it's just got all the elements in there that are typical of our song-writing style.
AH: The release of the album will be followed by European dates including headline shows in Russia. What are your expectations for these shows?
Will: The European dates are looking awesome. We're going out with our buddies in Me Vs Hero which we're super excited about. I think those shows are going to be really good. I'm not at all sure what to expect from the Russian shows because it's our first time out there and we're on our own, but we've got a very enthusiastic and hard working tour manager and it's somewhere we've always wanted to go, so we're super super excited.
AH: Can we expect to see you on the road in the UK soon?
Will: Yes, we've got a run coming up in the next few months with a cool overseas band. Keep an eye on our facebook, we'll be announcing it soon!
AH: Going back to being a pop-punk band. How would you describe the current state of the UK pop-punk scene especially with bands like Neck Deep receiving plenty of attention in recent months.
Will: I think it's great. A lot of people trash talk Neck Deep and I have no idea why. I think they're a decent band just doing what every other band in the UK would love to do. I think it's doing good things for the scene, people are getting more involved.
AH: Are there any bands you'd like to recommend or give a mention to our readers?
Will: Our buddies in Me Vs Hero, Rogen, Bison, On My Honor.
AH: Finally why should Already Heard readers check out Above The Underground?
Will: We're something different to a lot of bands out there. You might hate us but you'll never know unless you check us out!
'Sonder' by Above The Underground is out now.
Above The Underground links: Facebook|Twitter|Bandcamp
Words by Sean Reid (@SeanReid86)