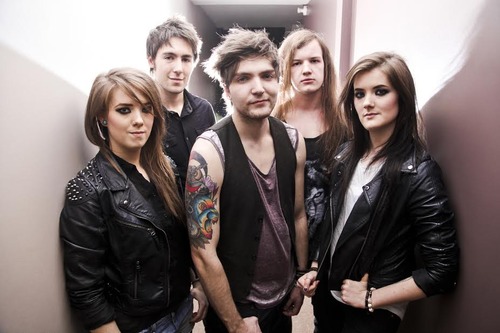 We were first introduced to Manchester rockers A Mouth Full Of Matches back in May when they were part of our "Red Bull and Recommended" series, and even though they didn't make it all the way to Download, that hasn't stopped them.
This week they release their new EP, 'Smoke Signals', a collection of edgy, alt rock that captures the melodies of major US rock acts such as Linkin Park and Thirty Seconds to Mars and mixes it with passionate-filled lyrics and stellar riffs.
Having worked with producer Matt Hyde (Bullet For My Valentine, Parkway Drive, Deftones), the Manchester quintet have produced a promising and tight EP that could set them on their way to bigger things.
We recently grabbed a quick word with vocalist Tom Buxton to find out about their formation, 'Smoke Signals' and what advice he'd give to bands entering future Red Bull Studios Download Festival contests.
AH: To begin with can we get your name and role in A Mouth Full Of Matches?
Tom: Hey! My name is Tom and I sing in AMFOM.
AH: We understand the band came together in 2012. Bring us up to speed on the history of AMFOM.
Tom: Well we came together for a love of passionate hard hitting music back in 2012 and have been slowly making our mark around the UK. We recruited Ste (Steven Hall – drummer) shortly after and have been a solid unit since. We released our debut album 'Tasting Fire' last year and we release our 2nd 'Smoke Signals' next week! We had an amazing journey being a part of Red Bull's final 15 to play at Download and got to meet loads of new fans and learn a lot more about the industry!
AH: At the time of writing your preparing to release your second EP ('Smoke Signals') next week. How is the mood in the AMFOM camp right now?
Tom: We are all really excited and cannot wait to get it out there! We hope everyone likes it as much as we do! We know there is excitement amongst the fans to hear it, we really cannot wait!
AH: From hearing the EP, you have a solid alt hard rock sound. How would you sum up your bands sound to others?
Tom: We are a melodic, passionate form of hard hitting alternative rock that gets in your face at shows and has a lot of fun!
AH: Who would you consider as your musical influences?
Tom: We took on a lot more influences for this EP. Our favourite artists are Evanescence, Thirty Seconds to Mars, Deftones, Linkin Park etc. but delved into stuff like HAIM and the heavier end of the musical spectrum to try and make our sound bigger and better.
AH: I know the EP has been streaming online for a few days. How has the feedback been so far?
Tom: It's been great! It's amazing to let the fans have a taster of the EP before it's released! We are very grateful to have fans that are supporting us and communicating with us.
AH: I understand a lot of the lyrics on the EP are about how difficult for new bands to get noticed? Care to explain?
Tom: There are a lot of new bands appearing on the scene now, and getting noticed amongst the crowd is becoming increasingly harder. Social media platforms such as Facebook, Twitter, Tumblr, etc have definitely helped in getting our name out there, and it's great when we go to to oher cities and people already know who we are!
AH: For those who have yet to hear it, how would you describe the overall EP to them?
Tom: It's a big sounding EP crammed full of passion and energy. We wanted to create something that would sound huge both on disk and in venue, from beginning to end. We hope people enjoy listening to it as much as we enjoyed writing it.
AH: What was it like to work with producer Matt Hyde?
Tom: Working with Matt Hyde was a great personal experience for us, especially considering that he has worked with big names such as Bullet For My Valentine, Machine Head, Slipknot. It was amazing to hear our songs coming to life on recording, and Matt and his assistant Carl helped push us in our abilities to make the tracks even better.
AH: Moving away from the EP. Earlier this year you were part of the Red Bull Studios Download Festival contest. How was that experience and did you learn any lessons personally or as a band from it?
Tom: It was a great feeling and we never expected that we would get as far as we did. Although we unfortunately didn't get to make it to the Download stage, we had a fantastic experience going to the Red Bull Studios, meeting other bands and everyone working there and it really helped in getting us out there even more than before. The support was amazing and we truly appreciated it all!
AH: What advice would you give to bands who may enter the contest in future?
Tom: I would say promote, promote and promote! It's over a long time and there's always the battle to remain near the top, but don't give up on it. The best thing that comes from it is the new fans and popularity you'll gain, not just being able to play at Download.
AH: Now the EP is nearly out, what's next for AMFOM?
Tom: We've a whole load of dates booked throughout the UK this month, and many more over the year. We'll be keeping on the road in support of the EP to reach everyone that we can!
AH: Finally why should Already Heard check out 'Smoke Signals'?
Tom: We loved writing and recording this EP, and we want everyone we can get to listen to it and enjoy it too. It's a big sounding, energetic and passion filled EP that won't let up from beginning to end.
'Smoke Signals' EP by A Mouth Full Of Matches is out now.
A Mouth Full Of Matches links: Facebook|Twitter|Soundcloud
Words by Sean Reid (@SeanReid86)