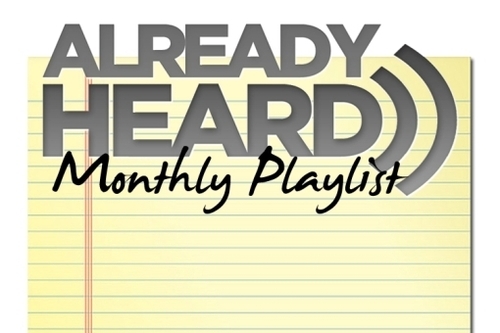 With a new month beginning brings a new Monthly Staff Playlist from us good folk here at Already Heard. Each month we bring you a playlist showing what the Already Heard team have been listening to.
For this months edition, the team have highlighted their favourite albums of the year so far. 
Head on over to our Facebook page to tell us what you think of this months "Staff Playlist."
View the full playlist on our Youtube channel. Whilst a selection of this month's playlist can be streamed on Spotify.
The Wonder Years – Passing Through A Screen Door (from 'The Greatest Generation')
With 'The Greatest Generation,' The Wonder Years once again lived up to expectations, and ever since its release in May there hasn't been a week where I haven't listened to it at least once. Leadoff single 'Passing Through A Screen Door' set the standard of what was to come and didn't disappoint; a huge chorus with introspective lyrics delivered with thriving energy. With 'The Greatest Generation,' TWY tave taken modern pop punk to a new level and have a set new standard that I'm sure won't be matched this year. (Sean Reid – @SeanReid86)
'The Greatest Generation' by The Wonder Years is available now on Hopeless Records.
The Wonder Years links: Website|Facebook|Twitter
The Bronx – Youth Wasted (from 'The Bronx IV')
In an age when there's loads of manufactured nonsense, a ridiculous world of politics and religion and all manner of disease and stuff, we need a little pick me up now and then. The Bronx have done this with every release and are surely the embodiment of "consistency." Their fourth release, aptly titled 'Bronx IV,' is an absolute corker of posi sounding punk jams with a bit of grit to send you wild and shaking that booty. (Mikey Brown – @MikeyMiracle)
'The Bronx IV' by The Bronx is available now on White Drugs.
The Bronx links: Website|Facebook|Twitter|Youtube|Soundcloud
Deafheaven – Dream House (from 'Sunbather')
'Sunbather' has done the absolute unthinkable and made black metal, that genre with all the murdering, corpse paint and church burning, accessible. Taking the blueprint of Norwegian forebears and blending it with post-rock, screamo and shoegaze has made this simply one of the most unmissable albums to have been released this year – jaw-dropping, awe-inspiring stuff. (Ollie Connors – @olliexcore)
'Sunbather' by Deafheaven is available now on Deathwish Inc.
The Bronx links: Website|Facebook|Twitter
Hop Along – Good Al Joad (from 'Get Disowned')
That faraway land across the Atlantic were privy to 'Get Disowned' last year but it hit the UK in March, and I've barely been able to go a day without a full album play-through. Calling the band's sound folk is rather limiting, especially considering they sound like no other folk band. Deliberately erratic, the albums delivers stops-and-starts, weird ideas, plenty of hooks, and a great emotional punch. Most of the effective sections are largely due to Frances Quinlan's distinctive voice, as it fluctuates between soaring wails to the utmost fragility. Perfect. (James Berclaz-Lewis – @swissbearclaw)
'Get Disowned' by Hop Along is available now on Big Scary Monsters Records.
Hop Along links: Facebook|Twitter|Bandcamp
Biffy Clyro – Sounds Like Balloons (from 'Opposites')
Biffy have reached their creative zenith with 'Opposites,' a double-sided record that has cemented the Scottish trio's place at the forefront of British rock. Many bands struggle to fill even one album with consistently great songs but Biffy have knocked out twenty excellent, and provoking moments to treasure this year. Their headline slot at Reading later this summer sees them finally graduating to the big leagues, and on the eve of filling that long-decaying space where truly great guitar bands once stood, its time to get behind our own. (Christopher Smith – @chrissmith_catp)
'Opposites' by Biffy Clyro is available now on 14th Floor.
Biffy Clyro links: Website|Facebook|Twitter
Off With Their Heads – Nightlife (from 'Home')
Balancing heart on sleeve lyrics, gritty punk rock, and a grandiose feel, Off With Their Heads have outdone themselves. Their third album and second release on Epitaph Records, the band are full of pity and fire. Personally for myself this record came at the perfect time during a year that is full of questioning the so called adult life. (Aaron Lohan – @ooran_loohan)
'Home' by Off With Their Heads is available now on Epitaph Records.
Off With Their Heads links: Facebook|Twitter
Mallory Knox – Lighthouse (from 'Signals')
Mallory Knox were, up until late last year, quietly working under the radar, gathering a huge fanbase with their emotional yet incredibly catchy pop-rock tunes. The release of their stunning debut album 'Signals' saw the floodgates open, as tours and festivals were announced left, right and centre. It's only fitting though – they're one of the hardest bands the UK's seen in years and their work has definitely paid off. They've got talent by the bucket-load and deserve every single success that comes to them. (Jessica Tagliani – @JessTagliani)
'Signals' by Mallory Knox is available now on A Wolf At Your Door.
Mallory Know links: Facebook|Twitter|Youtube
The World Is a Beautiful Place & I Am No Longer Afraid to Die – Getting Soda's (from 'Whenever, If Ever')
When I first heard this band in my final year of uni I knew instantly they had the potential to release one of my favourite albums. This year they have indeed done that with 'Whenever, If Ever.' It manages to combine emotianal spaced out vocals with dynamic soundscapes. 'Getting Sodas' is the last song on the record and demonstrates everything that is great about TWIABP. From the screamed vocals and introspective lyrics to the constantly changing bed of sound beneath it all. It manages to encompass the bands DIY sensibilities with the refined accuracy of post rock music. 'Whenever If Ever' is my favourite album of the year so far, and no doubt it will find it's way onto many end of year lists. (Ryan Clayton – @clayton_ryan)
'Whenever, If Ever' by The World Is a Beautiful Place & I Am No Longer Afraid to Die is available now on Topshelf Records.
The World Is a Beautiful Place & I Am No Longer Afraid to Die links: Website|Facebook|Twitter
Waxahatchee – Coast to Coast (from 'Cerulean Salt')
Having existed purely in the US DIY basement punk scene in previous bands such as PS Eliot, Katie Crutchfield (aka Waxahatchee) has gone it alone, signed to Wichita in the UK (a diverse label, home to The Bronx and Fidlar) and made a stunning album full of confessional and catchy as hell songs. 'Cerulean Salt' is already the soundtrack to my summer, and it's only June. There's nothing ground breaking here – music nerds won't care. This is just a collection of superbly written songs, with brilliant melodies and conversational vocals. For fans of Lemuria, The Breeders, Paul Baribeau and Rilo Kiley. (Katie Anne Malcolmson – @KAMalcolmson )
'Cerulean Salt' by Waxahatchee is available now on Wichita.
Waxahatchee links: Website|Facebook|Twitter