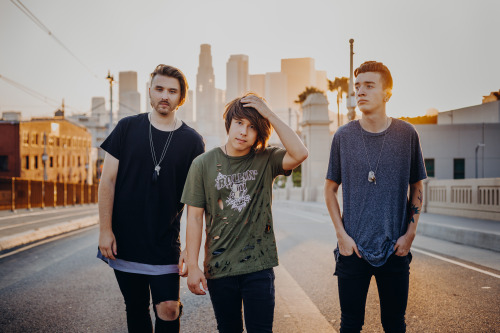 The origins of ANSON begin with frontman Anson Li. Classically trained at a New York school of Music & Art and Performing Art, Li ventured out as a solo artist five years ago, releasing two EP's that heavily leaned on an accessible, radio-ready pop sound. However, he soon put his career on hold in favour of his education.
Nevertheless, after various issues, Anson found himself frustrated and began writing, going on a journey of creative re-discovery. "The songs [on this EP] are about the dissonance of figuring out who I am as a person and why can I never reach the things that I can attain," he explains. Li soon found himself collaborating with guitarist Zack Mueller and bassist George Tello to bring the songs on 'To Be or Nothing at All' to life.
Inspired by his love for 2000's emo/pop-punk, ANSON's debut EP is a blend of emotionally-filled choruses and stirring hooks that is reminiscent of Taking Back Sunday, Mayday Parade, and Paramore. Ultimately, the EP captures Li's new found identity and passion for creating music; pensive, conscientious and sincere.
Set for release this Friday (September 29th), Already Heard has teamed up ANSON to premiere 'To Be or Nothing at All' in full. In addition, Anson Li talked us through each song on the EP in great detail.
"'To Be or Nothing At All' to me is exactly what this record stands for. Am I going do this or am I not going to do this?"
It's Alarming
It's a very interesting song. It's very ferocious. The whole song represents following my heart and it's alarming that I'm missing out of all of these things in my life that I dream about. And yet they are just an arm's length away and I could reach out and grab them but I don't.
I wrote the song my junior year of college in the dorms. I just came back from touring and I hated living in NYC and I went to a state college school and hated it. I moved back to Long Beach, started going to school again and I motivated myself to start writing again. So I started writing a whole mess of stuff. I actually started writing a folk record and this song is a remanence of that era. At the time, I was meeting up with this manager that I was hoping to sign me. However, nothing was ever good for him. Having all the negative comments and me coming back trying to prove him wrong brought something out of me. It made me stronger.
It's about saying you know what you have to do and knowing you have to do these things. You know that in the past you failed, but you just have to let it go and move on. A lot of it is about reprimanding myself. I hurt a lot of people along the way, and I wasn't necessarily the nicest person to some people and there are things that I regret. But now reflecting on that and working on my flaws. I've come back as a more aware and more mature person.
This is about am I a good person or a bad person? Am I doing this all for the right reasons or all for the wrong reasons? Am I perusing music because I want to be a "rock star"? Do I want to make millions of dollars or is it because of calling in my heart?
To Be or Nothing At All
This song is also about struggle. A lot of people think it's a girl or something but in actuality, it's about lacking the inspiration, and because of that, I'm driving myself crazy and losing my confidence. In the aftermath of my last tour, I broke down and lost myself. I had nothing to write about anymore. I got jaded from music and no idea what to write about anymore. I started cascading into various genres of music. I wrote a folk album, electronic music, screamo stuff. I wrote all these different styles to find out who I was again. What I used to do wasn't necessarily entirely true to who I was. It was a part of me but a very small part.
This song is literally about not having the ability to write. I wrote it because I had no inspiration at the time and I wanted to write about my frustrations. I always circled back to Yellowcard, Mayday Parade, Taking Back Sunday, Paramore and all those emo rock bands from the early 2000's that I grew up to. Sitting in the crowd and watching a rock show and being in awe. Wanting to be them and emulate them and make music that was like that. I think 'To Be or Nothing At All' is a very good example of that.
Sober Living
There was a time of my life where I gave up on myself a little. When I first stopped doing music, I had to find my identity again. My parents were always on me saying like "oh your hair is ugly because it's so long". I cut my hair because I was weak and I didn't stand up for who I was as a person.
I wrote this song about taking on this normal "sober" life. I started working at this finance firm. I was doing an internship and then became a business development officer. I wore a suit and tie every day, going to this 9 to 5 job in Fullerton. I didn't write any music during that time. I was trying to live the "normal" life.
'Sober Living' is about reflecting on living this normal life, having insecurities and having this calling deep down inside. I ignored that urge while working there for a long time. When that calling became too much to ignore, I left working at the finance firm and decided I'm gonna write music again. The song isn't about being high on drugs. It's about living a totally average life.
Hailey
I wrote 'Hailey' a long time ago, during the Sophomore year of college back in NYC. I was listening to a lot of Marianas Trench. I wanted to talk about misguided love because that has always been a theme in relationships for me. The song is about loving this person and fucking up and then begging for them to not leave your life; "Cause I'd kill for you, be whoever you want me to be." Basically, I'd do anything for us to be together, push through this and continue loving each other.
'Hailey' isn't a real person, I have this songwriting technique about writing a story using bits and pieces of various memories and interactions in my life. I weave the moments together to formulate a new story that makes a song. It's taking stories from break ups. Going to each other's places, fighting, breaking up, fighting to get that person back, returning all their stuff and being upset about it.
It's the story about a girl breaking up with you. She's moving on and I'm just there saying "we can make it, how do we get back to where we were." There isn't an answer to this breakup story; if she stays or leaves. I did that on purpose to leave the interpretation of what happens to the listener. It's up to the listener to decide the end of the story.
'To Be or Nothing at All' EP by ANSON is released on 29th September.
ANSON links: Website|Facebook|Twitter|Instagram
Do you have a new video or release you'd like to premier on Already Heard? If so contact Sêan Reid to find out more.